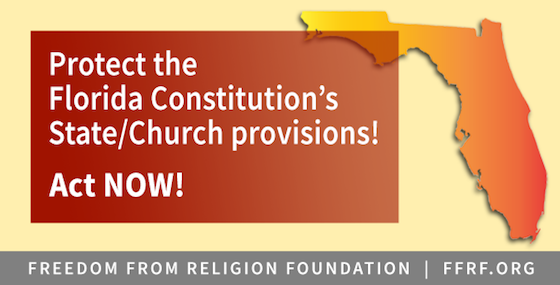 The Florida Constitution protects you from being forced to fund churches, and that crucial provision is under attack. Please help FFRF defend this fundamental protection by attending a hearing this Wednesday, Nov. 29, in Tallahassee.
Once every 20 years, the Constitution Revision Commission meets to consider changes to the Florida Constitution. This is one of those years, and one proposal currently in front of the Commission, "Proposition 4," would repeal the "No Aid Clause" of the Florida Constitution. The No Aid Clause stops the government from using taxpayer dollars to advance religion and is a fundamental religious freedom protection in Florida and most other states.
Please nip a major assault on religious liberty in the bud by attending the hearing on Wednesday and making a brief comment in favor of preserving Florida's No Aid Clause. If you are unable to attend the hearing, click here to call the commission.
TALKING POINTS
Please vote "no" on Proposition 4. The no-funding principle and Florida's No Aid Clause, which embodies it, foster religious freedom. To abandon them is to curtail religious freedom.
The No Aid Clause prohibits taxpayers from being forced to support any religion, and rightly so. The coercive taxing power of the government should not be wielded to oblige Muslims to bankroll temples and yeshivas, or to compel Jews to subsidize Christian churches and Catholic schools, or to force Christians to fund mosques and madrassas. And we nonbelievers should not be forced to fund any of the above.
Florida's No Aid Clause, like its counterparts in most other states, protects a principle that the Founders saw as crucial to ensuring religious freedom. There is no history of Florida's No Aid Clause causing discrimination, and there is no reason to ask voters to forfeit this fundamental right.
Thanks to centuries of successful religious freedom in America some citizens forget that religious freedom that is guaranteed by the wall of separation between church and state. Many Florida voters might not know what they were voting to repeal until it was gone. And this committee might come to regret even placing it on the ballot. Please vote "no" on Proposition 4 to protect Floridians' religious freedom.