The Ohio Secretary of State's office is holding an online poll, called "Elect Your Sticker," where Ohioans can choose between six options for the sticker to be handed out to voters at polling places this November. This contest is supposed to encourage young people just out of or still in high school to vote. Two of the options (displayed below) include Ohio's official motto: "With God, all things are possible." On option two (below right), the text is so small as to be nearly illegible on a 2-inch-diameter sticker — but still, apparently, necessary. Although the courts have upheld this motto in the past, freethinkers and secularists must continue to argue against religious governmental mottos in the "court of public opinion."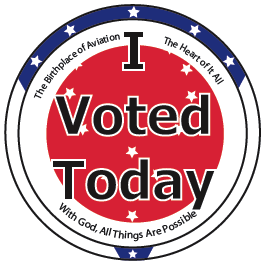 Secretary of State Jon Husted's office told the Middletown Journal on Sunday that no official complaints about the use of the word "God" on the stickers had been received, so it's important that you make your voice heard. Contact the Secretary of State with your complaint, asking for the words "With God, all things are possible," to be removed, or for the offending designs to be withdrawn from consideration. Also consider writing a letter to the editor of your local paper or a statewide paper about this issue. And of course, please vote for your favorite "God"-free sticker at ElectYourSticker.com. (An image of the poll is displayed below.) Voting is open until Aug. 8, so keep an eye out for ongoing coverage and ask your freethinking Ohio friends to vote as well.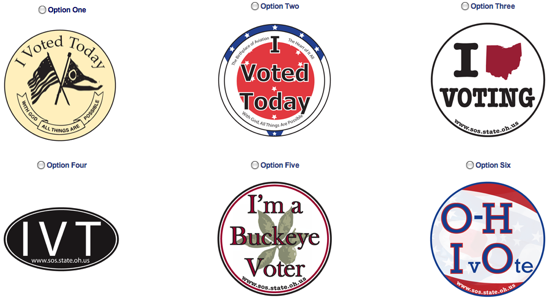 Read strong, interesting coverage of this story in the Middletown Journal, a southwest Ohio paper:
Use of 'God' on voting stickers stirs controversy (Lynn Hulsey, May 29, 2011)

Talking Points
Feel free to copy and paste this wording (or better yet, use your own words):
Under the First Amendment to the U.S. Constitution, government may not promote one religion over another, or promote religion over nonreligion. Options one and two on the Ohio Secretary of State's "Elect Your Sticker" online poll contain the phrase, "With God, all things are possible," a phrase which excludes the nonreligious as well as many religious people of non-Judeo-Christian traditions. Polling place stickers are worn as a mark of civic pride and as a reminder to all citizens that it's election day. If these stickers contain language that does not apply to all Ohioans, many will feel excluded from this traditional way to tell the world, "I Voted."
Contact
For maximum effectiveness, write as an individual and not as someone responding to an Action Alert. Please do not forward this Action Alert to the Secretary of State's office or the media. We are pleased to receive "blind" ("BCC") copies of your messages and correspondence by e-mail at This email address is being protected from spambots. You need JavaScript enabled to view it..

Jon Husted
Ohio Secretary of State
180 E. Broad St.
Columbus, OH 43215
Phone: 614/466-2655
Web Contact Form
Media Contacts
The Cleveland Plain Dealer
Letters to the Editor
1801 Superior Ave.
Cleveland, OH 44114
FAX: 216/999-6209
Web Contact Form

The Cincinnati Enquirer
Letters
Enquirer Editorial Page
312 Elm St.
Cincinnati, OH 45202
FAX: 513/768-8579
Email: This email address is being protected from spambots. You need JavaScript enabled to view it.

The Columbus Dispatch
Letters to the Editor
34 S. 3rd St.
Columbus, OH 43215
FAX: 614/461-8793
Email: This email address is being protected from spambots. You need JavaScript enabled to view it.

The Toledo Blade
Readers Forum
541 N. Superior St.
Toledo, OH 43697-0921
FAX: 419/724-6191
Email: This email address is being protected from spambots. You need JavaScript enabled to view it.