August 4, 2003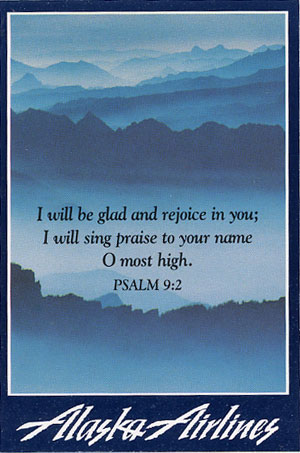 Members of the Freedom From Religion Foundation members traveling on Alaska Airlines have complained for at least two decades about the habitual distribution of "prayer cards" with food during flights. (See image on right.)
Help educate this airline about the fact that many of its paying customers are not religious, or prefer other religious teachings, and are startled and offended to be proselytized as the ultimate captive in-flight audience!
Please be sure to mention if you have ever used the airline or plan to in the future.
Possible points to make:
Travelers do not wish to pay high fees in order to be proselytized. Travelers who need to pray before meals or during flights can surely manage this unassisted by the airline. In fact, it does not inspire confidence that the airline seems to feel the need to pray during flights!
Would the airline consider handing out prayer cards quoting the Koran and invoking Allah? If not, can't they see their bible quotations are equally offensive to the 14% of U.S. residents who are not religious (see: ARIS Article), the 16% of Canadian citizens who travel on Alaska airlines but are not religious (last census), and the many religiously diverse customers who do not subscribe to the Old Testament?
Write:
Alaska Airlines PO Box 68900 Seattle WA 98168
You can try emailing them through their website, but they don't make it easy. Scroll down to "Alaska Air - Other" and click on the "E-mail post-flight comments" (designed for patrons with comments about recent flights).