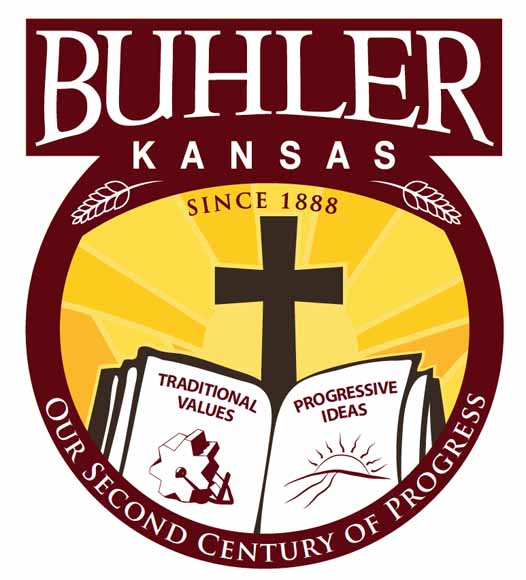 The Freedom From Religion Foundation has successfully petitioned the city of Buhler to remove a cross from its official seal — and now we need your help to sustain the victory.
FFRF Staff Attorney Patrick Elliott wrote to Mayor Daniel Friesen on Sept. 14, urging him to discontinue using a Latin cross as a symbol of "traditional values" in the city's motto and logo.
Friesen told reporters that "the city consulted several law firms, which said the city would most likely lose if it took this to court." Now the mayor says the seal will be redesigned.
The Buhler seal is displayed on a large billboard in Albert Becker Park, as well as on official city forms.
In his letter, Elliott cited seven federal court decisions which found municipal seals and logos to be unconstitutional.
"The endorsement of religion in the Buhler seal is particularly egregious because the cross is prominently featured and used to symbolize the 'Traditional Values' portion of the town motto. Courts addressing less prominent depictions have found that the inclusion of a Latin cross among other symbols on government seals and logos violates the Establishment Clause," wrote Elliott.
The mayor rightfully added that if the city were to fight the case it would be wasting taxpayer money.
TAKE ACTION!
The city council is set to meet tonight. We ask that you phone (this is the preferred method, as city officials will then hear from you directly) and/or email the mayor and city council members to affirm their decision and to say thank you. (They will undoubtedly receive complaints from the religious right, which we need to balance.)
We are hoping your calls and emails will reinforce the mayor's decision to remove the cross (the regularly scheduled city governing body meets tonight).
Note: There will be a public discussion of the logo tonight at 7 p.m. at 219 North Main, Buhler, Kansas 67522. If you live in the area please attend the city council meeting and show your support for the mayor's decision to remove the cross.
CONTACT
Mayor Daniel P. Friesen
602 N Main
Buhler, KS 67522
Phone: 620-543-5003
Email: This email address is being protected from spambots. You need JavaScript enabled to view it.
AND/OR
Click here to contact individual council members.
TALKING POINTS
One sentence is sufficient, your own words are best. But you may wish to copy this paragraph in your correspondence:
Thank you for making the wise decision to remove the Latin cross from the city seal. The cross was divisive and shows an inappropriate preference for Christianity, excluding nonbelievers like myself and other nonChristians. A city should not be in the business of supporting or endorsing one religion over another or religion over nonreligion. It is important everyone feel included when it comes to civic matters. Thank you. (Sign name)
Thank you for your help!