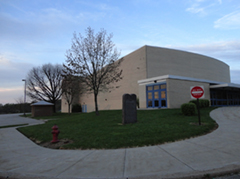 The Freedom From Religion Foundation is urging the Connellsville Area School District to stand firm in its decision to remove a large, unconstitutional Ten Commandments display from Connellsville Junior High School East in Connellsville, Pa.

Pittsburgh-based attorney Marcus Schneider represents FFRF and a concerned district parent. Schneider wrote to superintendent Dan Lujetic on Aug. 29 demanding that the district "permanently remove the Ten Commandments monument from school property" and provide notice of removal to Schneider by Sept. 7 or FFRF would file suit.
In response to FFRF, the school district's attorney acknowledged that the monument violated the constitution and needed to be removed. The district began covering the monument with garbage bags, and then a piece of plywood, promising to remove the structure as soon as it can be dug out of the ground.

School board president Jon Detwiler told the Pittsburgh Post-Gazette: "My phone is ringing off the hook with people that want to fight this . . . It's not really the worst thing in the world to have our kids reading."
TAKE ACTION
Please phone the administration office (which is the main contact for the superintendent and school board) today, so they hear from people who support their decision to honor the law and protect the personal conscience of students. Please tell them that you support their wise, inclusive decision to remove the Ten Commandments. Since the school board has been receiving numerous negative phone calls from religious citizens, it is time it receive supportive calls from secular folks. Your support is especially important since the school board will be meeting on Wednesday night to discuss discuss the removal of the Ten Commandments monument.

If you are a resident of Connellsville and/or Pennsylvania, please identify yourself as such. Include your address and other contact information when appropriate. If you haven't had a chance to email the council, please take a moment to also draft a short, but strong note of gratitude (in addition to phoning now!).
CONTACT
Dr. Dan Lujetic - Superintendent
Phone: 724-628-3300 EXT 327 (when you phone you'll probably talk to Vicki McWilliams, superintendent/board secretary)
Email: This email address is being protected from spambots. You need JavaScript enabled to view it." style="border-style: initial; border-color: initial; font-weight: inherit; font-style: inherit; font-size: 12px; font-family: inherit; vertical-align: baseline; outline-style: none; outline-width: initial; outline-color: initial; color: #3f7794; text-decoration: none; border-width: 0px; padding: 0px; margin: 0px;">This email address is being protected from spambots. You need JavaScript enabled to view it.
SAMPLE WORDING
(One sentence is sufficient, your own words are best. But you may wish to copy this paragraph in your correspondence:)

I support the Connellsville Area School District decision to remove the illegal Ten Commandments display outside of Connellsville Junior High School East. School districts have no business telling students which gods to have, how many gods to have, or whether to have any gods at all! Bible edicts have no place in our secular public schools. Thank you. (Sign name)
TALKING POINTS
See FFRF press release and letter for addition information.

Thank you for your help!