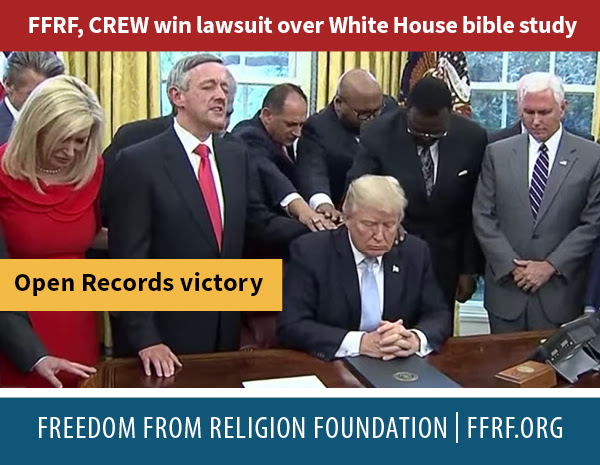 The Freedom From Religion Foundation filed suit against Secretary Ben Carson's Department of Housing and Urban Development for dodging records requests relating to a White House bible study. FFRF, a state/church watchdog, teamed up with Citizens for Responsibility and Ethics in Washington, a government watchdog, to bring the federal suit. It was filed on Jan. 18, 2018 in the U.S. District Court for the District of Columbia. The lawsuit alleged that HUD had a pattern and practice of denying fee waivers on Freedom of Information Act requests "where disclosure of the requested documents is likely to cast the agency or HUD Secretary Ben Carson in a negative light."
According to reports, the Trump administration held weekly bible study sessions at the White House. FFRF sought the records to determine whether or not the bible study used government resources, whether staffers may have felt coerced into organizing or even participating in the religious event, and to ascertain government access granted to Capitol Ministries, a group that seeks to evangelize elected officials.
HUD also denied FFRF a fee waiver on a second request, filed in October of 2018, over Carson's daily schedule and appearance at "Revive Us 2," an event at the new Museum of the Bible. HUD refused the wavier the day after the FOIA request and denied FFRF's appeal. CREW's fee waiver requests were also rejected. CREW sought a fee waiver and records, including emails, relating to the role Carson's son and wife play in HUD, where they are "omnipresent" fixtures. HUD denied another of CREW's waivers, this time for records relating to Carson's use of private planes to travel. The watchdogs sought the fee waivers they were due under the law, to enjoin HUD from unthinking, blanket denials of waivers, and attorneys' fees and costs. They asked that in the public interest, their requests be granted.
The case (No. 1:18-cv-00114) was before U.S. District Judge Carl J. Nichols. Anne Weismann, Chief FOIA Counsel for CREW, and Patrick Elliott, Senior Counsel for FFRF represented the plaintiffs.
As the case was pending, HUD provided the documents requested by FFRF and CREW without charge. On Nov. 25, 2019, Judge Nichols ruled that the plaintiffs' claim that HUD has a "pattern and practice" of improperly denying fee waiver requests could proceed.
This case was settled on April 23, 2020. As part of the settlement, HUD agreed to offer two sessions of in-person mandatory fee waiver training and to issue updated fee waiver guidance for employees. HUD also paid costs and attorneys' fees to the plaintiffs: $14,400 to CREW and $3,400 to FFRF.