When you join the national Freedom From Religion Foundation, a portion of your membership will be rebated to the Sacramento chapter. Your membership dues to FFRF, a 501(c)(3) educational charity, are deductible for income-tax purposes, include 10 issues/year of our newspaper Freethought Today, and support FFRF's litigation, 14-member staff (including 5 staff attorneys) and educational work.
---
Welcome to Sacramento's FFRF Chapter
Our goals: To educate the public on non-theism and protect the First Amendment - Separation of Religion from Government.
Contact Greater Sacramento Chapter of FFRF: This email address is being protected from spambots. You need JavaScript enabled to view it.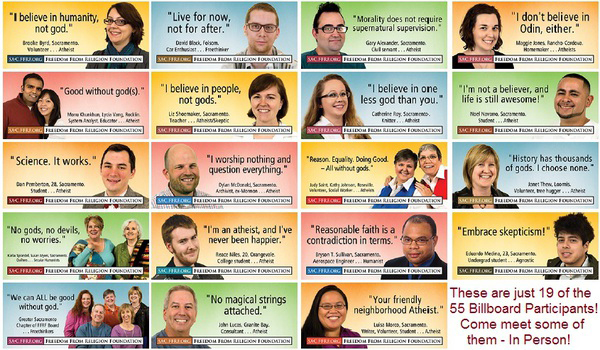 View the entire gallery of Sacramento 'Out of the Closet' billboards
Meet the Actual Billboard Participants!
December 21, 10:00 AM - 12:00 noon
Arcade Library Meeting Room, 2443 Marconi Ave, near Fulton Ave, Sacramento, CA
We're inviting them to speak! We're inviting anyone who is curious about the 55 billboards around town! We're inviting the media to bring their microphones and cameras! And now we're inviting EVERYONE to come out to this great event! Meet the billboard participants! Hear them talk about what it's like living without religion, and why they went up on a billboard! Ask them questions! Mingle afterward! Great, healthy snacks, lots of free literature from the many freethinking groups around Sacramento, and lots of happy, healthy people ready to meet you one-on-one, or just hang out and listen! (Pictured below are only 19 of our 55 Billboards going up for the month of December.)
Questions? Email: This email address is being protected from spambots. You need JavaScript enabled to view it.
The Greater Sacramento Chapter of FFRF is a local chapter of the Freedom From Religion Foundation. We are a non-religious community of local people committed to living our lives free from religion, superstition, dogma and mysticism. We are freethinkers - people who form opinions about religion and spirituality independent of tradition, authority or established belief, in favor of rational inquiry.
Our members are composed of Agnostics, Atheists, Humanists, Skeptics, Deists, and secular-minded people still searching for answers who come from all walks of life. The common thread we all share is that we uphold the US and California Constitutional principles of separation between government & religion.
Living in the current "Christian Frenzy" era, that has been gaining popularity by leaps and bounds since the mid-1950s, accelerated by 9/11, we must be ever more vigilant about especially Christian Fundamentalism working hard to dominate the political arena at all levels. Thus we educate the public with letters to the editors, news releases, legally savvy communication with our local government agencies, and one-on-one encounters, as appropriate, by our members, legally taking appropriate action to preserve our rights when necessary.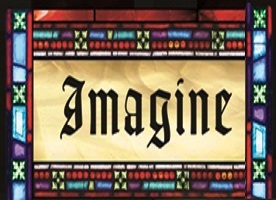 Sacramento is wonderfully supplied with many freethinking organizations which all provide many social opportunities for the local freethinkers, such as potlucks, game nights, book clubs, skeptic gatherings, movies, historical discussions, notable speakers, activist opportunities, and other events. So, this Chapter of FFRF does not feel the need to organize more of these events. Members are, instead, asked to join other local groups doing those things. Many of our members belong to multiple local groups. For a comprehensive local events calendar, please see http://sacramentocor.org.
Instead, and the reason we formed, is to support eyes and ears on the ground, at the small, local level, to simply monitor separation issues. We began as a response to one atheist in a small outlying town standing up by herself against seeing religious infiltration of their official town holiday celebration. Before this Chapter was even officially announced, another infraction was caught and stopped by another local city wanting to support an evangelical fund-raiser. It's all around us. Our members are called Monitors, all of them, whether they monitor weekly city council agenda and minutes and school board agenda and minutes, or if they simply want to support other local friends, neighbors and members who are more actively pursuing this cause.
If you are a freethinker who is supportive of the separation of church and state, please feel free to email us with any questions you have. To join our local Chapter, first join the national FFRF organization at http://ffrf.org, then send us an email letting us know you've done that. The Greater Sacramento Chapter does not charge any fees - we just need your email address. We will call you a Monitor. You will receive regular supportive updates telling you everything happening at our local level, plus tips on how to watch for problems. All reported potential violations are of course always pursued anonymously. Or, you can help this wonderful cause from the background. Thanks for your important support. For more information, send an email to This email address is being protected from spambots. You need JavaScript enabled to view it.This email address is being protected from spambots. You need JavaScript enabled to view it." style="background-color: transparent; border: 0px; font-family: inherit; font-size: 12px; font-style: inherit; font-weight: inherit; margin: 0px; padding: 0px; outline: 0px; vertical-align: baseline; color: #3f7794;">.