Help Freethought Hall Be "Born Again"!
FFRF's building project will preserve Freethought Hall, FFRF's home since 1990, and one of the oldest buildings in Madison, Wisconsin, while adding a handsome multi-leveled addition.
The expansion will:
• Quadruple space
• Give Freethought Hall a true Hall — a top-floor elegant Auditorium
• Accommodate current staff members, while creating work stations for many new staffers into the future
• Create an entire second story legal wing for our attorneys and legal work
• Add a sumptuous 900-square foot library
• Restore a charming "Above Us Only Sky" cupola
• Create a TV-radio recording studio
• Provide a large "No Hell Below Us" mailing/shipping area with easy outdoor access in exposed lower level
• Give us more storage — desperately needed!
• Ramp up security features
More Than Bricks & Mortar
This expansion will enhance the Freedom From Religion Foundation's capacity, work, visibility, prestige, outreach and future growth. This project will move FFRF — the nation's largest association of freethinkers (atheists & agnostics) — FORWARD!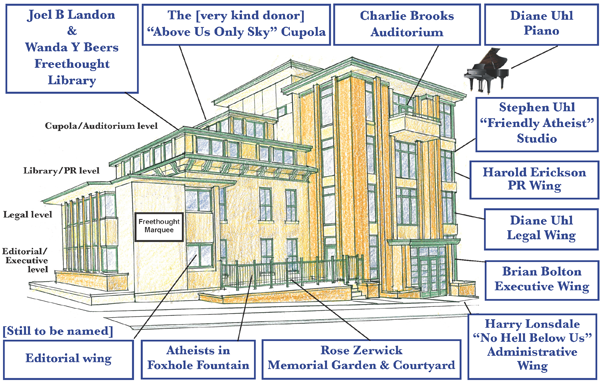 Sponsorship Opportunities
Top Building Fund donors will also be recognized in the main lobby with name in 5-inch-high letters etched on magnificent 14-foot floor-to-ceiling "silver" wall of acknowledgment.
$5,000 and Up — Names of other major donors ($5,000+) also inscribed prominently for posterity in the lobby.
Other Sponsorship Opportunities
Name on Vestibule Tile (Tasteful handcrafted ceramic wall tile in entryway) $2,500 per tile. While space lasts! Order now! (Limit to name only.)
Name (or Message) on Paving Stone (in Courtyard/Garden Patio) $2,000 — While space lasts! Order now!
Name or Message on 12x12 Paving Stone. $1,000 — While space lasts! Order now! Name or Message on 6x12 Paving Stone.
Won't You Make a Gift to FFRF's "Ground Breaking" Expansion?
Freedom Depends on Freethinkers!