Additional Info
videolink

https://www.patheos.com/blogs/crossexamined/2020/09/how-good-was-jesus-if-he-didnt-eliminate-slavery-2-of-4/
Additional Info
videolink

prosecutor-chaplain-program/5805882002/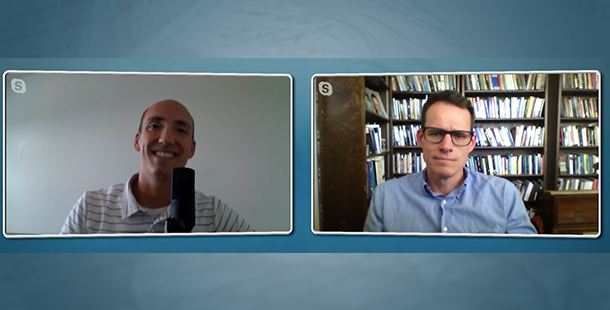 Two of the foremost specialists in the United States on Christian Nationalism, who have a new book out on the phenomenon, are the joint guests on the Freedom From Religion Foundation's television show this Sunday. If you don't live in the 22 percent of the country's markets where the show broadcasts, you can already catch the show on FFRF's YouTube channel.
On the fall season's third episode of "Freethought Matters," airing Sunday, Sept. 20, in 12 cities, guest host Andrew Seidel, FFRF's Director of Strategic Response, interviews Professors Andrew Whitehead and Samuel Perry, authors of the recently published Taking America Back for God: Christian Nationalism in the United States. Whitehead is a sociologist who was an associate professor at Clemson and has started teaching at Indiana University this semester. Perry is a sociologist and associate professor at the University of Oklahoma and the author of two other books, Addicted to Lust and Growing God's Family. Seidel himself is the author of the recent The Founding Myth: Why Christian Nationalism Is Un-American.
Christian Nationalism "is related to racism, but it's not just racism, and it's related to authoritarianism, but it's not just authoritarianism," Whitehead says on the show. "It's related to xenophobia, but it's not just reducible to that. And so it's connected and it connects all of these other negative ideologies in this powerful way that we felt like we needed to unpack some more."
FFRF has enthusiastically launched the fall season of its TV show, "Freethought Matters," in the face of the pandemic. The season's first episode was broadcast with the distinguished journalist and pundit Eleanor Clift, which you can watch here. The second show had as the guest Professor Khyati Joshi, an expert on Christian privilege.
Upcoming guests and topics include the imperiled Constitution with Supreme Court expert Linda Greenhouse, who covered the court for 30 years for the New York Times. "Freethought Matters" will also soon feature a interview with the distinguished D.C. delegate, Rep. Eleanor Holmes Norton (a member of the Congressional Freethought Caucus), and '60s and '70s pop star, movie and TV actor and singer John Davidson, today a nonbeliever.
Freethought Matters" airs in:
Chicago, WPWR-CW (Ch. 50), Sundays at 9 a.m.
Denver, KWGN-CW (Ch. 2), Sundays at 7 a.m.
Houston, KUBE-IND (Ch. 57), Sundays at 9 a.m.
Los Angeles, KCOP-MY (Ch. 13), Sundays at 8:30 a.m.
Madison, Wis., WISC-TV (Ch. 3), Sundays at 11 p.m.
Minneapolis, KSTC-IND (Ch. 45), Sundays at 9:30 a.m.
New York City, WPIX-IND (Ch. 11), Sundays at 8:30 a.m.
Phoenix, KASW-CW (Ch. 61, or 6 or 1006 for HD), Sundays at 8:30 a.m.
Portland, Ore., KRCW-CW (Ch. 32), Sundays at 9 a.m. Comcast channel 703 for High Def, or Channel 3.
Sacramento, KQCA-MY (Ch. 58), Sundays at 8:30 a.m.
Seattle, KONG-IND (Ch. 16 or Ch. 106 on Comcast). Sundays at 8 a.m.
Washington, D.C., WDCW-CW (Ch. 50), Sundays at 8 a.m.
Watch previous seasons here, including recent interviews with Ron Reagan, Julia Sweeney and Ed Asner, as well as U.S. Reps. Jared Huffman and Jamie Raskin, co-chairs of the Congressional Freethought Caucus.
"We want to provide sympathetic programming for the 'unmassed masses,' and offer an alternative, so that religious programming does not win by default," says Gaylor.
Please tune in to "Freethought Matters" . . . because freethought matters.
P.S. Please tune in or record according to the times given above regardless of what is listed in your TV guide (it may be listed simply as "paid programming" or even be misidentified). To set up an automatic weekly recording, try taping manually by time or channel. And spread the word to freethinking friends, family or colleagues about a TV show, finally, that is dedicated to providing programming for freethinkers!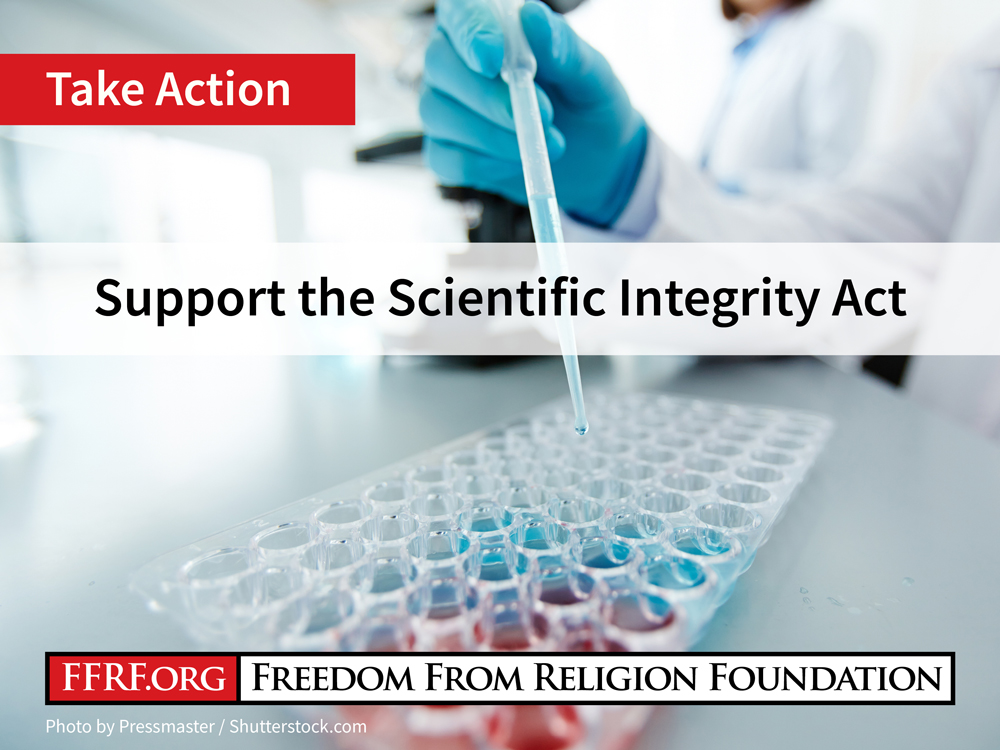 When the House of Representatives passed the third COVID-19 relief bill (HEROES Act) in May, it included a critical bipartisan provision called The Scientific Integrity Act. Unfortunately, that relief bill is dead in the Senate. So we need your help to pass S. 775, the Scientific Integrity Act.
This act would shield government scientists and their work from political influence. The legislation makes it more likely that the experts who work on our behalf can investigate public health and environmental threats and share their work directly and honestly with the American people.
Read more on the Scientific Integrity Act.
The importance of legislation that protects the independence of scientific research has never been more apparent. Please take a few moments to contact your U.S. senators and urge them to support the Scientific Integrity Act (S. 775).
Additional Info
videolink

https://ffrf.us/2RyUW75
Additional Info
videolink

https://www.gjsentinel.com/news/western_colorado/briefs-woman-given-freedom-from-religion-award/article_58679014-f85c-11ea-889d-63ecb29b91a7.html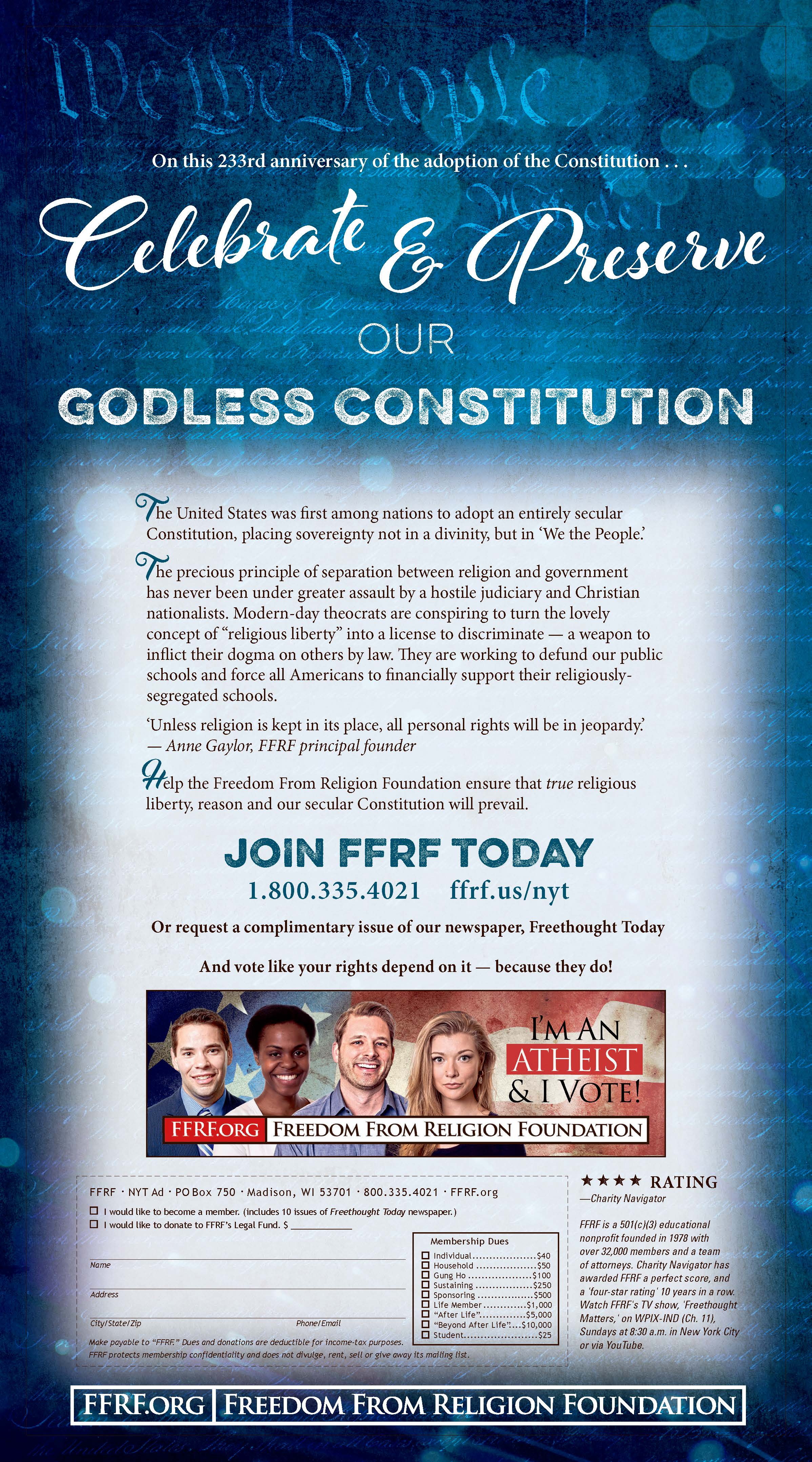 The Freedom From Religion Foundation has placed an ad today in The New York Times to "Celebrate & Preserve our Godless Constitution" in honor of the 233rd anniversary of the adoption of the U.S. Constitution.
"The United States was first among nations to adopt an entirely secular Constitution," the ad reminds, "placing sovereignty not in a divinity, but in 'We the People.'"
FFRF cautions in the ad that "the precious principle of separation between religion and government has never been under greater assault by a hostile judiciary and Christian nationalists. Modern-day theocrats are conspiring to turn the lovely concept of 'religious liberty' into a license to discriminate — a weapon to inflict their dogma on others by law."
"Unless religion is kept in its place, all personal rights will be in jeopardy," it concludes, quoting FFRF principal founder Anne Gaylor. It urges readers to help FFRF ensure that true religious liberty, reason and our secular Constitution will prevail by joining FFRF — and by voting.
"Vote like your rights depend on it — because they do!"
FFRF thanks donors to its advertising fund for making the ad possible.
%664 %America/Chicago, %2020
Additional Info
guests

Philip Appleman

showNameHeadline

Freethought Poet Laureate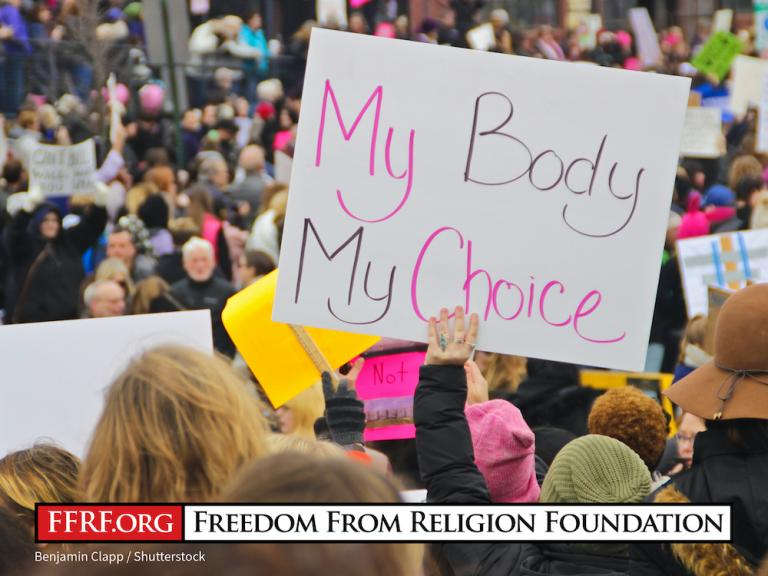 The Vermont Legislature is currently considering a bill that would advance reproductive health care in the state.
Can you take a few moments to contact your state lawmakers and urge them to support H. 663, which will increase access to contraceptives in health insurance programs and in educational settings?
Given the alarming growth in religiously affiliated medical services in the United States, it is crucial that the government protect and expand access to essential reproductive health care services.
If passed, H. 663 would ensure that initiatives to provide coverage for outpatient contraceptive and birth control services, including voluntary sterilizations, would be implemented consistently across insurance plans, including Medicaid, in Vermont. Additionally, H. 663 would require school districts to make condoms freely available to students in secondary schools.
Read FFRF's testimony to the House Committee on Human Services in favor of H. 663.
Click on the red "Take Action" link below to use our automated system to contact your Vermont legislators. Feel free to use or adapt the talking points provided. For the most impactful message, personalize the note.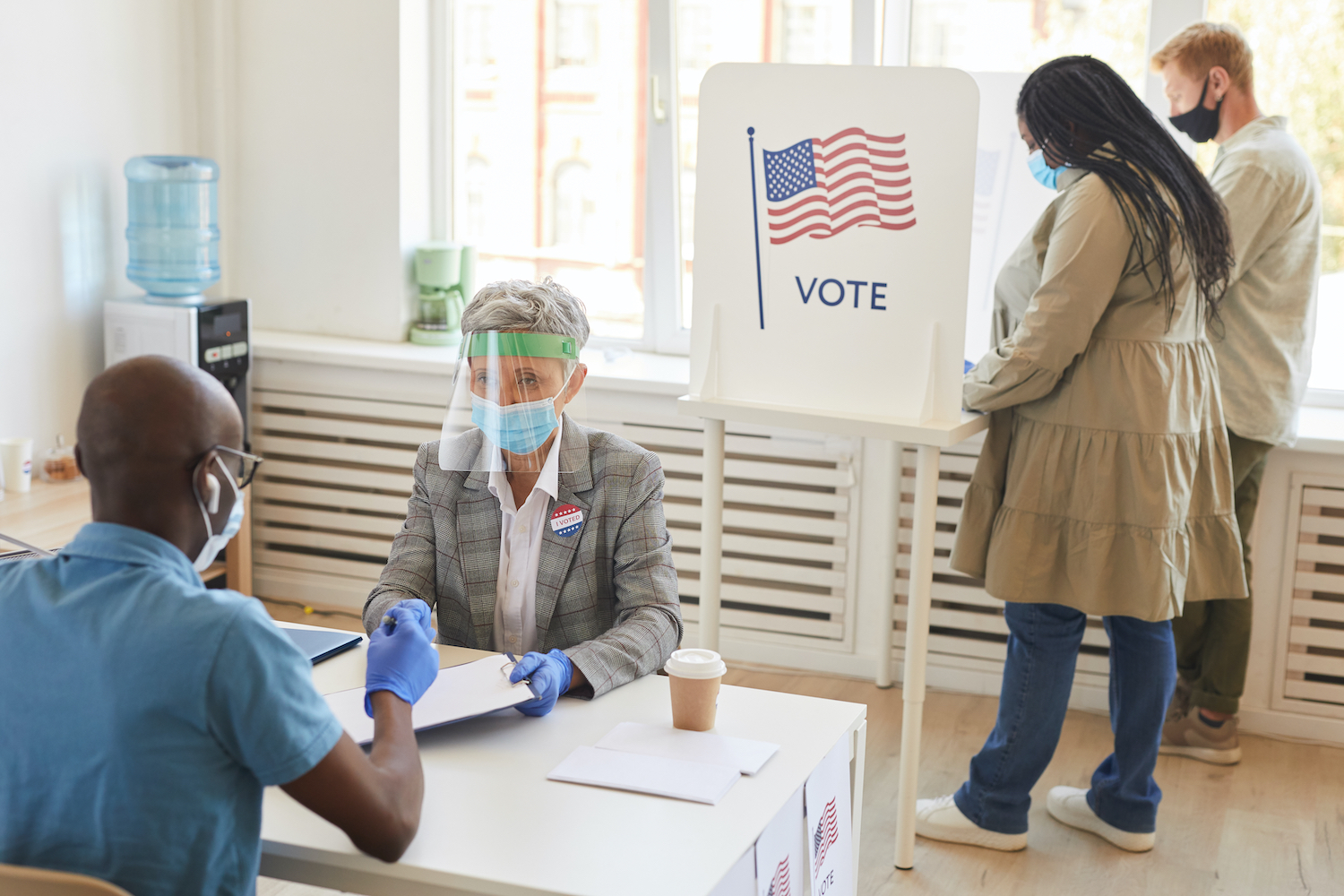 The Freedom From Religion Foundation, a state/church watchdog and the nation's largest association of freethinkers (atheists and agnostics), is offering to pay its employees to serve as poll workers on Election Day.
"Normally, the ranks of poll workers are largely filled by retired citizens, but since older Americans are among the most vulnerable in this pandemic, and younger folks are being called on to step in, we want to do our bit," says FFRF Co-President Annie Laurie Gaylor.
FFRF staffers who take the nonprofit up on its offer will receive regular pay, plus the usual stipend from the local government for their work (which includes a coronavirus bonus in some locations).
Wisconsin, where FFRF has its home base in Madison, needs the help. The conservative Wisconsin Supreme Court forced voters to risk their lives and vote in-person during the pandemic for an April election, even if those voters had made a timely request for an absentee ballot. During that election, the state was short 7,000 poll workers, and polls across the state were closed because there were not enough people to work them. Milwaukee normally has more than 180 polling stations — and only five were open for that election. In Green Bay, only two of the usual 31 polling stations were open. According to other reports on that election, "111 jurisdictions don't have enough poll workers to staff a single polling location."
"Our staff are caring, civic- and service-minded individuals — and if any who are not at high risk are interested in being poll workers, this is the least we can do," adds Gaylor. FFRF has about 30 employees.
"Atheists are everywhere," says FFRF Co-President Dan Barker, a former evangelical preacher and author of several books on leaving faith. "We're doctors, lawyers, cabbies, servers, teachers, nurses, firefighters, librarians, business leaders and government officials. And we're poll workers, too."
Photo via Shutterstock By SeventyFour