Tribute to Anne Nicol Gaylor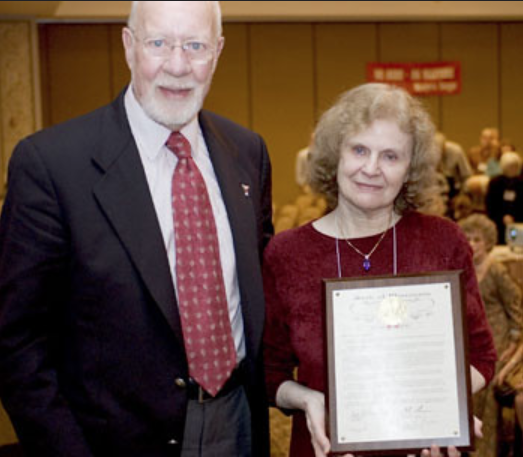 Wis. Sen. Fred Risser and Anne Gaylor
Photo by Brent Nicastro
State Sen. Fred Risser has been a stalwart at the Wisconsin State Capitol , would have made a wonderful governor and has been a wonderful friend to our district. We are honored that he has attended in person to deliver a citation/plaque from the Wisconsin State Senate. Citation reads:
State of Wisconsin
Citation by the Senate
KNOW YOU BY THESE PRESENTS:
WHEREAS, Anne Nicol Gaylor will retire as president of Freedom From Religion Foundation and from the day-to-day administration of the Women's Medical Fund in November; and
WHEREAS, While Anne is most known for her tireless work for Freedom From Religion Foundation and the Women's Medical Fund, she began her career as a businesswoman. In 1958, Anne started Madison's first temporary help agency, and in 1959, she started an employment agency for those seeking permanent work; and
WHEREAS, From 1966 to 1970, Anne and her husband Paul owned the Middleton Times Tribune. It was during this time that Anne found herself at the forefront of the debate on abortion rights in Wisconsin. In 1967, she wrote the first editorial calling for the legalization of abortion in Wisconsin. The editorial brought many phone inquiries from women looking for access to abortion and contraceptive services. In 1968, Anne founded a Madison Branch of the Wisconsin Committee to Legalize Abortion. In 1972, Anne established a volunteer referral service for the women in need of abortion, contraceptive and sterilization services. That same year, she co-founded the Women's Medical Fund to help low-income women gain greater access to health and reproductive services; and
WHEREAS, As a leading activist for women, Anne realized that the real enemy to women was the wide-ranging religious influence on government. In 1976, Anne founded the Freedom From Religion Foundation, which became a national tax-exempt educational group in 1978; and
WHEREAS, Since the founding of the Freedom From Religion Foundation, Anne has been involved in numerous lawsuits against all levels of government, successfully protesting violations of the Establishment Clause of the United States Constitution from Postal Service cancellation marks to government funding of "faith based" organizations; and
WHEREAS, Anne's activism on behalf of two controversial causes--abortion rights for the poor and the right to freedom from religion--has never wavered and even in retirement, she will still remain a presence in fighting against the no-holds-barred attacks for the right; now
THEREFORE, the members of the Wisconsin Senate on the motion of Senator Fred A. Risser do congratulate ANNE NICOL GAYLOR on the occasion of her retirement and thank her for her longtime activism on behalf of many liberal causes.
FRED A. RISSER
State Senator
ALAN LASEE
President of the Senate
ROBERT J. MARCHANT
Chief Clerk of theSenate
October 29, 2004