Year in Review (5)
%849 %America/Chicago, %2012
Written by Super User
YEAR IN REVIEW 2005
Year in Review
It's been a busy, productive and successful 27th year for the Freedom From Religion Foundation. Thanks to membership help, lawsuits and publicity, we have added more than 900 members (net) this year, and are now at 6,000 and growing. With 14% of the U.S. population claiming to be nonreligious (29 million adults, American Religion Identification Survey, 2001), the sky's the limit! This is the time for the secular population to flex our collective muscle. The fundamentalist tide has been unrelenting, and we appreciate your activism, and your support of the Foundation's work.
We Are Being Noticed!
The Freedom From Religion Foundation received regular nationwide, wire and regional coverage in 2005, "playing in Peoria" and many other locations. Our litigation was covered in The New York Times, The Washington Post, Arizona Republic, and elsewhere. The (Moonie-owned) Washington Times, in a hyped spring series, "Religion under assault" (!), identified our comparatively young and small Foundation as being one of "four groups that furnish the most [secular] leadership." (That list included the ACLU, with its $48 million in reported annual revenues, People for the American Way, and Americans United.) We rate because the Foundation, which always has several First Amendment cases in court, has taken the lead in challenging faith-based funding.
If you are interested in following media coverage of Foundation activities or interviews, you may sign up at our website to be sent our press releases and "FFRF in the News" emails. Media coverage now has its own link at our homepage, www.ffrf.org/media. Take a peek at the impressive coverage and read many of the news articles and interviews.
TV media since our last annual report included "The O'Reilly Factor" on Fox News (Dec. 9, 2004) , in which O'Reilly surprisingly told Foundation co-president Annie Laurie Gaylor that if her statements about MentorKids USA were correct (they were), we would win our lawsuit. (We did, in January 2005.)
Annie Laurie appeared on CNN-TV with host Carol Lin, opposite a priest, in a lively segment, "Would the World Be Better with No Religion?" (July 30). It was refreshing to be asked to talk on an affirmative topic. Annie Laurie also appeared on the national CBS-TV Early Show about religion in the workplace (Oct. 15) and on the Paula Zahn Show, regarding a Foundation complaint, on CNN-TV (Oct. 17). Both Dan Barker and Annie Laurie did numerous regional and syndicated radio shows and interviews.
Freethought Outreach
Foundation co-president Dan Barker played to packed houses at several debates around the country. He appeared at a fundamentalist church in Minneapolis debating arch rightwing radio personality Janet Parshall on Feb. 25. "Does Ethics Require God?" was the topic at the University of Wisconsin, Stevens Point debate in March (several hundred students). More than 800 attended an Oct. 18 debate at the University of Idaho-Moscow (in Idaho's largest public auditorium!) on the subject of: "Should religion and government be strictly separate?"
Dan, author of Losing Faith in Faith: From Preacher to Atheist, spoke at numerous colleges, including Lawrence, Kansas, and made appearances at the University of Iowa and Iowa State University. Ironically, during "Free Speech Week" in April in Iowa, Dan had his microphone deliberately turned off briefly! He returned to the University of Iowa later that month to speak about "Losing Faith in Faith" to a full house. He spoke at the University of Wisconsin-Parkside and talked to several high school groups and Unitarian societies. Dan was flown to New York City to be interviewed for a documentary being produced by Simon Cole. Also interviewed in Alabama for this film were leaders and members of our chapter, the Alabama Freethought Association.
Significantly, Canadian humanists invited Dan to represent atheism at the World Religions Conference on Oct. 1, where a contingent sang the freethought anthem, "Die Gedanken Sind Frei (Thoughts are Free)." Freethought was treated as a bonafide viewpoint (not as a religion) at this conference attended by Canadian dignitaries and media, where the topic was "salvation." Dan quipped: "If salvation is the cure, then atheism is the prevention." As the only nonreligionist, Dan received the lion's share of questions.
Dan performed a concert for the Los Angeles Center for Inquiry Winter Solstice banquet, represented the Foundation at a Washington, D.C. conference of secular groups in January, spoke to the Charleston, S.C., Humanists in April, and traveled to a humanist conference in Venezuela in July. He addressed the international conference in English, then enjoyed employing his fluent Spanish to speak to a local group. Dan gave a concert at the July 4th festivities at Lake Hypatia, Alabama, hosted by the Foundation's active and hardworking Alabama Freethought Society, directed by Pat Cleveland.
Dan will represent the Foundation in Iceland during the summer solstice, at an international freethought gathering including Richard Dawkins and Julia Sweeney ("Letting Go of God").
Legal Victories
Building on dozens of victories in the last three decades, the Foundation has had a fruitful legal year, starting with a precedent-setting court victory over faith-based funding, followed by two other speedy legal victories.
On January 12, 2005, a federal judge in Wisconsin ordered Health and Human Services in D.C. to vacate funding of MentorKids USA as a result of the Freedom From Religion Foundation's lawsuit. This was the first (and only) time a Cabinet agency has been ordered by a judge to halt funding under the faith-based initiative. Our victory was not appealed. Since this was a lawsuit at the Cabinet level, FFRF was not able to recover fees under rules adopted by Congress (to discourage citizens from suing them!).
On March 16, the Foundation appealed to the U.S. Court of Appeals, 7th Circuit, seeking to be reinstated as taxpayers to challenge the creation of the White House Office of Faith-based and Community Initiatives. The 7th Circuit heard oral arguments in September. We are awaiting word.
On March 29, the Foundation filed its federal lawsuit against the University of Minnesota, which forced the University to withdraw from a "faith/health consortium" and to abandon classes it intended to sponsor promoting "faith/health leadership." That case was resolved by September. Because the University capitulated to all demands prior to major court involvement (the good news), the Foundation was not allowed to recover attorney fees (the bad news).
On April 22, the Foundation filed its challenge of $450,000 in federal appropriations to an unaccredited, tiny church college in Alaska that offers no academic classes. In October, the Department of Education, the defendant, agreed not to turn over those taxpayer funds! As a taxpayer bonus, remaining money from earlier grants was revoked. Because we were suing at the Cabinet level, FFRF was not eligible to recover costs.
Also in the spring, the Foundation agreed to enter as a co-plaintiff in David Habecker's challenge in federal court of the legality of being recalled from office for failing to say the religious Pledge of Allegiance. All briefs and motions have been filed.
On Nov. 7, the Foundation sued the State of New Mexico for funding a "God Pod" at the women's prison in Grants, N.M., predicated on salvation through Jesus Christ and 700 hours of religious proselytizing. (See the letter enclosed for a summary of the three new faith-based challenges the Foundation will be filing by early 2006.)
Publishing
Dan has been hard at work finalizing the manuscript, Rhymes for the Irreverent, by Yip Harburg, the great American lyricist whose songs include "Somewhere over the Rainbow," "Paper Moon" and "Brother, Can You Spare a Dime?" Yip was a highly irreverent, socially-conscious agnostic who penned clever, sometimes poignant rhymes in the 1960s and 1970s that are largely out of print. The Foundation is delighted that Yip's son and daughter, Ernie and Margie, have given the Foundation permission to publish a new, complete and enlarged hardback version of Yip's rhymes, combining two original books and including some recently-discovered poems being published for the first time. The original book 30 years ago was illustrated by distinguished artist Seymour Chwast, who, with the help of the Yip Harburg Foundation, was commissioned to add illustrations for our new version.
Rhymes for the Irreverent will be published in early 2006. We hope you will buy it for your own enjoyment, as gifts and to donate to public libraries. Yip Harburg's persona, rhymes and wit make his work an effective ambassador for freethought.
Awards
To continue its outreach and encouragement to young freethinkers, the Foundation awarded $4,900 to winning student essays in both its 2005 college and high school senior competitions. Winning essays are published in Freethought Today. This longtime endeavor, we believe, is one of the Foundation's most significant educational efforts.
At the November 2005 annual convention, the Foundation awarded Jennifer Musgrove the "Ruth (Dixie) Jokinen Student Activist Award," endowed for $1,000 annually by Board member Richard Mole. Jennifer was the student plaintiff in a successful lawsuit in her Florida community challenging the use of a cross-dominated church auditorium as the venue for public school graduations. (A California couple has also offered a second $1,000 Student Activist Award -- we are accepting nominations for major activism to promote state/church separation or freethought involving high school, college or young people.)
Eminent neurologist and bestselling author Oliver Sacks, M.D., was this year's recipient of our popular Emperor Has No Clothes Award. Dr. Sacks, who accepted his award in person, joins a list of distinguished public figures who have been recognized by the Foundation for their "plain speaking" on religion. The golden statuette is made for the Foundation by the company that manufactures the Oscar.
Board member Dick Hewetson, who is helping host our 2006 gathering in San Francisco on the weekend of Oct. 6-8, 2006, has kindly dubbed Foundation conventions the freethought equivalent of the "Academy Awards."
Office Update
Last summer Charity Navigator, the largest independent evaluator of charities, awarded the Foundation its "four-star" rating:
"Receiving four out of a possible four stars indicates that your organization excels, as compared to other charities in America, in successfully managing the finances of your organization in an efficient and effective manner."
In other words, we spend most of our resources on programs (freethought and state/church separation)--not fundraising! To date, the Foundation is the only freethought or state/church watchdog group to receive a four-star rating.
The Freedom From Religion Foundation has four and a half staff members and utilizes regular volunteer help. Foundation officer Phyllis Rose, a retired library administrator, works three afternoons a week. Retired Foundation president emerita Anne Gaylor works three to five afternoons a week. Jill Dean, a retired attorney and editor, volunteers one afternoon a week for half a year. We currently have a student volunteer working for class credit. The Foundation, as a tax-exempt nonprofit (unlike churches which account to no one), files an annual 990 IRS form verifying where the money goes.
The staff and its volunteers recently have been freed from three to four days of work-stopping "grunt work" since hiring a mailing house in late summer to mail Freethought Today. The savings in having the mailing house affix individual barcodes to each label (which reduces postage) pays for the mailing service and is supposed to speed delivery. We hope you are enjoying the new wrapper, which gives us some fun space to publish a monthly calendar, "food for freethought" recipe of the month, and special promotions.
The Foundation currently has about 450 Life Members ($1,000 individual membership, placed in rainy day savings) and we are grateful for all membership support.
%849 %America/Chicago, %2012
Written by Super User
2006 YEAR IN REVIEW
FFRF is Growing Fast!
The Freedom From Religion Foundation, which has been the largest national association of atheists and agnostics for at least a decade, has had unprecedented growth. FFRF added a net of 1,500 new members in 2006, a 25% membership increase. FFRF is approaching 8,000 members, and has an additional 500 supporters.
"Wake Up" Campaign
Initiated by a generous benefactor offering a $25,000 matching grant, the Foundation undertook a well-timed "Wake up America to the dangers of theocracy" campaign in 2006. With wonderful response from its membership, FFRF launched public outreach, including our first foray into national radio advertising on Air America radio.
Freethought Radio
The Foundation launched Freethought Radio in April 2006--the only weekly, hour-long freethought radio broadcast in the nation. The show, cohosted by Dan Barker and Annie Laurie Gaylor, has been broadcast in Madison, Wis., over the local Air America affiliate, and podcast around the nation. The goal is not just to "preach to the unconverted," but to educate the public and raise freethought visibility. High-powered guests have included Ron Reagan and many provocative authors and activists.
Legal Victories & Developments
FFRF Faith Challenge Accepted by Supreme Court. The Foundation's challenge of the creation the Office of Faith-based Initiatives at the White House and several cabinets has been accepted for review by the U.S. Supreme Court, with oral arguments in February and a decision expected by June 2007. At issue is the right of taxpayers to sue over unconstitutional actions by the executive branch.
Veteran Affairs Lawsuit. The Foundation filed suit in April 2006 against the Department of Veteran Affairs for the integration of "spirituality" and religion into all aspects of medical care. While chaplains have traditionally been available to hospital-bound vets as an accommodation, the VA is now making chaplains a full part of the medical team, even for outpatient care. Outlandish "spiritual inventories" are routinely taken in many VA hospitals and clinics, demanding to know how many times vets pray, read the bible, go to church, etc.
Federal Bureau of Prisons. In May 2006, the Freedom From Religion Foundation filed suit against the Federal Bureau of Prisons and the Attorney General's Office, for its plan to host "single-faith" pods in various federal penitentiaries. After FFRF's lawsuit was filed, the Bureau suspended its call for the "single-faith" programs. In October 2006, in a major victory, the Bureau announced it cancelled plans for the "single-faith" ministries! The Foundation's lawsuit continues to challenge the "multifaith" ministry set up by the feds.
New Mexico prison program. FFRF is awaiting the court's ruling in its lawsuit against the State of New Mexico and the for-profit prison provider it contracts with, over a fundamentalist Christian prison ministry in Grants, N.M. Women must memorize many bible verses before being accepted into the 24/7 bible-based residential treatment program.
FFRF has won five major federal lawsuits against the faith-based initiative so far, with the additional above four ongoing, all taken by attorney Rich Bolton.
Publishing
FFRF reissued in hardback form Dan Barker's popular book, Losing Faith in Faith: From Preacher to Atheist, which has been in print as a paperback since 1992.
The Foundation placed copies of lyricist Yip Harburg's Rhymes for the Irreverent (FFRF, 2006) in many libraries, with help from members. Yip, who wrote the words to such American classics as "Somewhere Over the Rainbow" and "Brother, Can You Spare a Dime," was an ardent atheist, whose rhymes enlighten with a smile.
Student Awards
In its continuing outreach and encouragement to young freethinkers, the Foundation awarded $8,300 to winning student essayists in its 2006 college and high school senior competitions. Winning essays are published in Freethought Today.
Outreach
Dan Barker, Foundation co-president, participated in 12 debates in 2006, in Minnesota, Arkansas, Connecticut, Wisconsin, Massachusetts, Ohio, and also spoke to college students in Alabama, Arizona, Wisconsin, and Minnesota. He gave speeches or musical concerts to the Atlanta Freethought Society, and Unitarian and humanist societies around the country.
4-Star Charity Status
Charity Navigator, the largest independent evaluator of charities, awarded the Foundation its "four-star" rating in 2006:
"Only 12% of the charities we've rated have received at least two consecutive 4-star evaluations, indicating that Freedom from Religion Foundation outperforms most charities in America in its efforts to operate in the most fiscally responsible way possible."
2006 National Convention
There was a lot of energy in the air with nearly 600 freethinkers coming together to meet and hear distinguished speakers and activists, at FFRF's 29th annual national convention in San Francisco Oct. 6-8, 2006. Much-requested speaker Sam Harris ( The End of Faith) opened the conference, and Julia Sweeney closed it, with her funny, piquant and wise one-woman show, "Letting Go of God." Julia received this year's Emperor Has No Clothes Award, recognizing public figures for their "plain speaking" on religion.
%849 %America/Chicago, %2012
Written by Super User
2007 YEAR IN REVIEW
A Busy Year for FFRF!
The Freedom From Religion Foundation has experienced unprecedented growth, increasing membership by 50% in the last year. This year the Foundation launched three new lawsuits, won one federal lawsuit, and had a case before the U.S. Supreme Court that attracted many new sympathizers. FFRF's weekly radio broadcast, Freethought Radio, went national this fall, and now airs on many affiliates of Air America network around the nation, a first for freethought! FFRF has just launched a jaunty new billboard campaign, asking drivers to "Imagine No Religion" or warning them to "Beware of Dogma." Our upbeat 30th annual convention was our largest to date, attracting a lot of coverage, energy and more than 750 participants to hear a provocative line-up of authors and activists.
FFRF Reaches New Membership High
As of the last week in November, FFRF's membership is more than 11,600, with an additional 550 nonmembers who subscribe to Freethought Today. The Foundation, long the nation's largest membership group of atheists and agnostics, has doubled its size in the last two years!
FFRF's Freethought Radio Goes National
In a media coup this fall, the Foundation brokered a weekly program on the national Air America network in October. This marks the first time ever a freethought radio show has gone national. After broadcasting to audiences in Madison, Wis., for a year and a half, Freethought Radio, hosted by Foundation co-presidents Dan Barker and Annie Laurie Gaylor, is now released nationally on weekends from Air America to its stations and its satellite channel. If you have an Air America affiliate in your area that is not yet broadcasting Freethought Radio, please keep asking them to!
Freethought Radio has interviewed bestselling freethought authors Richard Dawkins, Christopher Hitchens, Sam Harris, and Philip Pullman, and personalities such as Julia Sweeney, Janeane Garafalo and Ron Reagan. It also features a variety of activists and newsmakers, such as FFRF's young member, SPC Jeremy Hall, who has been threatened with "fragging" for suing the Pentagon for discrimination against his attempt to form a freethought group on his base in Iraq. The show claims a tiny portion of the public airwaves for "the rest of us," to promote freethought and state/church separation. Dan and Annie Laurie update listeners weekly on state/church developments in "Theocracy Alert." Freethought Radio is more than a podcast "preaching to the unconverted." We are going to the mass media to counter the relentless 24/7 din of the religious right, and to place a positive spotlight on freethinkers and the First Amendment.
Taking Reason to the Roadside with Appealing Freethought Billboards
In October, FFRF debuted its first billboards, saying "Beware of Dogma" and "Imagine No Religion," against a mock stained-glass window background. A 48x14-foot version of "Imagine No Religion" went up in suburban Atlanta for the month of December, thanks to donors there. A smaller "Imagine No Religion" billboard is going up for six months starting in December in Chambersburg, Penn., initiated and paid for by a generous local FFRF member. FFRF's goal is to keep FFRF's three 48x14-foot reusable vinyl billboards in continual use somewhere in America. FFRF members can help by scouting out good locations in their areas, checking out local leasing companies and, if they wish, by donating to the billboard fund.
Supreme Court Decision & Many Other Legal Adventures
FFRF's case before the U.S. Supreme Court dominated the first half of 2007. The Yale Law School Supreme Court Advocacy Clinic with principal attorney Andrew J. Pincus represented FFRF pro bono and submitted its brief, with Richard Bolton as attorney of counsel. Many fine friend-of-the-court briefs were submitted on FFRF's behalf.
Although FFRF lost its right to sue the executive branch over the creation of faith-based offices at the White House and Cabinets in Hein v. FFRF, FFRF did win the plurality opinion, as The Los Angeles Times pointed out. FFRF had 4 justices solidly in our camp, whereas the bloc of 5 Roman Catholic judges against us--Roberts, Alito, Scalia, Thomas and Kennedy--was divided. Although Kennedy, the swing vote, defected to the majority on FFRF's right to sue, he refused to vote to outright overturn the precedent of Flast v. Cohen, which permits taxpayers to sue over Congressional actions which violate the separation of church and state. The Hein decision says federal taxpayers do not have the right to challenge executive branch violations not explicitly authorized by the legislative branch. The unjust decision means our country has a constitutional separation between church and state, but no way to enforce it in this and many other instances. The punchy dissent, written by Justice Souter and signed by Justices Ginsburg, Breyer, and Stevens, noted: "If the Executive could accomplish through the exercise of discretion exactly what Congress cannot do through legislation, Establishment Clause protection would melt away." The Establishment Clause is in for a rough ride in the Roberts Court.
One of the first casualties of Hein v. FFRF was FFRF's strong lawsuit against the State of New Mexico for establishing an outrageous Christian dominionist "God pod" in a women's prison in Grants, N.M. FFRF withdrew the lawsuit in July, after the judge said he would rule against the right of FFRF's state taxpayers to sue. FFRF hopes to challenge religion programs funded by tax dollars in prisons with prisoner plaintiffs in the future.
This fall, FFRF brought suit in Colorado against a school district that has adopted a policy encouraging children to engage in an hour a week of religious devotion. With Michael Newdow and parent plaintiffs, FFRF is a co-plaintiff in a new federal lawsuit challenging the constitutionality of the words "under God" in the Pledge of Allegiance in New Hampshire. Oral arguments at the appeals level are scheduled for early next year in FFRF's important national challenge of the Veteran Affairs' use of "spiritual inventories" and invasive faith-enhanced medical care for inpatients and outpatients. This will be the first FFRF case to "duke out" the restrictive parameters of the Hein v. FFRF decision. FFRF also filed a federal suit this year over North Dakota's longstanding contract with a church denomination to provide most of its juvenile detention at church-run facilities explicitly forbidding nonChristian worship!
FFRF's major legal coup in 2007 was ending the first chaplaincy for state workers ever set up in the nation, in which a pastor was hired by Indiana to bring "faith into the workplace" for state employees in the Family and Social Services Administration. The state abolished the chaplaincy and fired the chaplain this fall, ending the lawsuit.
Outreach to Campuses, Elsewhere
Dan Barker is working with the Secular Student Alliance, thanks to donors who contributed to FFRF's college outreach campaign last spring. This fall, he made two week-long tours in California and Texas, speaking at a dozen campuses to secular and freethought student clubs. More campus tours are planned for 2008. Dan and the Foundation welcome this opportunity to meet students. "I am so impressed by the bright and committed students I've met at campus freethought groups," says Dan. He also visited campuses in Minnesota, Ohio (where he debated a priest), Wisconsin and Dublin, Ireland (where he debated theistic philosopher Richard Swinburne).
Dan has appeared at more than 30 public events in the past year, telling his story of "preacher to atheist," participating in debates, performing concerts or giving speeches about the Foundation and state/church separation.
Dan appeared in Washington, Iowa, Alabama (for the Lake Hypatia "Glorious Fourth" celebration) and Minnesota. He also participated in the first international French-speaking African freethought conference in Yaoundé, Cameroon, in January, representing FFRF and American nonbelievers.
Media Coverage
Media coverage for FFRF in 2007 was phenomenal, starting with a national Associated Press story by Ryan Foley that ran just before the Feb. 28 oral arguments in FFRF's Supreme Court case. That wire story brought in thousands of e-mails to the Foundation, two-thirds supportive. An in-depth major profile about the Foundation and its history by reporter Doug Erickson ran in The Wisconsin State Journal. On the day of the hearing, USA Today ran a feature and a sympathetic editorial, "Government by Law, not Faith," appeared in The New York Times in favor of FFRF's right to sue. On the morning of the oral arguments, the Foundation's website was so flooded--fielding 400 hits a second--that it temporarily crashed!
Coverage of the oral arguments appeared in national wire stories, C-Span, CNN, major newspapers and many other venues, blogs and internet publications. A story, filmed at FFRF's office and radio program, ran on CBS Evening News. ABC World News, in a piece by TV correspondent Dan Harris, ran a major story on March 4, over what Harris called "the increasing assertiveness" of atheists in America today. An interview with Dan and Annie Laurie, filmed at the foot of the steps of the Supreme Court, opened and ended the broadcast. FFRF added 800 new members in 2 weeks!
The Chronicle of Philanthropy ran a major profile on the Foundation by Debra Blum on May 17. The unfavorable decision by the U.S. Supreme Court brought editorials in support of FFRF's position by The New York Times and the Los Angeles Times, and by several columnists. The decision and its ramifications continue to be debated and covered, with a piece condemning the Supreme Court's decision appearing as recently as Nov. 12 ("Wronged by the Court's Fine Print," Sheila Suess Kennedy, associate professor of law, Indianapolis Star).
The Foundation's national convention, along with the Foundation's two new billboards, "Imagine No Religion" and "Beware of Dogma," generated a second national AP wire feature story in October. The Foundation's many actions, complaints and lawsuits around the nation attracted local, regional, state or national stories and media coverage, including several major articles in The New York Times.
Student Awards
The Foundation awarded a total of $9,000 in scholarships to nine college-bound high school student essayists and nine ongoing college students in its two annual essay competitions.
The Foundation's Thomas Jefferson Student Activist Award of $1,000 was given to high school student Matthew LaClair, at FFRF's 30th annual convention. That award is endowed by a California couple. The Ruth "Dixie" Jokinen Memorial Student Activist Award of $1,000, endowed by board member Richard Mole, went to Emma Martens, a 17-year-old high school student who leads a regular walkout of students at her high school to protest the recitation of "under God" as part of the Pledge of Allegiance.
Fourth 4-Star Charity Status Rating: "Exceptional"
Charity Navigator, the largest independent evaluator of charities, again this year awarded the Foundation its highest "four-star" rating, for the fourth year in a row!
"We are proud to announce the Freedom from Religion Foundation has earned our fourth consecutive 4-star rating for its ability to efficiently manage and grow its finances. Only 5% of the charities we've rated have received at least 4 consecutive 4-star evaluations, indicating the Freedom From Religion Foundation outperforms most charities in America in its efforts to operate in the most fiscally responsible way possible. This 'exceptional' designation from Charity Navigator differentiates the Freedom From Religion Foundation from its peers and demonstrates to the public it is worthy of their trust."
30th Annual Convention
The Foundation had a record 750 registrations at its upbeat 30th annual convention,Oct. 12-14, 2007, in Madison, Wis. Interest was so high the Foundation had to move from its hotel venue to the Monona Terrace convention center to accommodate the audience.
All convention speeches are reprinted in Freethought Today.
%849 %America/Chicago, %2012
Written by Super User
FREEDOM FROM RELIGION FOUNDATION YEAR IN REVIEW 2008
FFRF Grows to 13,000 Strong!
Two years ago, the 2006 Year in Review reported that the Foundation had reached nearly 8,000 members. As of early December 2008, our membership is now 12,874 with an additional 600 supporters.
FFRF now has more than 900 Lifetime Members. The Foundation Executive Council earlier this fall formalized FFRF's de facto policy of treating Lifetime Memberships as untouchable, by creating an Endowment Fund (FDIC-insured), to further safeguard the Foundation's future. The interest only will go back into Foundation activities. Future Lifetime Memberships will go into the Endowment Fund and members interested in longevity may also earmark donations or bequests for this Endowment.
FFRF is also pleased to announce that we have seven "After-Life" Members ($5,000 level), a membership level created for those who wish their memberships to live on after them!
5th Year of 4-Star Charity Status
Charity Navigator, the largest independent evaluator of charities, for the fifth year in a row, awarded the Foundation "our coveted 4-star rating for sound fiscal management."
"We are proud to announce Freedom From Religion Foundation has earned our fifth consecutive 4-star rating for its ability to efficiently manage and grow its finances. Only 3% of the charities we've rated have received at least 5 consecutive 4-star evaluations, indicating that Freedom From Religion Foundation executes its mission in a fiscally responsible way, and outperforms most other charities in America. This 'exceptional' designation from Charity Navigator differentiates Freedom from Religion Foundation from its peers and demonstrates to the public it is worthy of their trust."
Combined Federal Campaign
The Foundation was accepted for the 2008 Combined Federal Campaign, after meeting the Campaign's rigorous criteria. This means federal workers will have a choice and be able to donate a portion of earnings to a freethought and state/church watchdog!
Billboard & Advertising Campaign
This fall Ron Reagan was kind enough to record a radio commercial for FFRF heard over The Ron Reagan Show on Air America:
"I'm Ron Reagan, an unabashed atheist, and I'm alarmed by the intrusions of religion into our secular government. That's why I'm asking you to join the Freedom From Religion Foundation, the nation's largest and most effective organization of atheists and agnostics, working to keep church and state separate. Phone 1-800-335-4021, that's 1-800-335-4021 or visit the Freedom From Religion Foundation at ffrf.org.
"Ron Reagan, lifelong atheist–not afraid of burning in hell!" FFRF has previously run radio ads recorded by Rachel Maddow, Janeane Garafalo, Julia Sweeney, and Laura Flanders, among other radio personalities.
A kind and generous East Coast member contributed $10,000 a year ago and challenged other FFRF members to add to her gift so that the Foundation could run an ad in The New York Times. Thanks to many generous members, the Foundation was able to run a full-page ad in the front section of The Times on Sept. 9, 2008 (reprinted in reduced form in the October issue of Freethought Today), which has brought in hundreds of new members, as well as donations to the Legal Fund. One new member wrote us, "I have been waiting for something like this all my life!"
We received a similar response from the Foundation's well-placed Seattle billboard, saying, "Imagine No Religion," with many other heartwarming responses. Touchingly, a woman in Southern California, after learning through TV coverage of the "Imagine No Religion" billboard briefly up in Rancho Cucamonga, wrote: "I applaud your organization for accomplishing something I never thought would happen in my lifetime. It was for me a moment that equaled my coming out in the first place and it was great to have my 16 year old daughter sitting next to me while we watched it on TV. I even shed a few tears."
In addition to the Seattle billboard (paid for entirely by a 27-year-old FFRF member!), the Foundation placed billboards in Chambersburg, Penn., (also generously underwritten by a local member), suburban Atlanta (with donations from members and the Atlanta Freethought Society), Columbus, Ohio (underwritten by a Lifetime Member), Denver (with the help of a local scout and several generous donors), Phoenix (where the Phoenix Atheist Meetup Group, Humanist Society, Libertarian Atheists, and FFRF members raised more than $1,600 with a pool party), Des Moines, Iowa (with donations from area members and the Iowa Atheists and Freethinkers), Harrisburg, Penn. (with help from FFRF members and the Capitol Area Pennsylvania Nonbelievers), and Colorado Springs. Billboard companies are being contracted with in San Francisco, Portland, Sacramento and Little Rock, Arkansas for mid-December. San Antonio debuts a billboard on Dec. 8. "Reason's Greetings" billboards are up in Madison, Wis., and Olympia, Wash. Most postings generate major news stories and TV coverage. A color photo of FFRF's "Beware of Dogma" billboard was prominently displayed in the Wall Street Journal in November. By the new year, we will have been in at least 13 states . . . that leaves about 37 to go!
PR & Campus Outreach
In the past year, Foundation co-president Dan Barker, who is also public relations director, appeared on 23 college campus, did 4 debates (bringing his total to more than 65 debates), gave 14 additional speeches to other groups, and spoke to several high school classes, as well. Dan's debates included "Christianity vs. Atheism" with Dinesh D'Souza at Harvard, and another debate at Tufts. Dan, author of the Foundation's bestseller, Losing Faith in Faith: From Preacher to Atheist, has a new book out, Godless: How an Evangelical Preacher Became One of America's Leading Atheists (Ulysses Press), which is attracting lots of campus attention and booksignings.
Other campus appearances by Dan on behalf of FFRF were at Stanford, Boston University, Bates College (Maine), 4 University of Wisconsin campuses, Northern Michigan University, University of California at Berkeley, Davis, and Santa Barbara, University of Washington-Seattle and Pullman, Sacramento State, and University of Illinois-Champaign/Urbana. He also spoke at the University of Alberta-Edmonton and University of Calgary, and University of Paraiba, Brazil. Since late October, Dan has spoken at more than a dozen campuses, and participated in a standing-room only debate on the reliability of the bible, attracting more than 800 at the University of Wisconsin-La Crosse.
Many campus appearances were coordinated by the Secular Student Alliance. Thanks to generous Foundation donors responding to special project appeals to "Send Dan Barker Back to School," the Foundation is currently able to underwrite Dan's transportation and housing costs and offer Dan as a speaker to about 100 SSA campus affiliates. Many appearances are part of regional tours. Dan has high praise for the student organizers, whom he calls "smart, motivated, enthusiastic, generous activists happy to be working to promote reason, science and humanistic morality. To borrow an old cliche, there really is hope for the future!"
Among other interesting outreach was Foundation co-president Annie Laurie Gaylor's first invitation to speak at a Roman Catholic Church (her friendly neighborhood Catholic adult education group), where the priest quipped that the good news was that a record audience had showed up, but the "bad news" was it took an atheist speaker to do that! Both Dan and Annie Laurie do countless media interviews.
Radio & Broadcast
Freethought Radio, the Foundation's weekly hour-long radio show since 2006, is broadcasting to 20 cities via Air America on weekends, and also streams live from airamerica.com 1-2 p.m. Eastern on Saturdays. Madison, Wis., is the studio of origin but Freethought Radio is heard at various times in New York City, Los Angeles, Seattle-Tacoma, Columbus, Ohio, Atlanta, Albuquerque, Dallas, Detroit, Juneau, Monterey-Salinas, Missoula, Mont., Portland, Palm Springs, Raleigh-Durham, Reno, Rapid City and Syracuse, among other locations. It also broadcasts 8-9 p.m. Eastern Saturdays on XM Satellite, Ch. 167.
There are more than 10,000 podcast subscriptions, and the shows are archived at ffrf.org/radio/ for permanent access. Guests within the past year included Richard Dawkins, Julia Sweeney, Eleanor Clift, Philip Pullman, and many journalists, authors and freethinking activists, including FFRF members involved in local controversies. Hint: If you find the wait between issues of Freethought Today long and wish for more news, tune in Freethought Radio, which specializes in timely news commentary, makes use of news "sound bites" and even a little music! "We purely love doing radio, being in weekly contact with so many fascinating guests, and being able to offer timely commentary on the news," says Annie Laurie. If your Air America affiliate is not yet carrying Freethought Radio, please ask your station's program director to carry it. The Air America contract is not exclusive, so Freethought Radio is also available to be played over other stations–so let your favorite local stations know!
Coming next year–a half-hour weekly TV show, FFRF's first TV foray since the 1980s. The Foundation is firmly committed to reaching the public at large, not just "preaching to the nonconverted." Stay tuned!
Litigation
FFRF's three new lawsuits are unusually interesting. We have two challenges of National Day of Prayer proclamations: one federal lawsuit naming the president, Wis. Gov. Jim Doyle and Shirley Dobson, as director of the National Day of Prayer (NDP) Taskforce, which is conveniently housed in her husband's Colorado Springs Focus on the Family fortress; the second NDP challenge filed in Colorado state court against Gov. Ritter. The lawsuits challenge the "hand-in-glove" relationship between public officials and the Christian-right NDP Taskforce, which dictates the content and themes of the National Day of Prayer every May 1. The third and latest lawsuit, filed on Nov. 27 in federal court in Los Angeles, is suing the City of Rancho Cucamonga for censorship involving its officious interference over FFRF's "Imagine No Religion" billboard. The billboard company removed FFRF's billboard after being up for less than a week, reportedly after the city phoned to complain.
The Foundation's cases include a federal lawsuit against the City of Green Bay over a blatant nativity scene violation, with ongoing negotiations; an important federal challenge of religious endorsement by Denver public schools; an ongoing case with the indomitable Mike Newdow, suing in New Hampshire over "under God" in the Pledge of Allegiance with a New Hampshire FFRF family; a school lawsuit contemplated in South Carolina and several others to be launched soon. The Foundation is planning to refile a crucial challenge of state sponsorship of Lutheran denominational juvenile detention ranches in North Dakota, which bar nonChristian worship onsite and punish teenage inmates for nonparticipation in religious classes and worship.
The staff, including new staff attorney Rebecca Kratz, is hard at work responding to as many state/church complaints by FFRF members and the public as possible. We try to negotiate and end violations without going to court wherever possible. A new Frequently Asked Questions link on state/church separation is up at ffrf.org, still under construction but check it out at: http://ffrf.org/faq/
Student Awards
In its continuing outreach and encouragement to young freethinkers, the Foundation awarded $9,200 to winning student essayists in its 2008 college and high school senior competitions. Winning essays were published in Freethought Today. The 2009 guidelines will be announced in February. The Foundation also honored Julia Cicci, an ROTC cadet, with the Thomas Jefferson Youth Activist Award of $1000, endowed by a West Coast couple, and Webster Cook with the Dixie (Ruth) Jokinen Memorial Student Activist Award of $1000, endowed by Board member Richard Mole. The Foundation added $1000 in Webster's case. Webster has expenses involved in appealing his impeachment from his public university's student senate, after the Catholic Church went after him for attending a mass but not swallowing his communion wafer!
National Convention
Despite the bad timing of a convention which took place right after the stock market began its crazy careening this fall, 500 people from nearly 40 states enjoyed a stimulating October weekend in the beautifully windowed ballroom of the Hyatt Regency Chicago. The convention recognized many worthy state/church and freethinking activists.
%848 %America/Chicago, %2012
Written by Super User
FFRF CONTINUES TO GROW!
The Freedom From Religion Foundation, in 2009, continued its vital work, as stated in its bylaws, to promote the constitutional principle of the separation between church and state, and to educate the public on matters relating to nontheism. Serving as an umbrella for those who are free from religion and committed to the cherished principle of separation between government and religion, the Foundation jumped from 13,225 members in November 2008 to 14,084 members in November 2009. The Found­ation has doubled its membership since 2006.
LEGAL VICTORIES & DEVELOPMENTS
• This fall, FFRF successfully settled its Cherry Creek School District lawsuit, taken by attorney Robert R. Tiernan of Denver. FFRF agreed to drop the lawsuit when the District changed an endorsed "asset" from: "Religious Community — Young person spends one or more hours per week in activities in a religious institution," to this wording: "Intergenerational Activities — Young person spends one or more hours per week in activities with civic, social, governmental, scientific, educational, charitable, faith-based or secular (nonreligous) organizations." Lo & behold! The school district seems to have dropped the whole asset (which is what FFRF wanted in the first place). This is part of a "40 assets" campaign by the Truth Institute, a.k.a. Lutheran Brotherhood, so it may be going on at your neighborhood school.
• Mike Newdow is handling FFRF's challenge of "under God" in the Pledge of Allegiance in a New Hampshire federal lawsuit, now on appeal. FFRF is also a member plaintiff in Mike's inaugural prayer challenge, on appeal, helping with costs.
• FFRF's newest federal lawsuit, filed this October, challenges the "parsonage exemption" in the IRS code, which permits ministers to deduct their mortgage interest and property tax payments—favoritism which signals unconstitutional endorsement of religious employees and institutions. This case picks up where an IRS lawsuit against Rev. Rick Warren (for abusing the parsonage exemption) left off, and was filed with the help of 21 FFRF California members-plaintiffs in Sacramento. This is one to watch!
• FFRF won friends this July when it represented the nation's disenfranchised nonbelievers by suing the Architect of the Capitol, whom Congress ordered to "prominently engrave" the motto, "In God We Trust," as well as the religious Pledge of Allegiance, at the new Capitol Visitors Center in D.C. All visitors to the Capitol must enter through the center.
• A federal judge in Los Angeles this fall barred FFRF from suing city officials in Rancho Cucamonga, Calif., over the censorship of FFRF's "Imagine No Religion" billboard. An appeal to the 9th U.S. Circuit Court of Appeals is underway.
• Most time-consuming this year has been FFRF's challenge of the National Day of Prayer in federal court. The feds are defending the 1952 law creating a National Day of Prayer (amended under Reagan to take place on the first Thursday in May) by insinuating that there is an "unbroken" line of such prayers, and by coloring U.S. history and all presidents (except Jefferson) as prayerful. This case hinges as much on (bad) history as the law.
• The Foundation is also suing the Governor of Colorado over his actions and proclamations for a National Day of Prayer in state court. All but the first two cases named above are being handled by attorney Rich Bolton, a Foundation member.
• FFRF's new staff attorney, Rebecca (Kratz) Markert, is handling our federal challenge in Manitowoc County, Wis., of the display by Catholic groups of a large nativity scene on the courthouse lawn for 62 years sans permit or policy. This is turning into a "public forum" case with the county belatedly adopting a policy. The good news is that construction at the courthouse means the creche will not be there this year!
Rebecca, by the way, has researched and written nearly 200 formal letters of complaint for FFRF in her first year with us! Her complaints have generated a lot of publicity and a lot of education about the constitutional principle of state/church separation and they have corrected some significant offenses.
• Distinguished civil rights attorney George Daly is litigating a federal lawsuit in South Carolina for FFRF on contingency (FFRF picking up costs). Co-plaintiffs are parents with children in the public school district, which grants academic credit for students who engage in release-time devotional studies. The case, filed this year, has involved complicated filings.
Among the many nonlitigation victories for FFRF was a particularly sweet one: the decision by the State of Washington to disallow any personal displays inside the state capitol in Olympia, including nativity scenes, following FFRF's unveiling of its "no gods" Winter Solstice Display. That sign and FFRF's state/church concerns kept FFRF in the national news for several weeks last December, brought in hundreds of new members, and, apparently, educated the State of Washington officials on why we need to keep religion out of government.
CAMPUS & OTHER OUTREACH
Foundation co-president Dan Barker, author of Godless and Losing Faith in Faith: From Preacher to Atheist, traveled to 44 college campuses since the last Year in Review report, mostly in partnership with the Secular Student Alliance. The Foundation, thanks to responses to its "Send Dan Back to School" special projects appeal, underwrote about $20,000 in travel costs in the past year, and provided Dan without cost as a speaker, debater, entertainer and draw to campus student clubs. (He also spoke to one very lively high school freethought club in Wisconsin!)
Dan remains awed and impressed by the brains, energy, commitment and activism of campus freethought organizers. This is a generation to invest in, with at least a quarter of young people identifying as nonreligious. Many of Dan's campus appearances drew audiences into the hundreds or several hundreds, and garnered campus press and other media. Dan had a chance to meet with and advise student activists, as well meeting many area Foundation members.
Dan, who acts as FFRF's public relations director, was invited to 27 other speaking events from November 2008-December 2009. That included being the token atheist at the 25th World Religious Conference in Ontario, Canada this fall, and debating events in London. In 2009, Dan participated in 13 debates, including a "Good Without God" debate with Dinesh D'Souza in Texas.
CFC ACCEPTS FFRF AS CHARITY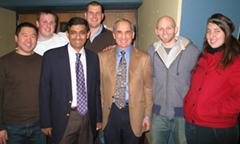 FFRF was accepted for the Combined Federal Campaign for 2009, and to our knowledge, is the only freethought charity on the list, which includes hundreds of religious charities. The donations from the CFC 2009 pledges are still coming in! FFRF is delighted to report that it has been accepted for the 2010 campaign.
STUDENT AWARDS AND SCHOLARSHIPS
In its continuing outreach and encouragement to young freethinkers, the Foundation awarded $10,800 to winning student essayists in its 2009 college and high school senior competitions. Two students instrumental in FFRF's Cherry Creek litigation (see Legal Accomplishments) received student cash scholarships: the ongoing Thomas Jefferson Youth Activist Award endowed every year by a kind West Coast couple, and the newly-created Catherine Fahringer Memorial Student Activist Award.
MEDIA
FFRF continues to generate its own media, not only with Freethought Today newspaper, but with Free­thought Radio, its weekly radio show over Air America weekends in about 20 cities.
Dan Barker handled lots of national media at the time of FFRF's Olympia Winter Solstice controversy, as did co-prez Annie Laurie Gaylor. Footage of Dan dedicating the sign even made it into Stephen Colbert's "The Word" segment on Comedy Central. Rebecca Kratz handled a CNN segment about one of her complaints, as well as doing multiple radio interviews. A reporter with Canalplus, France's largest TV network, included FFRF in its segment about America's growing secularity. Reporter Olivier Ponthus visited Freethought Hall last summer and included lots of footage of FFRF (and interviews dubbed into French).
Staff attorney Rebecca Kratz's many letters of complaint over state/church violations, especially city council prayers around the country, captured many headlines. Several news stories about FFRF actions went over the national wire. Dan, Annie Laurie and Rebecca are continually contacted by reporters. In the last year, conserv­a­­­­tively 600 separate bonafide news stories were produced about FFRF, including more than 80 local or national TV segments. Look up the impressive daily media coverage of FFRF media page.
BUS SIGNS/BILLBOARD OUTREACH
FFRF has placed more than 50 billboards in more than 22 states since launching its billboard campaign in October 2007. This year, it greeted the momentous bicentennial of Darwin's birth in February with "Praise Darwin: Evolve Beyond Belief" billboards in Dayton, Tenn., and Dover, Penn., home to trials over creationism in the schools, as well as other cities. A photo of its Darwin billboard in Madison, Wis., made it into Darwin Day coverage by the Rachel Maddow TV Show. With local member help, the Foundation also placed Darwin billboards in Columbus, Ohio; Grand Junction, Colo., and Witchita. "Imagine No Religion" billboards went up in Sacramento, Talledega, Ala., St. Louis, Indianapolis; and "mini-blitzes" with multiple themes hit Detroit (7 billboards); Las Vegas (10 in September; 8 in December), and Albuquerque (10 in November). "Beware of Dogma" messages went up last December in Little Rock, Ark., and this year in Boise, Ida. FFRF also launched a red-white-and-blue billboard, "Keep Religion OUT of Government," in Grand Junction, Colo. Thanks to all local "scouts" and benefactors who made these campaigns possible!
FFRF debuted 12 "Sleep in on Sundays" king bus signs and 50 beautifully-designed interior bus signs featuring six freethought quotations, in Madison, Wis. It put up 75 "kings" on San Fran­cisco buses in early fall, with 200 interior quotation signs. In November, 100 "kings" bearing the jolly but irreverent message, "Yes, Virginia, There Is No God" (coined and drawn by editorial cartoonist Steve Benson) went up in Seattle. Additionally, 300 interior bus signs went inside Seattle buses featuring quotes, such as Katharine Hepburn's gentle observation: "I'm an atheist, and that's it. I believe that there's nothing we can know except that we should be kind to each other and do what we can for other people." Almost all of these advertisements generated substantial press and TV coverage around the nation. The billboard TV coverage is especially fun to watch. Look for links at http://ffrf.org/media/.
OFFICE GROWTH
The Foundation has eight permanent staff members, having added two and a half this summer. We have welcomed to our staff Katie Daniel as fulltime executive assistant/bookkeeper; veteran daily newspaper reporter Bill Dunn, who is sprucing up Freethought Today, and executive assistant/writer/researcher Bonnie Gutsch, who has revv'ed up FFRF's action alerts and other Web outreach. Staff attorney Rebecca Kratz Markert, hired a year ago, managed to plan a 200-guest wedding this fall in between legal deadlines for her first federal lawsuit! Rebecca, with help from our summer legal intern, produced a spectacular friend of the court brief in the Mojave cross case before the Supreme Court.
Our office also enjoys several part-time University of Wisconsin students, who provide clerical support (and youth!), and our interns (thanks, Lester!). In addition to one per semester from the UW-Madison Law School, there have been two recent library school grads serving as interns.
Foundation officer Phyllis Rose continues volunteering three afternoons a week. A new volunteer is retired attorney Wendy Goldberg, who has taken on the gargantuan task of organizing FFRF's legal files of finished cases! Anne Gaylor, president emerita, continues to provide invaluable consultation (and moral support!).
Other news: a totally renovated FFRF website will be unveiled by year's end.
NATIONAL CONVENTION IN SEATTLE
Six hundred freethinkers attended FFRF's memorable 32nd annual national convention in Seattle, headlined by radio host/atheist Ron Reagan and legendary author Ursula K. Le Guin. A scintillating roster of thoughtful speakers and authors rounded out the convention, which drew the notice of comedian Jay Leno, who cracked a good-natured joke about FFRF on his late night talkshow on Dec. 9.
REGIONAL CHAPTERS
The Alabama Freethought Association, a Foundation chapter under the direction of FFRF officer Pat Cleveland, held its 20th anniversary Fourth of July celebration at Lake Hypatia Freethought Hall and Advance! Two new chapters, in Triangle area, N.C., and Tulsa, join active chapters in Alabama, Colorado Springs, Philadelphia and Spokane.
HONORARY "CELEBRITY" BOARD STARTS
Evolutionary psychologist and bestselling author Steven Pinker was the first freethought celebrity to agree to serve on a new Honorary Board for FFRF. Others so far joining the just-created Board include physician/bestselling author and scientist Oliver Sacks, comedian Julia Sweeney, and author/scientist Ernie Harburg, son of Yip ("Somewhere Over the Rainbow") Harburg, who runs the Yip Harburg Foundation. Look for the formal announcement of the Board soon!
OFFICER INFORMATION
The Foundation is overseen by the Executive Council, its governing board. The only paid officer may be the President; the office is shared (with one total vote) by Dan Barker and Annie Laurie Gaylor. Chair is David Groethe, Treasurer is James Zerwick, Secretary is Phyllis Rose, and other Officers are James Coors, Pat Cleveland, Joe and Norma Cunningham, Edward Susterich and Ted Utchen. Nearly every Officer is a Lifetime Member and all are regular donors.
FINANCIAL INFORMATION
The Foundation has an annual audit, and (unlike religious denominations) fills out an annual Form 990. Every member is sent the detailed statement of income and activities for the previous year in the spring Private Line. The detailed 2008 statement of activities shows that total revenue was $2,048,557 and total expense was $1,133,858. (Money raised for special projects in the fall/winter fundraiser is spent in the following year or years; during the final week of 2007, a very large bequest was received.) The 2008 Foundation 990 form shows that total program expense was $1,002,448, with $8,516 spent for fundraising and $121,951 in administrative expenses. The Foundation spent $156,477 on litigation and related legal expenses, $231,327 in publishing, including Freethought Today, books, brochures, pamphlets and other literature, and $366,679 on convention, meetings, radio broadcasting, media appearances, speeches, debates, travel, advertising and awards and scholarships. On Dec. 31, 2008, the Foundation showed net assets of $6,487,852, with $5,464,100 in designated unrestricted net assets which represent funds raised for and set aside for various purposes, including legal, building maintenance, operating expenses, retirement obligation, and special annual projects including college outreach, bus campaign, radio campaign, TV campaign, billboard campaign and advertising funds. This includes the Life Member Endowment of $1,025,000, in which the bulk of any Lifetime Membership is set aside; only the fruits of the Endowment are spent. The Foundation restricts its special project membership appeals to two per year. At the end of 2008, $75,000 had been raised and set aside as restricted for internships, with only the interest used to pay interns.
PRIVACY STATEMENT
Foundation bylaws protect confidentiality. The Foundation does not share, trade, sell or otherwise divulge its mailing list. Members' identities are kept in confidence, as are the identities of prospective members who have contacted the Foundation. E-mail addresses and phone numbers are kept for in-house convenience only, for example, if there is a question about a convention registration or book order, or to contact members to notify them about a state/church violation in their area, or an upcoming FFRF appearance. The Foundation does not collect personal information other than to log how a new member found out by the Foundation so we can test effective outreach. Those who send in Lifetime Memberships are announced in Freethought Today, unless they indicate otherwise. Letters sent with the Lifetime Membership may be published or excerpted in Freethought Today unless the Lifetime Member indicates otherwise. Other donors are not identified. The only exception is the rarest of occasion when a particular donor requests public acknowledgment or identification, for example, after endowing a particular program.