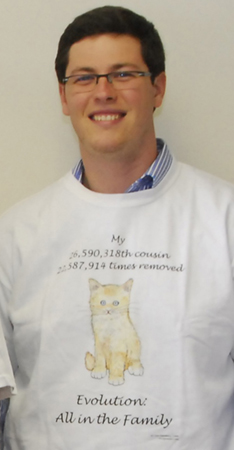 Name: Dustin Clark.
Where and when I was born: Champaign, Ill., Jan. 23, 1988.
Family: My mother, Laurie; my father, Randy; and Tyler, my older brother.
Education: Millikin University, Decatur, Ill., philosophy, class of 2010; University of Wisconsin Law School.
My religious upbringing was: Methodist. I was full of existential angst for a few years because I thought girls found the brooding sexy (I was wrong). That phase faded away, and I realized I am an atheist. I was pretty passive about my nonreligion aside from the occasional irritation at an irrational action in the name of some old dusty god. I thought it was odd to become impassioned about a nonbelief. Then, some friends and I were sharing a pizza, and I made some offhand, off-color remark, and a friend laughed and said, "Yeah, I could see you doing that because you don't care about anything because you're an atheist."
Hurt, I asked my friend if he thought I did not care about him. It was at that time that I realized that misconceptions like my friend's abound around the subject of atheism, and I have a duty to help eliminate those misconceptions and make sure that our rights are respected and protected.
How I came to work as an FFRF legal intern: I had not heard of FFRF until a spring law clerk position was posted on the Law School's career website. I became excited at the prospect of gaining actual legal experience while helping a cause I stand behind.
What I do here: I conduct legal and factual research into potential church/state violations. I draft legal letters for the staff attorneys.
What I like best about it: I can keep the state from making a kid who already feels different from everyone else feel even more alone.
Something funny that's happened: They hired me.
My legal interests are: I would like to be a civil litigator. I enjoy labor and employment and tort law.
My legal heroes are: Well, no one is perfect, but I have always liked Judge Learned Hand and Justice Hugo Black.
These three words sum me up: Salty, pink (inside a blender or black hole), amiable.
Things I like: Golf, weight lifting, stand-up comedy (performing and watching), Prague.
Things I smite: Brussels sprouts, ice giants, Nietzsche.