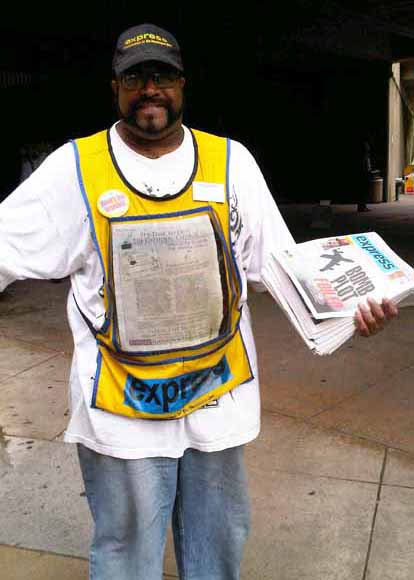 FFRF's full-page ad, "It's Time to Quit the Catholic Church," ran in The Washington Post (A5, main section) and on the back page of the Washington Express on May 8. The Express is free to Metro riders and D.C. residents. Express distributors wore the ad on their vests (see photo).
The provocative ad, couched as an open letter to "liberal and nominal" Catholics, asks, "Will it be reproductive freedom, or back to the Dark Ages? Do you choose women and their rights, or Bishops and their wrongs?"
The ad was similar to the full-page ad that appeared in The New York Times in March, which is still creating shockwaves among conservative religionists.
"It's a disgrace that U.S. health care reform is being held hostage to your church's irrational opposition to medically prescribed contraception," the ad states. "No political candidate should have to genuflect before the U.S. Conference of Catholic Bishops."
"Join those of us who put humanity above dogma," FFRF's ad urges.
The Washington Post ad features a cartoon by the late Don Addis, a longtime FFRF member, showing a priest under a "Family Planning" banner counseling a woman: "Plan on a family." It also includes the line, "Life begins at excommunication."
The ad blasts the church's "pernicious doctrine that birth control is a sin" and the "Respect for Rights of Conscience Act" introduced into Congress to impose church dogma on employees. FFRF warns the liberal Catholic that the church is "launching a ruthless political Inquisition in your name."