FFRF CONTINUES TO GROW!
The Freedom From Religion Foundation, in 2009, continued its vital work, as stated in its bylaws, to promote the constitutional principle of the separation between church and state, and to educate the public on matters relating to nontheism. Serving as an umbrella for those who are free from religion and committed to the cherished principle of separation between government and religion, the Foundation jumped from 13,225 members in November 2008 to 14,084 members in November 2009. The Found­ation has doubled its membership since 2006.
LEGAL VICTORIES & DEVELOPMENTS
• This fall, FFRF successfully settled its Cherry Creek School District lawsuit, taken by attorney Robert R. Tiernan of Denver. FFRF agreed to drop the lawsuit when the District changed an endorsed "asset" from: "Religious Community — Young person spends one or more hours per week in activities in a religious institution," to this wording: "Intergenerational Activities — Young person spends one or more hours per week in activities with civic, social, governmental, scientific, educational, charitable, faith-based or secular (nonreligous) organizations." Lo & behold! The school district seems to have dropped the whole asset (which is what FFRF wanted in the first place). This is part of a "40 assets" campaign by the Truth Institute, a.k.a. Lutheran Brotherhood, so it may be going on at your neighborhood school.
• Mike Newdow is handling FFRF's challenge of "under God" in the Pledge of Allegiance in a New Hampshire federal lawsuit, now on appeal. FFRF is also a member plaintiff in Mike's inaugural prayer challenge, on appeal, helping with costs.
• FFRF's newest federal lawsuit, filed this October, challenges the "parsonage exemption" in the IRS code, which permits ministers to deduct their mortgage interest and property tax payments—favoritism which signals unconstitutional endorsement of religious employees and institutions. This case picks up where an IRS lawsuit against Rev. Rick Warren (for abusing the parsonage exemption) left off, and was filed with the help of 21 FFRF California members-plaintiffs in Sacramento. This is one to watch!
• FFRF won friends this July when it represented the nation's disenfranchised nonbelievers by suing the Architect of the Capitol, whom Congress ordered to "prominently engrave" the motto, "In God We Trust," as well as the religious Pledge of Allegiance, at the new Capitol Visitors Center in D.C. All visitors to the Capitol must enter through the center.
• A federal judge in Los Angeles this fall barred FFRF from suing city officials in Rancho Cucamonga, Calif., over the censorship of FFRF's "Imagine No Religion" billboard. An appeal to the 9th U.S. Circuit Court of Appeals is underway.
• Most time-consuming this year has been FFRF's challenge of the National Day of Prayer in federal court. The feds are defending the 1952 law creating a National Day of Prayer (amended under Reagan to take place on the first Thursday in May) by insinuating that there is an "unbroken" line of such prayers, and by coloring U.S. history and all presidents (except Jefferson) as prayerful. This case hinges as much on (bad) history as the law.
• The Foundation is also suing the Governor of Colorado over his actions and proclamations for a National Day of Prayer in state court. All but the first two cases named above are being handled by attorney Rich Bolton, a Foundation member.
• FFRF's new staff attorney, Rebecca (Kratz) Markert, is handling our federal challenge in Manitowoc County, Wis., of the display by Catholic groups of a large nativity scene on the courthouse lawn for 62 years sans permit or policy. This is turning into a "public forum" case with the county belatedly adopting a policy. The good news is that construction at the courthouse means the creche will not be there this year!
Rebecca, by the way, has researched and written nearly 200 formal letters of complaint for FFRF in her first year with us! Her complaints have generated a lot of publicity and a lot of education about the constitutional principle of state/church separation and they have corrected some significant offenses.
• Distinguished civil rights attorney George Daly is litigating a federal lawsuit in South Carolina for FFRF on contingency (FFRF picking up costs). Co-plaintiffs are parents with children in the public school district, which grants academic credit for students who engage in release-time devotional studies. The case, filed this year, has involved complicated filings.
Among the many nonlitigation victories for FFRF was a particularly sweet one: the decision by the State of Washington to disallow any personal displays inside the state capitol in Olympia, including nativity scenes, following FFRF's unveiling of its "no gods" Winter Solstice Display. That sign and FFRF's state/church concerns kept FFRF in the national news for several weeks last December, brought in hundreds of new members, and, apparently, educated the State of Washington officials on why we need to keep religion out of government.
CAMPUS & OTHER OUTREACH
Foundation co-president Dan Barker, author of Godless and Losing Faith in Faith: From Preacher to Atheist, traveled to 44 college campuses since the last Year in Review report, mostly in partnership with the Secular Student Alliance. The Foundation, thanks to responses to its "Send Dan Back to School" special projects appeal, underwrote about $20,000 in travel costs in the past year, and provided Dan without cost as a speaker, debater, entertainer and draw to campus student clubs. (He also spoke to one very lively high school freethought club in Wisconsin!)
Dan remains awed and impressed by the brains, energy, commitment and activism of campus freethought organizers. This is a generation to invest in, with at least a quarter of young people identifying as nonreligious. Many of Dan's campus appearances drew audiences into the hundreds or several hundreds, and garnered campus press and other media. Dan had a chance to meet with and advise student activists, as well meeting many area Foundation members.
Dan, who acts as FFRF's public relations director, was invited to 27 other speaking events from November 2008-December 2009. That included being the token atheist at the 25th World Religious Conference in Ontario, Canada this fall, and debating events in London. In 2009, Dan participated in 13 debates, including a "Good Without God" debate with Dinesh D'Souza in Texas.
CFC ACCEPTS FFRF AS CHARITY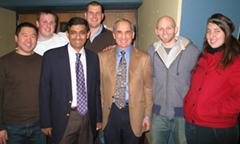 FFRF was accepted for the Combined Federal Campaign for 2009, and to our knowledge, is the only freethought charity on the list, which includes hundreds of religious charities. The donations from the CFC 2009 pledges are still coming in! FFRF is delighted to report that it has been accepted for the 2010 campaign.
STUDENT AWARDS AND SCHOLARSHIPS
In its continuing outreach and encouragement to young freethinkers, the Foundation awarded $10,800 to winning student essayists in its 2009 college and high school senior competitions. Two students instrumental in FFRF's Cherry Creek litigation (see Legal Accomplishments) received student cash scholarships: the ongoing Thomas Jefferson Youth Activist Award endowed every year by a kind West Coast couple, and the newly-created Catherine Fahringer Memorial Student Activist Award.
MEDIA
FFRF continues to generate its own media, not only with Freethought Today newspaper, but with Free­thought Radio, its weekly radio show over Air America weekends in about 20 cities.
Dan Barker handled lots of national media at the time of FFRF's Olympia Winter Solstice controversy, as did co-prez Annie Laurie Gaylor. Footage of Dan dedicating the sign even made it into Stephen Colbert's "The Word" segment on Comedy Central. Rebecca Kratz handled a CNN segment about one of her complaints, as well as doing multiple radio interviews. A reporter with Canalplus, France's largest TV network, included FFRF in its segment about America's growing secularity. Reporter Olivier Ponthus visited Freethought Hall last summer and included lots of footage of FFRF (and interviews dubbed into French).
Staff attorney Rebecca Kratz's many letters of complaint over state/church violations, especially city council prayers around the country, captured many headlines. Several news stories about FFRF actions went over the national wire. Dan, Annie Laurie and Rebecca are continually contacted by reporters. In the last year, conserv­a­­­­tively 600 separate bonafide news stories were produced about FFRF, including more than 80 local or national TV segments. Look up the impressive daily media coverage of FFRF media page.
BUS SIGNS/BILLBOARD OUTREACH
FFRF has placed more than 50 billboards in more than 22 states since launching its billboard campaign in October 2007. This year, it greeted the momentous bicentennial of Darwin's birth in February with "Praise Darwin: Evolve Beyond Belief" billboards in Dayton, Tenn., and Dover, Penn., home to trials over creationism in the schools, as well as other cities. A photo of its Darwin billboard in Madison, Wis., made it into Darwin Day coverage by the Rachel Maddow TV Show. With local member help, the Foundation also placed Darwin billboards in Columbus, Ohio; Grand Junction, Colo., and Witchita. "Imagine No Religion" billboards went up in Sacramento, Talledega, Ala., St. Louis, Indianapolis; and "mini-blitzes" with multiple themes hit Detroit (7 billboards); Las Vegas (10 in September; 8 in December), and Albuquerque (10 in November). "Beware of Dogma" messages went up last December in Little Rock, Ark., and this year in Boise, Ida. FFRF also launched a red-white-and-blue billboard, "Keep Religion OUT of Government," in Grand Junction, Colo. Thanks to all local "scouts" and benefactors who made these campaigns possible!
FFRF debuted 12 "Sleep in on Sundays" king bus signs and 50 beautifully-designed interior bus signs featuring six freethought quotations, in Madison, Wis. It put up 75 "kings" on San Fran­cisco buses in early fall, with 200 interior quotation signs. In November, 100 "kings" bearing the jolly but irreverent message, "Yes, Virginia, There Is No God" (coined and drawn by editorial cartoonist Steve Benson) went up in Seattle. Additionally, 300 interior bus signs went inside Seattle buses featuring quotes, such as Katharine Hepburn's gentle observation: "I'm an atheist, and that's it. I believe that there's nothing we can know except that we should be kind to each other and do what we can for other people." Almost all of these advertisements generated substantial press and TV coverage around the nation. The billboard TV coverage is especially fun to watch. Look for links at http://ffrf.org/media/.
OFFICE GROWTH
The Foundation has eight permanent staff members, having added two and a half this summer. We have welcomed to our staff Katie Daniel as fulltime executive assistant/bookkeeper; veteran daily newspaper reporter Bill Dunn, who is sprucing up Freethought Today, and executive assistant/writer/researcher Bonnie Gutsch, who has revv'ed up FFRF's action alerts and other Web outreach. Staff attorney Rebecca Kratz Markert, hired a year ago, managed to plan a 200-guest wedding this fall in between legal deadlines for her first federal lawsuit! Rebecca, with help from our summer legal intern, produced a spectacular friend of the court brief in the Mojave cross case before the Supreme Court.
Our office also enjoys several part-time University of Wisconsin students, who provide clerical support (and youth!), and our interns (thanks, Lester!). In addition to one per semester from the UW-Madison Law School, there have been two recent library school grads serving as interns.
Foundation officer Phyllis Rose continues volunteering three afternoons a week. A new volunteer is retired attorney Wendy Goldberg, who has taken on the gargantuan task of organizing FFRF's legal files of finished cases! Anne Gaylor, president emerita, continues to provide invaluable consultation (and moral support!).
Other news: a totally renovated FFRF website will be unveiled by year's end.
NATIONAL CONVENTION IN SEATTLE
Six hundred freethinkers attended FFRF's memorable 32nd annual national convention in Seattle, headlined by radio host/atheist Ron Reagan and legendary author Ursula K. Le Guin. A scintillating roster of thoughtful speakers and authors rounded out the convention, which drew the notice of comedian Jay Leno, who cracked a good-natured joke about FFRF on his late night talkshow on Dec. 9.
REGIONAL CHAPTERS
The Alabama Freethought Association, a Foundation chapter under the direction of FFRF officer Pat Cleveland, held its 20th anniversary Fourth of July celebration at Lake Hypatia Freethought Hall and Advance! Two new chapters, in Triangle area, N.C., and Tulsa, join active chapters in Alabama, Colorado Springs, Philadelphia and Spokane.
HONORARY "CELEBRITY" BOARD STARTS
Evolutionary psychologist and bestselling author Steven Pinker was the first freethought celebrity to agree to serve on a new Honorary Board for FFRF. Others so far joining the just-created Board include physician/bestselling author and scientist Oliver Sacks, comedian Julia Sweeney, and author/scientist Ernie Harburg, son of Yip ("Somewhere Over the Rainbow") Harburg, who runs the Yip Harburg Foundation. Look for the formal announcement of the Board soon!
OFFICER INFORMATION
The Foundation is overseen by the Executive Council, its governing board. The only paid officer may be the President; the office is shared (with one total vote) by Dan Barker and Annie Laurie Gaylor. Chair is David Groethe, Treasurer is James Zerwick, Secretary is Phyllis Rose, and other Officers are James Coors, Pat Cleveland, Joe and Norma Cunningham, Edward Susterich and Ted Utchen. Nearly every Officer is a Lifetime Member and all are regular donors.
FINANCIAL INFORMATION
The Foundation has an annual audit, and (unlike religious denominations) fills out an annual Form 990. Every member is sent the detailed statement of income and activities for the previous year in the spring Private Line. The detailed 2008 statement of activities shows that total revenue was $2,048,557 and total expense was $1,133,858. (Money raised for special projects in the fall/winter fundraiser is spent in the following year or years; during the final week of 2007, a very large bequest was received.) The 2008 Foundation 990 form shows that total program expense was $1,002,448, with $8,516 spent for fundraising and $121,951 in administrative expenses. The Foundation spent $156,477 on litigation and related legal expenses, $231,327 in publishing, including Freethought Today, books, brochures, pamphlets and other literature, and $366,679 on convention, meetings, radio broadcasting, media appearances, speeches, debates, travel, advertising and awards and scholarships. On Dec. 31, 2008, the Foundation showed net assets of $6,487,852, with $5,464,100 in designated unrestricted net assets which represent funds raised for and set aside for various purposes, including legal, building maintenance, operating expenses, retirement obligation, and special annual projects including college outreach, bus campaign, radio campaign, TV campaign, billboard campaign and advertising funds. This includes the Life Member Endowment of $1,025,000, in which the bulk of any Lifetime Membership is set aside; only the fruits of the Endowment are spent. The Foundation restricts its special project membership appeals to two per year. At the end of 2008, $75,000 had been raised and set aside as restricted for internships, with only the interest used to pay interns.
PRIVACY STATEMENT
Foundation bylaws protect confidentiality. The Foundation does not share, trade, sell or otherwise divulge its mailing list. Members' identities are kept in confidence, as are the identities of prospective members who have contacted the Foundation. E-mail addresses and phone numbers are kept for in-house convenience only, for example, if there is a question about a convention registration or book order, or to contact members to notify them about a state/church violation in their area, or an upcoming FFRF appearance. The Foundation does not collect personal information other than to log how a new member found out by the Foundation so we can test effective outreach. Those who send in Lifetime Memberships are announced in Freethought Today, unless they indicate otherwise. Letters sent with the Lifetime Membership may be published or excerpted in Freethought Today unless the Lifetime Member indicates otherwise. Other donors are not identified. The only exception is the rarest of occasion when a particular donor requests public acknowledgment or identification, for example, after endowing a particular program.