The Freedom From Religion Foundation is delighted to announce the formation of a new FFRF Honorary Board of distinguished achievers who have made known their dissent from religion.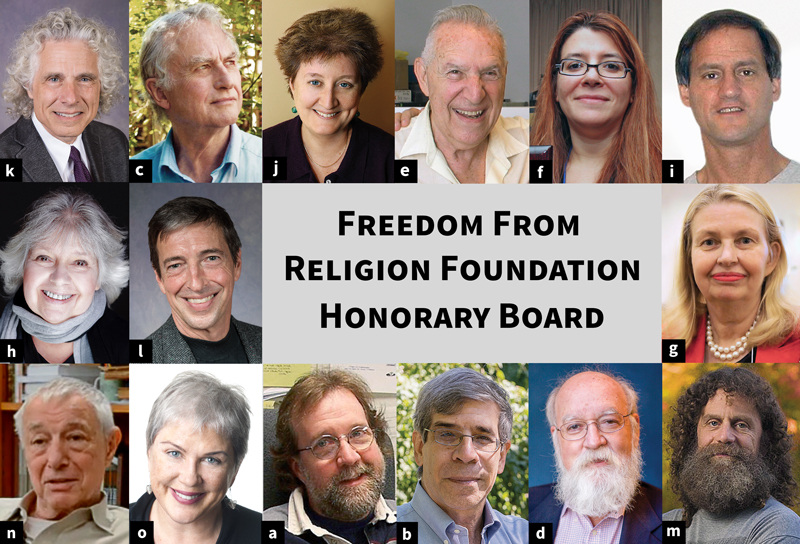 The FFRF Honorary Board includes a. Sean B. Carroll, b. Jerry Coyne, c. Richard Dawkins, d. Daniel C. Dennett, e. Ernie Harburg, f. Jennifer Michael Hecht, g. Susan Jacoby, h. Robin Morgan, i. Mike Newdow, j. Katha Pollitt, k. Steven Pinker, l. Ron Reagan, m. Robert Sapolsky, n. Edward Sorel and o. Julia Sweeney.
"We are so pleased that these outstanding thinkers and freethinkers have agreed to publicly lend their endorsement to the Foundation, and its two purposes of promoting freethought and the First Amendment's Establishment Clause," said Dan Barker, Foundation co-president.
Sean B. Carroll, professor of molecular biology, genetics and medical genetics act the University of Wisconsin, is author of 'Brave Genius', 'Remarkable Creatures', 'The Making of the Fittest' and 'Endless Forms Most Beautiful.'
Jerry Coyne, Ph.D., professor of ecology and evolution at the University of Chicago, is author of the popular book 'Why Evolution is True' and the blog of the same name.
Richard Dawkins, probably the world's most famous contemporary atheist and a distinguished evolutionary biologist, is Oxford professor emeritus. In his blockbuster book, The God Delusion, Dawkins writes: "The God of the Old Testament is arguably the most unpleasant character in all fiction."
Daniel C. Dennett is Austin B. Fletcher Professor of Philosophy, Tufts, and author of the bestselling book about religion, Breaking the Spell. In a newspaper article about his nonbelief, Dennett once wrote: "I've come to realize it's time to sound the alarm."
Rebecca Newberger Goldstein, author of 36 Arguments For the Existence of God: A Work of Fiction and a research associate in Harvard's psychology department, is FFRF Freethought Heroine of 2011. Goldstein is a 1996 MacArthur Fellow (the "genius" award). She has taught at Barnard and in the Columbia MFA writing program and the Rutgers philosophy department. She's been a visiting scholar at Brandeis and at Trinity College in Hartford.
Ernie Harburg, a retired research scientist, is president of Yip Harburg Foundation and co-author of Who Put the Rainbow in the Wizard of Oz? Ernie has dedicated his retirement to furthering the lyrics, music, memory and progressive views of his freethinking father, the lyricist Yip Harburg, author of classic songs such as "Somewhere Over the Rainbow" and of Rhymes for the Irreverent, recently republished by FFRF.
Jennifer Michael Hecht, poet, historian and author of the acclaimed Doubt: A History and The End of the Soul, told the FFRF 2009 convention audience: "If there is no god — and there isn't — then we [humans] made up morality. And I'm very impressed."
Susan Jacoby, bestselling author of Freethinkers: A History of American Secularism, and program director of the Center for Inquiry-New York City, told FFRF convention-goers in 2004: "[President] Kennedy had to speak about his religion because he was suspected of insufficient dedication to the Constitution's separation of church and state. Today's candidates are suspect if they display too much dedication to secular government."
Robin Morgan, feminist pioneer, global activist, author of the groundbreaking "Sisterhood is Powerful" and more than 20 books, was formerly Ms. Magazine editor and consulting editor. She is the co-founder of the Feminist Women's Health Network and Women's Media Center and currently hosts "Women's Media Center Live" the radio "talk-show with a brain."
Mike Newdow is working pro bono to challenge such violations as the addition of "under God" to the Pledge of Allegiance. He told the U.S. Supreme Court during oral arguments: "I am an atheist. I don't believe in God. And every school morning my child is asked to stand up, face that flag, put her hand over her heart, and say that her father is wrong."
Steven Pinker, Johnstone Professor of Psychology, Harvard, is author of The Blank Slate: "I never outgrew my conversion to atheist at 13."
Katha Pollitt, "Subject to Debate" columnist for The Nation, author and poet, has spoken out regularly and energetically as a freethinker, in such columns as "Freedom From Religion, Sí!"
Ron Reagan, media commentator, describes himself in a radio ad he taped for FFRF as: "Unabashed atheist, not afraid of burning in hell."
Robert Sapolsky, a neurologist, Stanford professor and bestselling author, once suggested FFRF put up a sign at its conventions: "Welcome, hellbound atheists."
Edward Sorel, satiric cartoonist and irreverent illustrator who is a regular contributor to The Atlantic, The New Yorker, and whose caricatures have been exhibited at the National Portrait Gallery, has been a Foundation member since the 1980s.
Julia Sweeney, comedian and actress, is writer/performer of the play, "Letting Go of God": "How dare the religious use the term 'born again.' That truly describes freethinkers who've thrown off the shackles of religion so much better!"
In Memoriam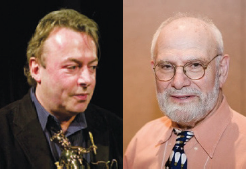 Christopher Hitchens, the iconoclastic journalist, was author of the bestselling God Is Not Great: "Since it is obviously inconceivable that all religions can be right, the most reasonable conclusion is that they are all wrong."
Oliver Sacks, M.D., the compassionate neurologist and bestselling author, described himself as "an old Jewish atheist."