- -
%250 %America/Chicago, %2014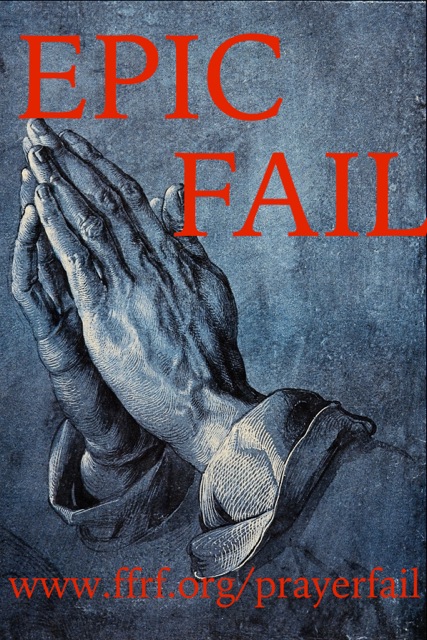 It's time to show our government that official prayer is unconstitutional, pointless, divisive and offensive. The U.S. Supreme Court unwisely "blessed" sectarian blessings by city and county governments in its May 5, 2014, Town of Greece v. Galloway decision.
If the Supreme Court won't uphold our godless and entirely secular Constitution — adopted at a prayerless constitutional convention — it's up to us. It's up to you!
Although the Greece decision is a blow to secularism and the rights of the nonreligious, Justice Anthony Kennedy, who wrote the decision did include reasoning that acknowledges the right of an atheist to give the invocation:
"The town at no point excluded or denied an opportunity to a would-be prayer giver. Its leaders maintained that a minister or layperson of any persuasion, including an atheist, could give the invocation." Town of Greece, N.Y. v. Galloway, 12-696, 2014 WL 1757828 (U.S. May 5, 2014).
To foster the groundswell of protest against government prayer, FFRF announces the creation of its newest activism award: The Nothing Fails Like Prayer Award. The award will be given for the best secular "invocation" at a government meeting. The annual winner or winners will receive a commemorative plaque, $500 and will be invited to deliver the invocation at FFRF's annual convention. Be a Paine in the government's Mass — a Thomas Paine.

All eligible entries will receive a commemorative certificate. FFRF will post eligible video entries of the secular invocation at its website and/or reprint it in FFRF's newspaper, Freethought Today.

We'd like to see secular citizens flood government meetings with secular invocations that illustrate why government prayers are unnecessary, ineffective, embarrassing, exclusionary, divisive or just plain silly. The more citizens that protest prayers, the more likely government prayers will stop.
%250 %America/Chicago, %2014
Over the last few weeks, there have been numerous media outlets and news organizations reporting misleading and factually inaccurate information about FFRF's joint dismissal of the
FFRF v. Koskinen
lawsuit. FFRF would like to set the record straight.
What was FFRF's lawsuit about and what happened?
FFRF sued the Internal Revenue Service (IRS) in late 2012 to compel it to enforce its own regulations barring tax-exempt 501(c)(3) nonprofits from engaging in partisan political activity. FFRF had reason to believe that the IRS was not enforcing these regulations against churches or other religious organizations.In fact, a theocratic legal society, the Alliance Defending Freedom, is the chief sponsor and promulgator of "Pulpit Freedom Sundays," in which it urges churches to openly flout the law and endorse from the pulpit. Many such churches have directly "turned themselves in" to the IRS to test the law.
In July 2014, FFRF agreed to voluntary dismissal of its case because recent clarifications by the IRS have remedied its concerns. FFRF is satisfied that the IRS does not at this time have a policy specific to churches of non-enforcement of its anti-electioneering provisions.
Doesn't this mean the IRS is targeting conservative churches?
No.There is no change in federal law or IRS regulations; rather, the tax code is being enforced evenhandedly. There will be no impact or effect on any law-abiding 501(c)(3) groups, including churches. All that the IRS intends to do now is to follow an already existing objective process for enforcing electioneering restrictions in a way that ensures no nefarious targeting of any organization occurs.
Does this settlement prevent pastors from commenting on social issues, such as same-sex marriages, abortion, contraceptive coverage, etc.?
No. FFRF specifically challenged the IRS's purported policy of "non-enforcement of the electioneering restrictions" as to churches and religious organizations. Section 501(c)(3) of the Tax Code prohibits all nonprofits — including churches and other religious organizations, and FFRF — from intervening in political campaigns as a condition of their tax-exempt status. This means these organizations are strictly prohibited from participating or intervening, directly or indirectly, in political campaigns on behalf of or in opposition to any candidate for elected public office.
Is FFRF targeting conservative churches because it disagrees with their political views on social issues?
No. Some news organizations and commentators have stated that FFRF is "targeting" conservative churches. This is simply untrue. Since 2006, FFRF has sent more than 50 letters to the IRS. asking for investigations into situations in which FFRF believes the tax code was violated. FFRF has acted on complaints from the public, who believe the law is being violated. FFRF letters to the IRS. about possible violations are made without regard to political affiliation or allegiance. For instance, in the 2012 election, FFRF sent a letter to the IRS regarding a pastor at a church in North Carolina who urged his congregation during worship services to vote for President Obama.
Furthermore, as a 501(c)(3) nonprofit organization, FFRF cannot take any partisan action. FFRF aligns itself with no political party.
Did FFRF withdraw the case because the IRS. agreed to "monitor" specific churches?
FFRF did not withdraw its suit pursuant to any agreement to "monitor" sermons and homilies for proscribed speech with which FFRF disagrees. As the court documents state, FFRF withdrew the case because it "is satisfied that the IRS does not have a policy at this time of non-enforcement specific to churches and religious institutions."
Is FFRF "out to suppress free speech rights"?
No. As a defender of the First Amendment, FFRF respects the free speech rights of any individual or organization. Tax-exempt 501(c)(3) nonprofit organizations are afforded a special privilege in our country. If an organization chooses to be tax-exempt under 501(c)(3), it forfeits the right to engage in political campaign intervention. Churches and other religious organizations are free to engage in electioneering if they so choose, but they cannot abuse their tax-exempt privilege and remain tax-exempt.
Doesn't a dismissal mean losing a case?
No. When parties settle a case, the case must be removed from the court's docket. The dismissal is a procedure for doing so. FFRF's case was dismissed "without prejudice" meaning FFRF can refile if the IRS fails to enforce the law.
— Written by FFRF Senior Staff Attorney Rebecca Markert
%250 %America/Chicago, %2014
The Freedom From Religion Foundation is asking Oklahoma Attorney General E. Scott Pruitt to stop his smear campaign against FFRF, the nation's largest association of atheists and agnostics.
As part of an Aug. 5 records request to the Internal Revenue Service and the U.S. Department of Justice related to FFRF's recently settled suit against the IRS, Pruitt said:
"At the intersection of those two fundamental rights [free speech and free exercise] lies the right of religious organizations to encourage their members to engage in the political process in a manner consistent with the core tenets of their religions. The Freedom From Religion Foundation is unabashed in its desire to destroy that right, and the fact that this organization has now entered into an agreement with the IRS — an agreement that they call 'a victory' for their cause — is alarming."
In FFRF's Aug. 7 letter to Pruitt, Co-President Annie Laurie Gaylor said: "I write to correct your disparaging and unwarranted mischaracterization of our organization, which works not to 'destroy' the First Amendment but to uphold the law and the Constitution."
"FFRF agreed to voluntary dismissal of our case because recent changes by the IRS have remedied our concerns," Gaylor added. "FFRF is satisfied that the IRS does not at this time have a policy specific to churches of non-enforcement of its anti-electioneering provisions. As you are undoubtedly aware, there is an appropriate blanket ban against any and all 501(c)(3) nonprofits from engaging in political action, specifically such as endorsing political candidates."
Since agreeing to settle the suit July 17, FFRF has encountered a lot of misconceptions about the suit, the settlement and the law, which went into effect in 1954. FFRF is not "targeting" churches, Gaylor said.
"No tax-exempt 501(c)(3) nonprofit, church or otherwise, may lawfully engage in partisan, political action. Tax exemption is a privilege, not a right, granted by the government to certain categories of nonprofits in exchange for abiding by certain reasonable rules. Entities that wish to reap that major privilege must earn it, including by a ban on electioneering. Churches of course remain free to endorse any political candidate they want — but if they choose to electioneer, they choose to lose their tax-exempt privileges, just like every other partisan, politicking organization."
Pruitt also made some wildly misleading claims on the issue Aug. 5 on Fox News' "The Kelly File" with guest host Shannon Bream.
Gaylor called Pruitt's claim that FFRF "is unabashed in its desire to destroy [a First Amendment] right" unfortunate, ignorant and possibly slanderous. "Please cease and desist making untrue statements that damage our organization's reputation and irresponsibly sensationalize and distort the simple facts of this case."
To clarify the issues, FFRF has put together an FAQ, which can be read here.
%250 %America/Chicago, %2014
The Freedom From Religion Foundation has taken action against a well-publicized violation of the Civil Rights Act by a restaurant in Winston–Salem, N.C., which is offering a 15% discount to customers "who pray over their meals."
Mary Haglund, owner of Mary's Gourmet Diner, has reportedly offered the "Praying in Public" discount for four years. But when a Christian radio station posted an image of a customer's receipt on its Facebook page, the story went viral.
FFRF Staff Attorney Elizabeth Cavell promptly wrote a letter yesterday (Aug. 4), informing Haglund, daughter of a missionary, that "it is illegal for Mary's Gourmet Diner to discriminate, or show favoritism, on the basis of religion."
With more than 21,000 members, including over 500 in North Carolina and an active state chapter, the Triangle Freethought Society, FFRF is the largest national association of freethinkers (atheists and agnostics), which acts as a state/church watchdog.
The federal Civil Rights Act accords all citizens "the full and equal enjoyment of the goods, services, facilities, privileges, advantages, and accommodations of any place of public accommodation . . . without discrimination on the grounds of race, color, religion, or national origin." As a place of "public accommodation," Mary's Gourmet Diner may not lawfully offer a discount only to customers who pray.
Even if the practice were inclusive of customers who engaged in prayer to all types of gods (e.g., Allah, Zeus, Satan), the "promotional practice favors religious customers, and denies customers who do not pray and nonbelievers the right to 'full and equal' enjoyment of Mary's Gourmet Diner," wrote Cavell.
"Any promotions must be available to all customers regardless of religious preference or practice on a non-discriminatory basis."
%250 %America/Chicago, %2014
Declare and share your nonbelief! Although the nonreligious — including one in five U.S. citizens — is a significant segment of the world population, many Americans have never knowingly met a nonbeliever. You can help dispel myths, educate and promote reason by adding your voice, face and message to FFRF's friendly neighborhood freethinker campaign. This is your chance to proclaim you're a freethinker and why. It's working for the gay rights movement. Now it's time for atheists and agnostics to come out of our closet. Many faces make Enlightenment work.
COMING SOON!
%250 %America/Chicago, %2014
%250 %America/Chicago, %2014
To protect the First Amendment rights of all residents of Warren, Mich., regardless of religious or philosophical beliefs or non-beliefs, the Freedom from Religion Foundation, the American Civil Liberties Union and Americans United for Separation of Church and State filed a federal lawsuit this morning challenging the city's ban on an atheist booth in a city hall atrium where the city allows a prayer station.
The atrium has been set up by city officials as a public space that can be reserved by a wide variety of groups and individuals, including civic organizations and Warren residents. But the mayor is not allowing an atheist to use space in the atrium because his belief system "is not a religion."
Since 2009, the city has allowed a local church group to run a prayer station in which volunteers distribute religious pamphlets, offer to pray with passersby, and discuss their religious beliefs with people who approach the station. The lawsuit filed today does not seek to have the prayer station removed, but instead asks the court to order the city to treat believers and non-believers equally.
The lawsuit was filed on behalf of Douglas Marshall, a Warren resident whose request to install a "reason station" was rejected by the city. Marshall wishes to set up a station that is similar in size, structure and function to the prayer station – a folding table and chairs with literature on display and available to the public – except that his station will offer information and opportunities for discussion from a non-religious perspective.
"Our Warren member simply wants the same access to the atrium that has been granted to others, including those who operate the prayer station," said Annie Laurie Gaylor, FFRF co-president. "There's no legally justifiable reason to deny Mr. Marshall his First Amendment rights."
Said Dan Korobkin, ACLU of Michigan deputy legal director: "Once the government opens public space for use by private groups, it cannot pick and choose who can use the space based on the content of their message or whether public officials agree with that message. For instance, Warren officials would not be permitted to grant access to activists supportive of the mayor and reject the applications of activists who are critical of the mayor. The same logic extends to this matter: the city cannot allow speech supportive of religion and reject speech supportive of atheism."
"The city has an obligation to serve all members of the community equally, regardless of their faith or their lack of faith," said Americans United Associate Legal Director Alex J. Luchenitser. "Our laws make it clear that our government can't adopt a rule book that favors one group over another."
In April 2014, Marshall submitted an application to city officials to reserve space in the atrium for two days a week. According to the lawsuit, filed in the U.S. District Court for the Eastern District of Michigan, Marshall and other volunteers who operate the reason station would offer to have philosophical discussions with passersby who express an interest in a secular belief system.
Less than two weeks after it was submitted, Marshall's application, although nearly identical to the application submitted by the prayer station volunteers, was rejected by Warren Mayor James Fouts. In the rejection letter, Mayor Fouts writes:
"To my way of thinking, your group is strictly an anti-religion group intending to deprive all organized religions of their constitutional freedoms or at least discourage the practice of religion. The City of Warren cannot allow this."
"The government can't simply silence private speakers whenever it dislikes their message," said Daniel Mach, director of the ACLU Program on Freedom of Religion and Belief. "Nobody should be excluded from their own city hall based on what they believe — or don't believe."
In addition to Korobkin, Luchenitser, and Mach, Marshall is represented by Ayesha N. Khan of Americans United; Rebecca Markert and Patrick Elliott of the Freedom from Religion Foundation; and Michael J. Steinberg, Kary Moss and William Wertheimer of the ACLU of Michigan.
To read the complaint, click here.
To read the motion for preliminary injunction that was filed along with the complaint, click here.
%250 %America/Chicago, %2014
An affiliate of the Freedom From Religion Foundation
Our goal: To educate the public on matters of non-theism and protect the First Amendment – Separation of Religion from Government.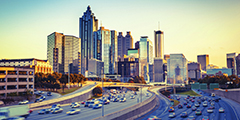 FFRF-Georgia is a local chapter of the Freedom From Religion Foundation. We are a non-religious community of local people committed to living our lives free from superstition, dogma and mysticism. We are freethinkers – people who form opinions about religion and spirituality independent of tradition, authority, or established belief in favor of rational inquiry.
Our members are composed of Agnostics, Atheists, Humanists, Skeptics, Deists and secular-minded people still searching for answers who come from all walks of life. The common thread we all share is that we uphold the US and Georgia Constitutional principles of separation between government and religion.
Living in the current "Christian Frenzy" era, that has been gaining popularity by leaps and bounds since the mid-1950's, accelerated by 9/11, we must be ever more vigilant about Christian Fundamentalism working hard to dominate the political arena at all levels.
Atlanta is wonderfully supplied with many organizations which all provide many social opportunities for the local freethinkers such as book clubs, community service projects, skeptic gatherings, historical discussions, notable speakers, activist opportunities and other events. This FFRF chapter participates and supports these types of events and encourages members looking for these social opportunities to join freethinker groups in the area.
The reason we formed this chapter is to support eyes and ears on the ground for separation issues. We locally organize and educate the public, submit letters to the editor, news releases, deliver legally savvy communication to our local government agencies, including one-on-one encounters, as appropriate, by our members, and legally taking appropriate action to preserve our rights when necessary.
If you are a freethinker who is supportive of the separation of church and state, please feel free to email us with any questions you have. To join our local Chapter, first join the national FFRF organization at http://ffrf.org, and then send us an email to FFRF-GA Treasurer to join locally.
Contact Us:
President, Michael Scott
Legal, Jon Poss
Community Outreach, Terri Goins
Treasurer, Mark Banks
%250 %America/Chicago, %2014
By Eric Jayne
There's a lot of excitement in Minneapolis about the 2014 Major League Baseball All-Star game coming to town in July, but perhaps an even better (and far more affordable) game will be played four days earlier at the other Minnesota Twin City across the river.
On Friday, July 11, the city of Saint Paul will be unofficially rebranded as "Mister Paul" as it hosts an atheist-themed minor league baseball game. The Saint Paul Saints minor league team will change its name to the secular-friendly Mister Paul Aints for the third year in a row in what is being billed as a "Night of Unbelievable Fun: The Third Strike." It's sponsored by the Minnesota Atheists and Freedom from Religion Foundation.
After losing the first two years, the Mr. Paul Aints will be going for their first win when they face the Kansas City T-Bones. There will be pregame tailgating, postgame fireworks, atheist-themed antics and even atheist-themed jerseys that will be worn by the home team players.
The specially designed jerseys (featuring a big red "A") will be auctioned off during the game. A portion of the proceeds will go to the Family Place shelter, which serves area families without permanent housing. The front office staff will also cover the "S" in the Saints signage and hang banners promoting Minnesota Atheists and FFRF throughout Midway Stadium.
Some of the atheist "antics" are still being developed for this year's game, but I know for certain that fans can expect an even louder and more skeptical "Doubting Thomas" in July. That very same character was quickly ejected last year after he demanded more evidence from the umpire after an inning-ending call.
At a time when athletes continue to publicly invoke their religious beliefs, and with the relatively recent injection of "God Bless America" replacing "buy me some peanuts and Crackerjacks" during MLB's seventh-inning stretch, a brief introduction to this baseball team boldly choosing to partner with organized atheism might be in order.
Partly owned by comedian/actor Bill Murray, the Saints have gained national attention for their promotions and for the theatrics during the game. One of my favorite promotions was the Michael Vick dog chew toy that was given away during the NFL quarterback's federal investigation for his involvement in a dog fighting ring.
Besides topical humor, there's genuine tolerance and an open attitude within the Saints organization that falls directly in line with freethinking values. Mike Veeck, another part owner of the Saints, was heavily influential in the team's signing of the first woman to play in minor league professional baseball.
In 1997, 50 years after Veeck's father (Bill Veeck) helped bring racial integration to the American League by signing Larry Doby to the Cleveland Indians, Ila Borders made her first appearance with the Saints as a relief pitcher. Although she only played a few games with the Saints, she found success with two other teams in the league before retiring.
I refuse to make up some corny baseball metaphor about atheism, but I will say that the combo will be unbelievably fun. The tailgating will start at 4 p.m. in the stadium parking lot. The first pitch will be at 7 p.m. If you're interested in winning the opportunity to toss out the first ceremonial pitch from the pitcher's mound, visit MinnesotaAtheists.org/FirstPitch/.
Game tickets are available at SaintsGroups.com/. After you get through the Captcha screen you'll need to enter the group password "Atheists" with an uppercase A. You might want to consider staying in town the next day and join other friendly heathens for a regional, one-day conference in downtown Saint Paul on Saturday, July 12.
Speakers include Susan Jacoby, Debbie Goddard, PZ Myers, Rebecca "Skepchick" Watson and others. For more details about the baseball game and conference, visit MinnesotaAtheists.org/conference/.
FFRF member Eric Jayne is president of Minnesota Atheists.
%250 %America/Chicago, %2014
Name: Olivia Mote.
Where and when I was born: Indiana (the Land of Casseroles), 1986.
Family: Two lovely, doting parents and two equally lovely siblings.
Education: DePauw University, Greencastle, Ind., B.A., religious studies and political science; Miami University, Oxford, Ohio, M.A., comparative religion; University of Wisconsin-Madison, J.D. candidate.
My religious upbringing was: United Methodist.
How I came to work as an FFRF legal intern: I learned about FFRF at a law school event, found the organization's mission compelling, attended its fall convention, sent an "I'd like to participate" email — and here I am.
What I do here: Draft/edit letters for staff attorneys and absorb as much First Amendment "stuff" as possible. I also try not to upset the copy machine.
What I like best about it: Even though I'm still learning the ropes, I feel like the projects I work on here truly matter. I'm also learning a lot about advocacy, and from a different perspective than I get in class.
Something funny that's happened at work: Every day has its entertaining moments!
My legal interests are: Constitutional law, state/church separation, business and nonprofits, education policy, comparative law and probably other areas to be determined.
My legal heroes are: Attorneys who think empathy is important in the practice of law.
These three words sum me up: Enthusiastic, curious, freckled.
Things I like: School (still!), cooking, making lists of all the places I want to eat in Madison, playing outdoors, my fluffy dog Ruby (her name's a tribute to the Stones' "Ruby Tuesday"), NPR (especially "The Diane Rehm Show").
Things I smite: Meanness.
My loftiest goal: I'm not good at picking favorites. One of them — graduate from law school with (some kind of) honors.