- -
%816 %America/Chicago, %2013
Excellent Argument Against Paid Prison Chaplains. New York officials banned the state's former top Muslim cleric from setting foot in a state prison, hours after Warith Deen Umar, 58, was quoted in the Wall Street Journal praising the 9/11 terrorists and predicting future attacks led by black Muslim converts. He retired in 2000 from his $67,919-a-year public post, which he held since 1975. He was working part-time as a chaplain with the Federal Bureau of Prisons until being fired after his remarks in early February. Source: New York Post, Feb. 7, 2003
Out of Hiding for This? Vice President Dick Cheney was a featured speaker at the Conservative Political Action Conference, where exhibition booths hawked virulently anti-Muslim bumperstickers including one that said, "No Muslims - No Terrorists," and others promoted the Confederate flag. Source: Washington Post, Jan. 31, 2003
Gubernatorial Battle Hymn. Bob Riley, sworn in as Alabama's new governor, launched his Inaugural Prayer Breakfast in January "in praise of our lord and savior Jesus Christ." Riley added: "We are the greatest country in the world because we were founded on godly, Christian, Judeo-Christian principles and ethics." Riley requested the crowd to sing "The Battle Hymn of the Republic" and "Holy, Holy, Holy." Source: Montgomery Advertiser, Jan. 20, 2003
This Charity Begins at Home. The Roman Catholic Archdiocese of Philadelphia is planning to spend about $384,000 to build a 4,800-square-foot house for bachelor and retiring Cardinal Anthony J. Bevilacqua. He will resign in June, and currently resides in a 16-room mansion. Source: Associated Press, Feb. 6, 2003
Celibate Warns of "Inauthentic Families." Pope John Paul II, a man who by profession has no family, exhorted against divorce, abortion and same-sex marriages, warning they lead to "inauthentic" families. This followed his dire warnings to Catholic politicians worldwide to vote with the church in its opposition to abortion, euthanasia and same-sex marriage. The pope also preached that condoms shouldn't be used to stop the spread of AIDS, and blamed homosexuality, not church policies, for the unending priest sex scandals. Sources: BBC News, Jan. 8; AP, Jan. 26; New York Times, Jan. 26, 2003
Church Wants 9-Year-Old Mothers? The Roman Catholic Church objected to an abortion performed on Feb. 20 on a 9-year-old rape victim in Nicaragua. The little girl said she did not want to have a baby because she did not want to "share her toys." Source: Associated Press, Feb. 25, 2003
Holy Intimidation. Sacramento Bishop William Weigand told California Gov. Gray Davis to renounce his support of abortion or stop taking Holy Communion. Davis responded: "I'm unapologetically pro-choice, and I'm not changing my position." Source: NewsMax.com, Jan. 23, 2003
We Only Wish. A fundraising campaign by Coral Ridge Ministries is seeking donations to keep Alabama Supreme Court Justice Roy Moore out of jail for supporting the Ten Commandments. Moore does not face imprisonment in a civil suit challenging his placement of the decalog in a public building. Source: Montgomery Advertiser, Feb. 18, 2003
Make That 220 Dead, Plus One in Hiding. After Muslims criticized the Miss World contest being hosted by Nigeria, columnist Isioma Daniel suggested in the Nigerian newspaper This Day on Nov. 16 that Muhammad might have liked a Miss World contestant as a wife. Her remark touched off three days of rioting by Muslims resulting in the deaths of more than 220 people. The deputy governor of the state of Zamfara said, "It is binding on all Muslims wherever they are, to consider the killing of the writer as a religious duty." However, Nigeria's government negated the fatwa. Source: BBC News, Nov. 26, 2002
Fatwa for Falwell? Five people were killed in Hindu-Muslim rioting in Bombay after a general strike was called to protest Rev. Jerry Falwell's comment on "60 Minutes" that "I think Muhammad was a terrorist." Iranian cleric Mohsen Mojtahed Shabestari said Falwell is a "mercenary and must be killed." Sources: Associated Press, 10/3, 11/12/02; Washington Post, Oct. 13, 2002
Sex Life Sacred? The Jordan government closed the Crescent, a weekly newspaper, and detained three journalists over an article discussing the sex life of Muhammad and his favorite wife Aisha. The editor and reporters face jailtime and fines. Source: Asociated Press, Jan. 17, 2003
%872 %America/Chicago, %2013
FFRF Convention 2013 - Photo Slideshow by Brent Nicastro
Emperor has no clothes award
Arizona State Representative Juan Mendez
Mendez is a first-generation American and a native Arizonan, human rights advocate and lawyer. Mendez attended Tolleson Union High School. He went on to receive his associate degree from Phoenix College, then graduated with a B.A. in Political Science and a minor in Justice Studies from Arizona State University. Mendez is a lifetime member of the Arizona Democratic Party and has held various positions as an elected precinct and state committee member, chair of the Resolutions Committee on the state level and president of the ASU Young Democrats. Mendez is an avid rock climber, hiker and advocate for the environment. As an atheist, he gained notoriety when he invoked Carl Sagan while leading an Arizona House of Representatives pre-session prayer.
Dan Savage

Savage is an American author, media pundit, journalist and newspaper editor. He writes the internationally syndicated relationship and sex advice column "Savage Love." He has clashed with social conservatives and was vocal in his responses to Republican Rick Santorum's disparaging comments about homosexuality. Savage will be receiving our Emperor Has No Clothes Award. Savage graduated from the University of Illinois at Urbana-Champaign and is married to Terry Miller. He has one son, D.J. Savage and Miller are the founders of the It Gets Better Project, an initiative to prevent gay teen suicide. He currently stars in "Savage You" on MTV, contributes to "This American Life" and Out magazine and acts as a "Real Time Real Reporter" on HBO's "Real Time with Bill Mayer." His most recent book is titled "American Savage: Insights, Slights, and Fights on Faith, Sex, Love and Politics" (2013).
---
Freethought heroine AWARD
Sara Paretsky
Paretsky is an ardent supporter of separation of state and church and women's reproductive rights and creator of the famous V.I. Warshawski detective series, which revolutionized the mystery world. Paretsky will be accepting a Freethought Heroine award. Paretsky has been a contributor to The New York Times and The Guardian and has given talks at the Library of Congress and Oxford University. In 1986 she created "Sister in Crime," a worldwide organization to support women crime writers. Her memoir, "Writing in the Age of Silence," chronicles her journey from Kansas farm girl to New York Times best-selling author, and includes social commentary. Paretsky lives in Chicago with her husband. "Criticial Mass," her 17th V.I. Warshawski book, debutes in late October.
---
Student activist AWARD
Zach Kopplin
Kopplin is a science and education activist who has appeared on "The Bill Moyers Show." Kopplin will receive FFRF's first Richard and Beverly Hermsen Student Activist Award of $5,000 for his work to repeal a stealth creationism law in his home state of Louisiana. His repeal effort has been endorsed by 43 Nobel laureates and many other scientists and education experts. He persuaded the New Orleans City Council to vote unanimously to support the repeal of the Louisiana Science Education Act of 2008. Kopplin fights to keep creationism out of public schools and focuses on separation of church and state causes. He has also been involved in school vouchers, science curriculum and textbook policy. Kopplin is a history student at Rice University in Houston.
---
speakers
Jamila Bey
Bey is a journalist, producer and thought leader. She hosts the weekly radio show "The Sex, Politics and Religion Hour: SPAR with Jamila." Bey has appeared in publications around the world such as The New York Times, The Washington Post and The New Humanist of London. She's currently writing a book that critically examines the role religion plays in the lives of African-American women. Bey has worked with National Public Radio for a decade, assisting with "Morning Edition," "All Things Considered," "Tell Me More with Michel Martin" and "Talk of the Nation." Bey's areas of expertise include health and family policy and all issues concerning the First Amendment. A sought-after public speaker and stand-up comedienne, Bey says she enjoys the stage because it's a cheaper hobby than scrapbooking.
Aisha Goss
Aisha Goss joined the Secular Coalition of America in December 2012. A proud Georgia native, Aisha studied Communications at Howard University in Washington, D.C. She brings with her a wealth of fundraising and organizing experience from organizations such as the American Red Cross and the National Lesbian and Gay Journalists Association. An amateur chef, Aisha enjoys cooking, party planning, and exploring D.C. in her free time.
Jim McCollum
McCollum, an FFRF Life Member, was previously named an FFRF "Champion of the First Amendment" for his role in the landmark McCollum v. Board of Education case. This Supreme Court decision (1948) is celebrating its 65th anniversary this year. The case was brought by his mother Vashti McCollum on behalf of Jim, after public schools in Champaign, Ill., began devotional religious instruction. McCollum received his B.S. in Geology and his J.D. in Law from the University of Ill. He served two years' active duty as an officer in the Army and another six in the Active Reserve. McCollum retired as an attorney after 34 years of practice. McCollum lives Arkansas with his wife Betty and is, appropriately, teaching constitutional law. He is an active member of the Arkansas Democratic Party and in the Democratic State Faith Caucus.
Jay Rosenstein
Rosenstein is a three-time Emmy-winning independent documentary producer, director, writer and editor whose work has been seen nationally on PBS, ABC, ESPN, and film festivals worldwide, including the Sundance Film Festival. Rosenstein is the director of the Peabody Award-winning documentary "The Lord Is Not on Trial Here Today." He graduated with an M.S. from the University of Illinois at Urbana-Champaign. His previous work includes the documentaries "The Amasong Chorus, Singing Out" and "In Whose Honor? American Indian Mascots in Sports." His documentaries are used as an educational resource in more than 500 colleges and universities in North America and in Canada. Rosenstein has received grants from the National Endowment for the Arts, the Paul Robeson Fund for Independent Media and the Independent Television Service. He currently lives in Champaign, Ill., and is on the faculty of the University of Illinois College of Media.
Ellery Schempp
Schempp, an FFRF Lifetime Member, is an accomplished physicist and he was the primary student involved in the landmark 1963 United States Supreme Court case Abington School District v. Schempp, which declared required public school-sanctioned bible readings unconstitutional. This year is the 50th Anniversary of the Schempp ruling. Schempp is a dedicated Unitarian Universalist and strong supporter of the ACLU. He is on the Advisory Board of the Secular Student Alliance and the Secular Coalition for America. He has received a Champion of the First Amendment Award from FFRF. Schempp attended Tufts University where he earned a bachelor degrees in physics and geology. He received his Ph.D. in physics from Brown University. Schempp currently lives in Boston, and teaches a class on the separation of church and state at Tufts' Experimental College.
---
Entertainers
Jill Sobule
Jill is a singer-songwriter. She wrote and performed her 1995 single "I Kissed a Girl," was a top hit, and "Supermodel" for the soundtrack of the film "Clueless." Jill has released ten albums, including the four critically acclaimed, "Happy Town," "Pink Pearl," "Underdog Victorious" and "California Years." She wrote and performed the title song for Julia Sweeney's DVD, "Letting Go of God." Sobule uses both satire and personal experience to sing about issues including sexuality, depression, war, abandonment and greed. Many of her songs incorporate humor into their narrative. In 2008 Sobule met Julia Sweeney and they started performing the "Jill and Julia Show." The show is an autobiographical mix of music, stories and commentary.
Julia Sweeney
Sweeney is an actress, comedian and author. She is an alumni of "Saturday Night Live." Her autobiographical solo shows, include "God Said Ha!," "In The Family Way" and "Letting Go of God." "God Said Ha!" moved to Broadway and won the 1996 New York Comedy Festival's Audience Award. A CD recording of the show earned her a Grammy nomination for Best Comedy Album. Sweeney has appeared on the big screen in "Pulp Fiction," "Clockstoppers" and "Whatever It Takes." Sweeney played the voice of Mrs. Keeper in the animated film "Stuart Little." Her newest book is "If It's One Thing, It's Your Mother" (2013). She lives in Chicago with her husband, Michael Blum and her daughter Mulan.
Shelley Segal
Segal is a singer and songwriter from Australia. Her latest release, "An Atheist Album," embodies her thoughts on religion. Her songs are a passionate response to dogmatic belief, inequality, religious oppression and the idea that only the devout can be grateful and good. She enjoys bringing this unusually controversial topic to the public discourse and feels that music is a great medium for expression and raising awareness. Segal completed a Bachelor of Applied Music from the Box Hill Institute of Tafe. She has many musical ventures under way, including an upcoming jazz album. Segal was also featured on the album "Infidelity" by London socialite Tara Palmer Tomkinson.
---
ffrf Legal topics presenters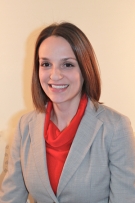 Elizabeth Cavell
Cavell received her B.A in English from the University of Florida in 2005. After college, Elizabeth spent a year as a full-time volunteer in AmeriCorps*NCCC. She attended Tulane University Law School and received her Juris Doctor in 2009. After law school, she worked as a deputy public defender in southern Colorado. She joined the Foundation as a staff attorney in January 2013, after working for the Foundation part-time since September 2012.
Patrick Elliot
The Foundation's second staff attorney, hails from St. Paul, Minn. Patrick received a degree in legal studies and political science from the University of Wisconsin-Madison in 2005. He attended the University of Wisconsin Law School and received his Juris Doctor in 2009. While in school, Patrick took an interest in the First Amendment and constitutional law. He joined FFRF as a staff attorney in July 2010, after working part-time for the Foundation since February. Patrick is a member of the State Bar of Wisconsin, and is admitted to practice in the United States District Court for the Western and Eastern Districts of Wisconsin.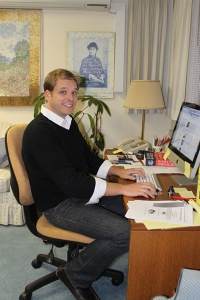 Andrew Seidel
Seidel graduated cum laude from Tulane University with a B.S. in neuroscience and environmental science and magna cum laude from Tulane University Law School, where he was awarded the Haber J. McCarthy Award for excellence in environmental law. He studied human rights and international law at the University of Amsterdam and traveled the world on Semester at Sea. In May of 2011, Andrew completed his Master of Laws at Denver University Sturm College of Law with a 4.0 GPA and was awarded the Outstanding L.L.M. Award. He has written a book on International Human Rights Law and his essay on the role of religion in government and the founding of our nation placed second in the FFRF's 2010 graduate student essay contest. Andrew is a former Grand Canyon tour guide and accomplished nature photographer; his work has been displayed in galleries in Colorado, Texas, Florida, Louisiana, and Maryland. He joined the FFRF staff as a constitutional consultant in November 2011.
%747 %America/Chicago, %2013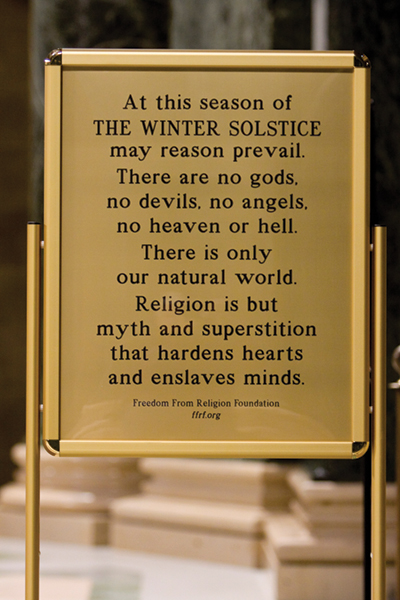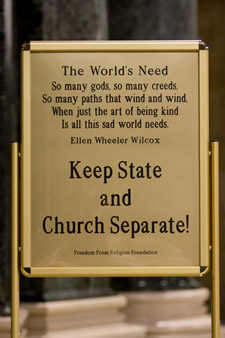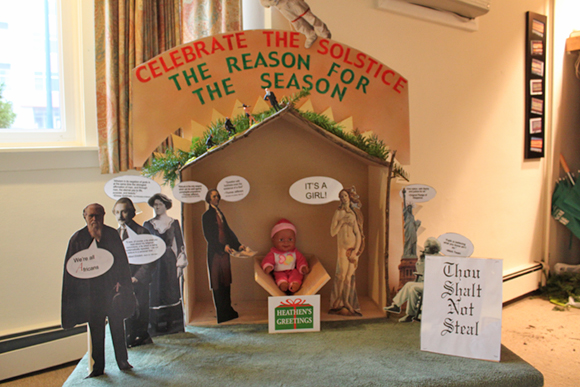 'Tis the season . . . for the Freedom From Religion Foundation's gilt Winter Solstice message, which returns today, for its 18th visit to the first-floor rotunda of the Wisconsin State Capitol through December.
The solstice message in the Capitol was composed by Anne Nicol Gaylor, Foundation co-president emerita, and says:
"At this season of the Winter Solstice, may reason prevail.
There are no gods, no devils, no angels, no heaven or hell.
There is only our natural world.
Religion is but myth and superstition that hardens hearts and enslaves minds."
On the back is a poem by celebrated Wisconsin poet Ella Wheeler Wilcox (famed for "Laugh and the world laughs with you").
The Winter Solstice is the reason for the season, says FFRF Co-President Dan Barker. Occurring this year on Dec. 21, it marks the shortest, darkest day of the year, and heralds the symbolic rebirth of the Sun. It's been celebrated for millennia in the Northern Hemisphere with festivals of light, evergreen, gift exchanges and seasonal gatherings.
Today also marks the third return of FFRF's "natural nativity scene," which was unveiled in 2011 to recognize the rebirth of the Unconquered Sun — Dies Natalis Invicti Solis — not baby Jesus. FFRF's baby is black and female, for egalitarianism, and to acknowledge that humankind was birthed in Africa. Our wisepeople depict atheists and scientific giants Charles Darwin and Albert Einstein, plus wisewoman Emma Goldman — with humorist Mark Twain and Founding father Thomas Jefferson thrown in for good measure.
Venus, like Mary, represents a mythical fertility symbol, but also our solar system. FFRF's "angels" are also natural — the Statue of Liberty and an astronaut.
"Our display celebrates the human family, reason and the Winter Solstice," says FFRF Co-President Annie Laurie Gaylor. Crafted by FFRF Staff Attorney Andrew Seidel, it was placed after a Religious Right group put up a devotional nativity scene for the first time in the Capitol.
"FFRF would vastly prefer that government buildings and seats of government be free from religion — and irreligion. It is divisive. The rotunda is getting very cluttered. But if a devotional nativity display is allowed, then there must be 'room at the inn' for all points of view, including irreverency and freethought," said Gaylor.
Barker added: "In celebrating the Winter Solstice, we celebrate reality."

Read FFRF's flyer: Away with the manger — in with the Solstice!


%291 %America/Chicago, %2013
%999 %America/Chicago, %2013
Scots awa' with parochiaid. Almost half of Scots, including nearly a third of Roman Catholics, believe state-funded Catholic schools in Scotland should be abolished. Source: The Herald [UK], Jan. 13, 2003
Religious broadcasters eat up airwaves. Religious broadcasters are eating up most noncommercial stations when they come on the market. Rev. Don Wildmon's American Family Radio Wildmon owns 194 stations, has 18 affiliates and hundreds of applications pending with the FCC, compared to National Public Radio's 273 member organizations. Federal law permits noncommercial broadcasters with licenses for full-power stations to push out those with weaker signals. Source: New York Times, Sept. 2002
Thou shalt cheat? Students at private religious high schools are more apt to cheat on a test than those at other schools, according to "Report Card 2002: The Ethics of American Youth" by the Josephson Institute for Ethics. The survey found 78% of students at religious schools said they had cheated at least once on exams in the last year, compared with 72% of students at other schools. Source: Atlanta Constitution, Oct. 26, 2002
Suffer the children. More than 200 U.S. children have died in the past 15 years because parents used faith healing instead of medical care. Seth Asser, M.D., published a study in Pediatrics in 1998 of 172 child deaths, showing that 140 fatalities were for conditions with survival rates exceeding 90% with medical care. Source: George Street Journal, Brown University, April 12, 2002
Fruits of patriarchal religion. Global violence against women is linked to women's inferior status worldwide. Violence accounts for 7% of deaths among girls and women. Between 10% and 69% of women worldwide report having been physically or sexually assaulted by a male partner (22% of U.S. women report physical abuse). As many as one-third of girls are forced into their first sexual experience. In Tanzania, 500 elderly women a year are killed for being "witches." Source: Oct. 2, 2002 World Health Organization Report
Muslim wife murders. More than 4,000 women have been doused in kerosene and set on fire by family members in Islamabad, Pakistan, in the last 8 years. Reasons include failure to produce a son, or husbands saving money when procuring a second wife. There are no burn centers in Pakistan, whose population is 96% Muslim. Source: Women's E-News, Oct. 27, 2002
Suffer the Third World women. Bush's decision to withhold $34 million in funding to the UN Population Fund to placate a small religion-based antiabortion group has dire consequences. Two million women a year worldwide suffer unnecessarily from correctable obstetric fistula after childbirth (causing urinary and bowel incontinence and making them outcasts). Half of all women in poor countries give birth without trained attendants; 60% receive no care after birth, 35% get no prenatal care. About 300 million women worldwide lack access to contraception. Sources: San Antonio Express-News June 2, 2002; Kaiser Reproductive Report, Sept. 23, 2002
Arab stagnation? The whole Arab world translates only about 330 books annually, according to the United Nations' Arab Human Development Report 2002, which warns that Arab societies are being crippled by lack of political and intellectual freedom, the suppression of women and cultural stagnation. Source: New York Times, July 2, 2002
%998 %America/Chicago, %2013
Freedom From Religion Foundation member Clara Carlson of Washington State is 96, and her husband Ralph is 100. The Peninsula Daily News recently ran a feature story about the long-lived couple, who have been married for more than 75 years. When asked her secrets to longevity and a long marriage, Clara replied:
"Drink lots of champagne, eat lots of chocolate, and laugh a lot."
"Everything we do is a partnership," Ralph told the newspaper.
Clara also credited the "miracles of modern medicine" with helping Ralph survive four cancers, two heart attacks and two bouts with pneumonia.
They have three daughters, nine grandchildren and 17 great-grandchildren.
Both have longevity in their genes, and stayed physically and mentally active after retirement. Home health and chore service workers have enabled them to keep living at home.
Clara remains active in freethought, humanist and feminist causes.
She had planned to travel to a recent FFRF national convention, but had to cancel the trip to help celebrate her daughter's 50th wedding anniversary.
%997 %America/Chicago, %2013
A Devil's Chaplain by Richard Dawkins (Weidenfeld & Nicolson, 2003). A Devil's Chaplain is a collection of three decades of essays by this British biologist and well-known atheist. Dawkins discusses genes and memes, religion, Darwinism, creationism, Stephen Jay Gould and other timely topics.

When Religion Becomes Evil by Charles Kimball (Harper San Francisco, $21.95). Kimball, an ordained Baptist minister with a Harvard degree in comparative religion and Islamic studies, is chair of the religion department at Wake Forest University in Winston-Salem, N.C.

Religions may cross any of five lines to become evil, Kimball asserts: by making absolute truth claims; requiring blind obedience; declaring an 'ideal' time for confrontations between good and evil; believing the end justifies the means, or proclaiming a holy war.

A Moral Reckoning: The Role of the Catholic Church in the Holocaust and Its Unfulfilled Duty by Daniel Goldhagen (Alfred A. Knopf, 2002, $25). Goldhagen maintains Pope Pius XII tacitly condoned the persecution of Jews:

"The Church has gotten more or less a free ride for the last 50 years and it was not a heroic bastion of resistance as it would sometimes like to portray itself, but was deeply complicit in many of the crimes of the time."
The Harvard social studies professor and son of a Holocaust survivor documents anti-Semitic statements by clergy. The Roman Catholic Church temporarily won a ban on Oct. 7 against selling his book in Germany, which was lifted when a disputed photo caption was blacked out.

Gruess Gott und Heil Hitler (Hail God and Heil Hitler) by Stefan Moritz. Moritz argues the Austrian Catholic Church struck a bargain with the devil to survive Nazism, with many priests and bishops actively supporting Nazis. Austria today is still 80% Roman Catholic. Moritz provides countless documents and examples, such as minutes from the Austrian bishops' conference in 1942 noting the mass transportation of Jews to Nazi death camps, an influential Jesuit describing Jews as "God's Murderers," and a parish newspaper urging Catholics to support Hitler: "One people -- one Reich -- one Fuhrer --one God!"

Out of the Flames: The Remarkable Story of a Fearless Scholar, A Fatal Heresy, and One of the Rarest Books in the World by Lawrence and Nancy Goldstone (Broadway Books, $24.95). This biography tells the story of Michael Servetus, considered a freethinking, humanist theologian and predecessor of Voltaire, who was burned at the stake by John Calvin in Geneva. The scientist also discovered pulmonary circulation. His treatise on the Trinity brought him to the attention of the Inquisition, and his rejection of Calvin's doctrine of predestination resulted in the sham trial leading to his execution.

Spy: The Inside Story of How the FBI's Robert Hanssen Betrayed America by David Wise (Random House, $24.95). The book documents how Robert Hanssen, a devout Catholic who went to Mass daily and hung a crucifix on his wall, was obsessed by exhibitionist sex. He rigged a videocamera in his bedroom so that a friend could watch him and his unsuspecting wife have sex. He gave some payoff money to Mother Teresa, and spent the rest on strippers. "He betrayed his country and simultaneously betrayed his wife," Wise wrote, while "urging his friends to get closer to God."

Honor Lost by Norma Khouri (Simon & Schuster). Khouri, an activist against "honor killings," tells the story of her Jordanian childhood friend and business partner, who was stabbed to death at age 26 by her own father for walking with a man in public. Her book, describing the trapped lives of women in Jordan and many Islamist countries, has been a bestseller in Australia and France, and is now being distributed in the U.S. and Europe. Her friend represents "thousands of women who are still dying."

"The Magdalene Sisters," directed by Peter Mullan. This film literally depicts Ireland's "dirty laundry"--the plight of girls abused by nuns at Catholic convents and Magdalene laundries in the 1960s. It was released in Ireland in November. It has already been condemned by the Vatican, although it won the 2002 Golden Lion award at the Venice Film Festival. The film is being distributed in the U.S. by Miramax Films.

Irish girls and young women were dumped in the Magdalene laundries if they were orphaned, became pregnant, were "too pretty" or were otherwise unwanted by families. Mullan said his movie is based on true events--"one of the great injustices of the second half of the 20th century."
More than 30,000 women over a period of 150 years were forced to work without pay in profit-making convent laundries, "to wash away their sins." "We were the living dead," Mary Norris, 60, recently told British TV.

"The Crime of Father Amaro," directed by Carlos Carrera. This Mexican movie has caused an uproar and been a box office hit in Mexico. Based on a 19th-century Portuguese novel, it depicts a young priest seducing a younger woman, then forcing her to have a clandestine abortion.

"Amen," directed by Constantin Costa-Gavras. The Greek director makes the case against Pius XII as a Nazi collaborator. He told the New York Times (Jan. 19): "For me, the idea of silence is the film's main theme. The silence of the people, the silence of a lot of people in the church." The film is loosely based on "The Deputy," Rolf Huchhuth's play about Pius's refusal to denounce the mass murder of Jews.
%996 %America/Chicago, %2013
We do not claim to know all the ways of Providence. Yet we can trust in them, placing our confidence in the loving God behind all of life, and all of history. May he guide us now.
 The liberty we prize is not America's gift to the world, it is God's gift to humanity.
--State of the Union Address, January 28, 2003
America believes deeply that everybody has worth, everybody matters, everybody was created by the Almighty.
--White House Remarks on AIDS proposal, Jan. 31, 2003
The same Creator who names the stars also knows the names of the seven souls we mourn today. The crew of the shuttle Columbia did not return safely to Earth; yet we pray that all are safely home.
--Remarks after the Columbia shuttle disaster, Feb. 1, 2003
It is fitting that, in the midst of tough times, that these these two leaders [Joint Chief of Staff chair Gen. Richard Myers and CIA Director George Tenet] are sharing with scripture and prayer with the country.
 Since we met last year, millions of Americans have been led to prayer. They have prayed for comfort in time of grief; for understanding in a time of anger; for protection in a time of uncertainty. Many, including me, have been on bended knee. The prayers of this nation are a part of the good that has come from the evil of September the 11th, . . .
 I believe in prayer. I pray. I pray for strength, I pray for guidance, I pray for forgiveness. (Quoted by Knight-Ridder)
 In this time of testing for our nation, my family and I have been blessed by the prayers of countless of [sic] Americans. We have felt their sustaining power and we're incredibly grateful.
 In this hour of our country's history, we stand in the need of prayer. . . . We pray for wisdom to know and do what is right and we pray for God's peace in the affairs of men. (Quoted by Associated Press)
--President's Remarks at National Prayer Breakfast, Washington, D.C., February 6, 2003 (All quotes from White House posted speech unless otherwise indicated.)
I welcome faith. I welcome faith to help solve the nation's deepest problems. We're being challenged. We're meeting those challenges because of our faith. After we were attacked on September the 11th, we carried our grief to the Lord Almighty in prayer.
 The American people have deep and diverse religious beliefs, truly one of the great strengths of our country. And the faith of our citizens is seeing us through some demanding times. . . . We're meeting those challenges because of our faith.
 In times of tragedy, faith assures us that death and suffering are not the final word. . . .
 [America's enemies] hate the thought [that] . . . in this great country, we can worship the Almighty God the way we see fit.
Liberty is God's gift to every human being in the world.
--President's Remarks at National Religious Broadcasters convention, Nashville, Tenn., Feb. 10, 2003. Bush was introduced as "our friend and brother in Christ" and as someone who "unapologetically proclaims his faith in the Lord Jesus Christ" when he appeared at the broadcasters' convention, according to the Washington Post (Feb. 11, 2003).
%994 %America/Chicago, %2013
My world view went through profoud changes about five years ago. Before then I was a traditional Catholic. Then, after college, not wanting to make use of my biochemistry degree, I served in two vounteer programs committed to youth education and cross-cultural understanding. The first was a year in the economically depressed, bible-thumping backwoods of Mississippi; the second in affluent, intellectual western Germany. Although both programs were partially sponsored by the Catholic Church and I was living and working with priests and nuns, my beliefs were constantly being challenged, and before my service was up religion had completely lost its hold over me. I think my parents and their church friends prefer to believe that I did not make this decision freely, but that I was under the influence of evil forces--a.k.a. "those radical European priests." Nobody has ever asked me how it happened, so I had not really tried to understand it, until recently. The topic came up during some email exchanges I had with a former fellow volunteer. We had secrets to share: she announced her engagement to the Catholic priest who directed our program, while I admitted that I had become an atheist.
So, how did this change happen? Was it the "bad" influence of the young Jesuit seminarian who laughed at belief in the literal existence of evil? Or the feminist nuns that I saw running their own rural parishes better than any priest? Or was it from years of dating a secular intellectual? I consider these among many positive influences that led me to freedom from religion, but I think I can best summarize my motivation as follows: I had expectations about how God should operate, and eventually I had to admit that these assumptions did not add up with the real world.
. . . All the confusion and contradiction that exist among people who are supposedly close to God is the result of having no objective proof of supernatural phenomena and no divine guidance. There does not seem to be anyone at the helm. If this is the case, then the belief in divine guidance seems very dangerous. It allows people to put blind trust in their leaders, be uncritical, judge others as evil or unacceptable, or allows people to avoid responsibility for their acts and decisions. Perhaps this gets to the heart of why religion is so popular. Decisions can be hard to make and what better way to make a decision than with the help of an omniscient being--how can you go wrong? Even better if the decisions are already made for you, for example, which candidate to elect for president or which issues or values should be important to you.
There was a time when I thought that being a non-believer meant giving up morals and the meaning of life. But now that I am free of religion, I am learning that I have to rely on my personal experiences and constant self-evaluation to decide what is important and meaningful in life. Blind faith has been replaced with greater awareness of the world around me and a greater sense of responsibility for the consequences of my opinions and actions. I find it unfortunate that the majority of people go through life without this experience.
"I am an M.A. student of linguistics at the University of Colorado. My main interests are foreign language and cross-cultural understanding. I am currently studying Japanese language and culture."


The Dilemma of the Christian Apologist
By Richard Spencer
"What happened?" The previous question is one that I have been asked a countless number of times since my "deconversion" from Christianity to atheism. Like many questions Christians ask, the question is a telling one. As my family and friends search for a reason for my departure from faith, they all want some kind of scapegoat upon which to place the blame for my "falling away." For my family and friends to admit that I may have good reason for questioning Christianity, and consequently leaving it, would be cause for them to critically evaluate their own beliefs. However, the task of measuring the value of one's faith is unfortunately a task that too many shy away from. Consequently, it is very difficult for my family and friends to realize that the scapegoat they're searching for is the simple truth that over three years of bible school, I studied Christianity intensely and found it lacking. To realize that fact would be to admit that I may have good reason for my decisions, and if that is so, then they fear following in my footsteps. We see then that fear of the truth is one of the first things we must rid ourselves of in order to find it.
. . . Faith is belief without reason. Quite simply, if a belief is held with reason, then it is believed by reason and cannot be held by faith. Therefore, any belief truly held by faith is either supported by no reason or by necessarily insufficient reason. Since the belief in god is fundamental to all of Christianity, in order for Christianity to be rational, belief in god must also be shown to be rational. However, Christianity teaches that faith is necessary to not only please god, but to even believe in god. Therefore, Christianity inadvertently admits from the very beginning that its fundamental belief is one that must be accepted without reason. The result is a system of beliefs based on an irrational belief. The Christian apologist then, in attempting to prove anything about Christianity, is forced to attempt to rationally justify that which is inherently and admittedly irrational.
. . . The truth has never hurt anyone. What hurts us are the lies that we allow ourselves to believe. Therefore, we must realize that we have nothing to lose and everything to gain from an honest pursuit of the truth. By removing my personal bias toward what I was raised to believe and approaching the world with a respect for the facts of reality, I simply came to the conclusion that any religion claiming to have the truth is not only wrong, but also fraudulent. It took a painful release of my pride, but in the end I admitted my error and began to align my beliefs with that which seems most rational. Looking back, I see that I have left nothing behind but a conglomeration of superstitions, myths and pseudo-intellectual elitism. In the end, I have chosen to reject religion because I cannot doubt that to be led by faith is to be misled.
"I began studying at Lee University in Cleveland, Tenn., where I stayed through the spring semester of 2002. My plans were to graduate with a degree in pastoral ministry and become the pastor of a church. I ended up taking bible and theology classes to the exclusion of my pastoral ministry requirements, although I never made the change in majors official with the school. During my last year at Lee, my years of studying Christianity culminated in my determining it to be untrue. I have now transferred to Georgia State University where I will major in psychology. Had I stayed at Lee, I would be classified next semester as a senior. However, with my transfer credits, I am a junior at GSU.
"My interests include movies (Fletch, Memento), reading (Fletch novels, freethought-oriented books), music (Mineral, Hopesfall), spending time with my friends, and both watching and performing concerts."


"Well . . . I Was Raised Catholic"
By Dean Barry
My wedding ceremony made me rethink the whole idea of religion. My wife was also raised Catholic and so at first it seemed natural to follow tradition and get married in the church. We did go to a priest and sign up to get married with his blessing. Throughout the meeting, though, we found ourselves lying. Lying about the fact that we lived together (sex before marriage if you're Catholic--a big no-no); that we wouldn't use birth control (we already were); and that we would accept as many children as we were granted (we had already decided that two children seemed like a good plan).
We left that meeting in a daze, or maybe it was a fury--I'm not sure. It was very confusing. We didn't want to begin our marriage on a foundation of lies. Why did we need this guy's "blessing" anyway? We had already spent two years living together and knew that we had something special and that this was what we wanted for the rest of our lives.
My wife was feeling frustrated with many of the rules of the Catholic religion concerning women--particularly that women are seen as second to men, and of the ignorance toward basic women's health needs like birth control, and of the control the church exerts over a woman's decision about her body and abortion. All of these unanswered questions led us to end up getting married at a beautiful park with an entertaining Justice of the Peace. Everyone who came to our wedding had a wonderful time, and more importantly, we felt right in beginning our married life together outside the church. Nearly three years later, we are happier than ever and have not been back to the church since the day we began to question our religion in the first place.
Life is easier when you don't follow religion. There are a lot less things to feel guilty about and a lot more things to enjoy and be happy about. For example, we can feel confident about our decision to limit the number of children we have. We are no longer sitting on a hard wooden bench for an hour each Sunday morning listening to a man who has taken a vow of celibacy, telling us why birth control is wrong.
Dean Barry is a 28-year-old college junior. He returned to school full-time in January 2002, after being laid off from his job as an aerospace inspector as a result of the industry downsizing after the events of September 11. He graduated from Asnuntuck Community College on May 31, 2002, with an Associate's Degree in General Studies. He will continue his education full-time at Westfield State College in Westfield, Massachusetts. He plans to double major in American history and secondary education so he can become a high-school history teacher.


An Obsolete Madness
By Jeanne Petty
Perhaps religion has been, in the past, a necessary human "madness." Mental illness can be caused by circumstances which are awful enough to make a person retreat from the "real" world into a safer, delusional world. This is the mind's attempt to assert control over uncontrollable circumstances and to subvert the pain of the real world. Religious belief operates upon the same principle.
Religion is a cultural tool for dealing with death. Humans may be the only animals to find themselves in the peculiar circumstance of knowing that they exist as individuals, and being intelligent enough to wonder about the nature of that existence, while knowing also that they will die. Our egos are so well-developed that, naturally, they fight like hell against ceasing to exist. Our consciousness would do anything to preserve itself, and if someone believes that saying 50 "Hail Mary's" or strapping a bomb to their back will achieve that purpose, then of course they will do it.
People often turn to religion in an attempt to deal with the death of a loved one, unbearable living circumstances, or their own looming mortality. . . . It would be a false happiness, like taking Prozac for the rest of my life, and I would realize that sooner or later.
. . . Another reason why I reject religion is that the religious frequently infringe upon the rights of others in the name of their god. The most horrific examples of this are, of course, terrorism, genocide, and war. How ridiculous to kill over religion. I once heard a comedian say that "Going to war over religion is like going to war over who has the best imaginary friend." How true. It's crazy that in these modern times people would kill each other over something so intangible and unverifiable.
"I am a junior in painting at the School of Art & Design at the University of Michigan, Ann Arbor. My interests include philosophy, travel, writing, photography, and reading."


Jesus Christ!
By T'ere Pagaduan
It is absolute madness, celebrating a birthday in a pre-school classroom. Between the frenzy of fielding dangerous projectile party hats and guarding the heavily frosted cake from probing little fingers, it would have been easy to miss the fact that one little scholar was not joining in the festivities. Yet, I spotted him, across the room, idly fiddling with a pile of Legos. What's he doing, I wondered. Time out, maybe? I asked one of the other teacher's aides what he was being punished for. Nothing, she says.
"He can't participate in birthdays, mother's orders. It's against his religion."
I was floored--and more than a little annoyed. I decided to take the poor kid outside to play. I suspected he did not want to suffer through watching his classmates scarf down cake he couldn't eat and play with party favors he couldn't have.
Against their religion. He was four years ago, it wasn't against his anything. All he knew was that his buddies were having a party and he was outside, alone. I watched him amble about the playground and wondered, What do his parents think God has against birthday parties, anyway? I chalked it up to just another one of those ridiculous rules drawn up by some freak who thinks he's the voice of God and imposed on the dim-witted through religion.
Later, his parents came to pick him up and take him home. The lead teacher informed his mother that we had celebrated a birthday party today and he had spent the time outside.
"Thank you for taking him out," she said to me.
"He wasn't too happy about it," I told her stiffly.
"He'll get used to it," she laughs. She really doesn't get it.
As they walk out of the classroom, hand in hand, I am relieved to know that they aren't Catholic. At least the poor kind will never be an altar boy.
T'ere Healoha Pagaduan is a student at the Universtiy of Hawaii's Kapiolani Community College. She has 42 credit hours completed towards her AS in Paralegal. She plans to attain her BA and go on to law school.


Held Captive By Choice
By Susie Cosier
My definition of religion is that it is a form of voluntary bondage. . . .
Religion cannot exist without faith, like a school can't exist without pupils. When a person can't think freely, question the credibility of a statement, be open to opposing views, and make informed decisions, then that person remains captive in their beliefs.
. . . Being brought up with three different religions, Animism and Muslim from my African nanny, and Christianity from the British boarding school I attended, I have observed that these three religions are quite similar. They are all extremely rigid in their beliefs, causing needless suffering, promoting inequality with opposing views of faith, and restricting behaviors with severe punishment, depending on what is deemed unacceptable by each group.
. . . In West Africa, where I grew up with my African nanny, little girls between the ages of five and eight would be taken into the swamp for a horrifying ceremony. They would be restrained on a large rock while the Sorcerer cut off the clitoris with a sharp instrument. The Muslims believe that it gives a woman less desire for sex, and, therefore, makes her less promiscuous. I accepted my circumcision just like all the other little girls, but still wondered why such a painful, terrifying ordeal was believed to purify me and make me more desirable to men.
When I was five years old, I was sent to a British boarding school. Through the degradation of being labeled a "heathen," and receiving severe punishments for innocent mistakes, I found that this religion caused suffering, too. During the nine years I lived there, I saw what Christianity was like, according to my teachers, who hatefully judged the African religions, had a finality of thought that promoted their culture, and used force to form my mind.
Why consent to bondage of the mind and body, without question, when there is in each human the capability of reason and an immense source of intelligence. . . . Through experience one learns, but through the power of choice, one determines one's destiny.
"I was born in Gambia, West Africa, to parents who gave me to an African woman for nursing and care. I now consider her as my mother. My American father was in the Peace Corps and my German mother was a nurse. I grew up with my nanny in her village for five years, before I was sent to a British boarding school. I stayed at the school in Senegal, West Africa, for nine years, and then arrived here, in America, to go to high school in Missouri. After high school, I moved to Northern Michigan to attend North Central Michigan College. I am a second semester sophomore, majoring in Social Work with a minor in Art. My interests are in culture, language, and art (drawing, clay sculpting, and writing). My sports interests include running, bicycling, and hiking. I volunteer to help with children at a daycare and babysit for friends. I am employed full-time and attend school full-time."


If They Knew Then What Some of Us Know Now
By Greg Foster
The grandest and most circumspect claim staked by the world's religions is the possession of knowledge otherwise unknowable to humankind. This claim of divine inspiration is the keystone of religious doctrine, and thus offers itself as the optimal focal point for critical scrutiny. If the central tenets of religious doctrine can be shown to have human origins or influences, the claim of divine inspiration is suspect and the entirety of its content is called into question.
Critical review of religions past and present reveals the belief in an afterlife and some form of creation myth as the common threads from which the worldview of its believers is woven. Projecting oneself into the mindset of the earliest modern humans can reveal insights as to how and why both became ubiquitous fixtures of religion, by way of their being nothing more than artifacts of human cognition. In doing so, the central tenets of religion can be seen as self-fulfilling prophesies of the human condition, rather than sanctimonious bequeathals from the almighty. . . .
Consider how near-death experiences continue to tantalize the irrational with prospects of an afterlife, in spite of neurological explanations to the contrary. People accept science when they turn on their television or microwave oven, but allow it to be superceded by faith when it comes to spiritual matters. If such beliefs can persevere in today's informed world, imagine how near-death experiences and dreams of the deceased would have affected people before the age of reason. . . .
While the promise of an idyllic afterlife is enticing and the prospect of eternal damnation is undeniably grim, I see no evidence of divinity within any of the world's religions to support these claims. To the contrary, there is growing evidence supporting the notion of humankind's propensity for religious belief being nothing more than an attribute of human cognition. Recognition of purely human vectors driving religious adherence throughout the ages makes the act of casting a minority vote all the more easy. In the end, I am no more impelled to avow myself to a religion than I am to join an organization whose platform I do not believe in. If the end of life marks the beginning of eternal nothingness, then so be it.
"I am currently in the first year of a joint MS degree in Marine Biology and Coastal Zone Management at Nova Southeastern University in Ft. Lauderdale, and I plan to continue my studies to the Ph.D. level. My academy and professional goals lie in the field of coral reef restoration. My undergraduate degree was in Chemical Engineering, so this one-eighty to the life sciences could be considered a form of environmental penance, although it goes much deeper than that. After several years in the petrochemical industry, shoulder to shoulder with engineers whose religious beliefs blinded them to the science unfolding before their eyes, I decided my one shot at life would be better spent elsewhere. By the way, my personnel file reflects my outspokenness as a freethinker, surprisingly a very undesirable trait in today's corporate America. My major interests, on the basis of time allocation, include scuba diving and instruction, nature photography, science, anthropology, and natural history."


"Simply an Individual"
By Kristina da Fonseca
Every day I am grateful for the fact that I questioned Catholicism as a teenager, because the desire for reason and fairness has provided me with more options and has allowed me to never have to question my love and acceptance of my [gay] brother. The indoctrination of children into that religion only serves to brainwash a new generation of unquestioning contributors. Religion is rarely used for the purposes it claims. Instead of being accepting, it is often exclusionary; instead of being loving, it is often hateful; and instead of being giving, it is often greedy.
As an agnostic, I am afforded the freedom to actively reason out my morality. I can make decisions based on beliefs I have created on my own instead of relying on what others tell me I should do. I can live each day knowing that I can be a good person without depending on an old book or a man who spends his lifetime judging others. I can follow my heart instead of a leader. I can stand up against the sexism, classism, racism and homophobia of many organizations, including churches. I can actively question why heterosexuality, marriage, submission and uniformity are considered by many to be the "right" way.
My rejection of religion may be seen by many as a fault, but I consider my decision to reject religion a positive one. I have felt more fulfilled and free than I would have had I remained a Catholic. I am extremely proud of my unwillingness to be pressured into conformity.
"I entered my senior year at Smith College last fall. I am majoring in both Government and Portugese-Brazilian Studies. I am President of the Lusi-Brazilian Club and will be a member of both Smith Feminists Unite and Smith Labor Action Coalition. Last summer I continued my employment with my local state Senator and also interned for the Rhode Island chapter of the National Organization for Women. I am very much interested in feminist issues and hope to continue my activism throughout my life. I plan on attending law school and hope to use my law degree to change the laws to help underprivileged people navigate the laws already in place. I believe that everyone has a right to be treated fairly and equally under the law and in everyday life and I plan on working to making that more of a reality."


Tools of Hope, Tools of Fear
By Nate Hertweck
From my first memories to this very moment, my most intrinsic instincts have been against the institutions of religion. I can vividly remember playing with my best friend on the playground one carefree day in second grade and hearing him tell me that when the caravan returns to pick up all the good people and take them to heaven that I would be left behind because I did not attend church. Initially, I was somewhat frightened, but feeling confident of my instincts I knew this wasn't the truth about the world that I was only beginning to observe and explore.
About ten years and several blemishing religious experiences later, I began to take greater interest in learning and contemplating religion, philosophy, and history. I have since read such works as those by the great revolutionary writer Thomas Paine, the brilliantly audacious German philosopher Frederick Nietzsche, and even the Old and New Testaments, and I see this as only a beginning to my inquiries. Not only have my findings in these readings been consistent with the values of my heart, but also I have been repeatedly surprised and deeply saddened by the false reasoning, the manipulation, and the harm done by religion both throughout history and today in our present societies. I feel the worst of religion's shortcomings is its condemnation of life, its implementation of fear, and its imperialism of thought.
My very own grandmother once told me, regarding her faith, that when she dies, if that were the end of her existence she would be devastatingly disappointed. The functional selling point of religion is to secure an afterlife for its believers. This idea is packaged and sold as "hope" in exchange for the financial and numerical support of churches or other places of worship. By definition, hope, especially that of a perfect afterlife, vastly exceeds any success, pleasure, accomplishment, happines, or love that can be attained in the reality of this current life. By creating the idea of another perfect world, religion condemns the world we inhabit as always falling short. . . .
Unfortunately, the consequences of condemning life through the superstition of religion can be much more severe than the simple lack of perspective. Now more than ever, the world is seeing religious believers destroy their own lives and the lives of others all because of unfounded faith in the afterlife. The tragic cases of cult mass suicides and suicide bombers would have never taken place if it weren't for the religious beliefs of the perpetrators. The only reason these people take lives in order to become martyrs for their cause is that they believe in an afterlife that is preferable and promised by their respective religion. . . . The overtly religious acts of terrorists and cult members are also symptoms of this kind of life where hope serves only to degrade reality and justify death.
Perhaps the greatest triumph over the detriment of organized religion is self-confidence. Likewise, the use of fear as a mind controller is probably organized religion's most heinous crime. . . . Children who are raised to fear their parents and their God only learn one way to make choices: out of fear. In my experience, nothing holds a person back from pursuing dreams more than the fear that is instilled in him or her at a young, impressionable age. Nothing I have ever seen promotes fear more than religion and nothing has been more invigorating in my life than being free from it.
"I grew up in Albuquerque, New Mexico. I am twenty years old and in my third year at Middle Tennessee State University, where I am majoring in the Recording Industry with an emphasis on Production and Technology. Basically, I'm learning how to be an audio engineer. Someday I hope to be a freelance record producer with a home studio. My hobbies and interests include songwriting, listening to music, reading, working with kids, and traveling. I'm very close to my parents, my sister, and my extended family."
%990 %America/Chicago, %2013
Prof. Rodrigue Tremblay
"The most dangerous madmen are those created by religion, and people whose aim it is to disrupt society always know how to make good use of them."
--Denis Diderot (1713-1784)
President George W. Bush never hesitated to introduce religion and the dangerous notion of absolute virtue into American politics. When he was the governor of Texas, he had established an annual "Jesus Day" on June 10th.1
In his public debates, he also exclaimed, "Jesus changed my heart!" And, once elected president, in January 2001, George W. Bush declared September 14 to be a national day of prayer.
Bush even opened his administration to a notorious representative of the American religious right: Attorney General John Ashcroft. Son and grandson of Protestant pastors, potentially a modern-day Torquemada,2 Ashcroft declared to a group of students at the Bob Jones seminary, "We have no king but Jesus."3 All of these declarations and policies were in violation of a pluralist society's democratic principle of government neutrality in religious matters.
So it was no surprise after the September 11th attacks when George W. Bush, mirroring his antagonist bin Laden, said that Islamic terrorists and mass terrorism represented "Evil," implying that "Good" and virtue belonged to the United States, and promised to "rid the world of evil and terror."4 This followed a declaration in his "war whoop" speech to Congress on September 20, 2001, that "Freedom and fear, justice and cruelty, have always been at war, and we know that God is not neutral between them." In other words, God is on our side (heard that before?).5
* * *
George W. Bush has multiplied his sermonizing speeches and public prayers. An example of this was on March 30, 2002, when he declared in a radio broadcast: "We feel our reliance on the Creator who made us. We place our sorrows and cares before him, seeking God's mercy. We ask forgiveness for our failures, seeking the renewal He can bring."6
And he continued: "Faith brings confidence that failure is never final, and suffering is temporary, and the pains of the earth will be overcome. We can be confident, too, that evil may be present and it may be strong, but it will not prevail."7
And as if to underline the fact that he believed himself mandated by God to wage war, he added, "In this season, we are assured that history is of moral design. Justice and cruelty have always been at war, and God is not neutral between them. His purposes are often defied, but never defeated."
Such religious messages from a head of state resemble what came out of the theocracies of Iran and of the Taliban government of Afghanistan, before it was deposed by a foreign army. Other than George W. Bush, I know of no other head of state of a democratic country,8 including Great Britain where there is a state religion, who prays in public and claims to act in the name of God.9
For people who are not American, hearing U.S. politicians close their speeches with the inevitable "God bless America" is quite startling. As a Belgian bishop remarked recently, such an incantation at the end of a political or military speech could really mean "God bless all of us, but not the others." Godfried Banneels, Archbishop of Malines-Bruxelles, noted that "it is not the first time in history that God has been recruited to favor one side, but it must be understood that this should not be done."10
But it is done in the United States. President George W. Bush goes even further: he begins his war council meetings with a prayer. When we realize that at these conclaves decisions are made to bomb thousands of people, one blanches at the thought that a president believes himself to be anointed by God to make war.11 In the case of Bush, known for his jingoism, the mixture of religion and flagrant nationalism makes one ponder.
As reported by Bob Woodward, The Washington Post's veteran journalist, Bush doesn't hesitate to claim openly that he considers the United States to be above international law. In fact, during a meeting of his war council, on September 15, 2001, Bush is said to have declared the following, concerning the need for America to wage war against terrorism whatever others might say: "At some point, we may be the only ones left. That's okay with me. We are America."12 Secretary of State Colin Powell is said to have remarked that talking big was no substitute for policy.
It is surprising that a country founded by people who wanted to escape the tyranny of the state religions which prevailed in 17th and 18th century Europe, today has leaders who want to establish Christianity as a state religion. In the past, empires called on the gods to confirm their supremacy. That the United States, the world's only military superpower at the beginning of the 21st century, seeks the same consecration is another indication that humanity's progress is very slow indeed. What is astonishing is that the Constitution formally forbids the government from taking a position on religious matters, nor may it declare what is good or bad according to a religious interpretation.13

What is the most disturbing for world stability is the American president's double penchant for things religious and for things military. The two together are dynamite. In a speech on April 8, 2002, in Knoxville, Tennessee, George W. Bush voiced his vision of the relationship between his religious morality and American military power: "The best way to fight evil is to do some good. Let me qualify that--the best way to fight evil at home is to do some good. The best way to fight them abroad is to unleash the military."
Around the same time, Bush's advisers released a political document announcing that the Administration was considering modifying the U.S. policy regarding the future use of nuclear weapons. Under certain circumstances, the old policy of deterrence or dissuasion--which stipulated that the U.S. would not be the first to use nuclear arms--could be replaced by the unilateral use of nuclear weapons.
People with a sectarian and ultra-religious morality are at risk of showing great cruelty toward people who do not think as they do. This is all the more possible if the others are of a different color, a different ethnicity, or a different religion. For my part, I don't think that Harry S. Truman, in 1945, would have dropped nuclear bombs on European cities, but he did bomb Asian cities.
Today, I do not think that George W. Bush would dare go after Europe. However, the Arab cities in the Middle East who oppose Israel have much to fear from a commander-in-chief who believes himself to be mandated by God to impose his version of justice. He would surely be able to find an excuse afterwards.
* * *
It is ironic that in their public declarations, it seems to be a contest to see who can be the most pious and mention Allah or God more often, George W. Bush, Osama bin Laden, or Saddam Hussein. Even though the Iraqi dictator is not really known for his piety, he resorts to references to Good and Evil to chastise the United States for its "policies of Evil," as he multiplies his incantations to Allah. In 2002, after having been plebicited at 100% by the Iraqi population, Saddam Hussein declared, "The Iraqi question . . . is now the center of the battle between Good and Evil."14
In 1996, after his disastrous wars against Iran and Kuwait, Saddam Hussein decided to wage a political campaign with the theme of "faith" or "iman," discarding the secular model that he had espoused until then. He even ordered the construction of two new mosques in Baghdad, one of which is said to be named after himself.15
All three leaders--Bush, bin Laden, and Hussein--rely on absolute values with a religious connotation to consolidate their authority and to demonize their adversaries. It is perhaps understandable on the part of bin Laden, a medieval conception of Islam seeming to be the only ideal he has to offer the world. Even a sanguinary dictator like Hussein can be understood, if not condoned, for associating himself with religion and the deity to legitimate his position after having led his country to ruin.
However, this shouldn't be the case in the United States, the historic example par excellence, along with France, of democracy and liberty. That George W. Bush is not able to articulate fundamental American values without losing himself in conjectures on Good and Evil is a tragedy for the United States, for the West, and for the world.
What the United States has to offer the world is not a sketchy medieval version of Good and Evil, but a system of fundamental political values that are based upon the rights of people to self-determination, to a democratic government and the rule of law, to inalienable human rights and individual freedom, to the respect for life, to tolerance, to the basic rights of freedom of thought, religion, and liberty of conscience, to free enterprise and economic progress through science, industry, and personal effort, and to the right of individuals to seek happiness.
All these values are rejected by Islam, but George W. Bush is incapable of explaining the contrast between the two civilizations, one founded upon a medieval and totalitarian religion, and the other on a modern and democratic humanism. On the contrary, he gets mired in a role that is not rightly his--that of Chief Theologian--when he takes it upon himself, as president, to judge the relative worth of different religions. For this is just what he did when he declared publicly that Islam is a religion "based on peace, love and compassion."16
When leaders succumb to a manichaean classification of "Good" and "Evil," it is not only to demonize their enemy, although that can be a prerequisite before killing them or committing atrocities, but especially to assure themselves and their people that the enemy is 100% in the wrong and that they are 100% in the right.17
Osama bin Laden, leader of the al-Qaeda terrorist movement, could not be more clear: it is in the name of God (Allah) that he kills innocent victims. "These men (the September 11th hijackers) have realized that the only course to achieve justice and defeat injustice is through jihad (Muslim holy struggle) for the cause of God (Allah)."18
The language is practically identical to that used by George W. Bush after the September 11th attacks. It is a paradox of the 21st century that both Osama bin Laden and George W. Bush apply the same manichaean terminology to describe themselves and their enemies. One seems to be a mirror image of the other. Both refer to Allah or God to justify their political actions. Both believe, or at least claim, that the Divinity is on their side; each thinks he is on the side of Good, while the other is automatically on the side of Evil.
For a manichaean leader, debates and discussions are out. Any policy is justifiable, since the goal is to fight absolute Evil. It is all-out war, jihad, with the blessing of God or Allah. An ambitious leader can then put the frosting on the cake and announce that he was chosen by Allah or God to lead, and the circle is closed.
This is perhaps the fundamental reason for the fanaticism of manichaean religions and why they have for so long been at the source of war. They tend to encourage blind obedience and primitive instincts, instead of reflection, study and dialogue. Whether it be in the Bible or in the Koran, there are many passages that justify violence.
The mix of religious Manichaeism and public affairs is always to be feared. It is wrong to think that religiously based terrorism is a kind of modern war of religions pitting Islam against Christianity, or against any other religion. It is rather the extreme reaction of some totalitarian and religious groups who are violently opposed to the humanist values of democracy, freedom, openness, tolerance, and the rule of law; that is to say, the values that have dominated in the West for three centuries and are the foundation of its progress.
Rodrigue Tremblay is Professor Emeritus of Economics and of International Finance at the UniversitŽ de MontrŽal. Dr. Tremblay holds a Ph.D. in Economics from Stanford University. He is the author of numerous professional articles and books, including a basic textbook in economics. He was the President of the North American Economics and Finance Association in 1986-87. His latest book was published in Paris and Montreal on February 12, 2003, in French, under the title "Pourquoi Bush veut la Guerre" [Why Bush Wants War] (Les Intouchables).
Footnotes:
1 "Therefore, I, George W. Bush, Governor of Texas, do hereby proclaim June 10, 2000, "Jesus Day" in Texas and urge the appropriate recognition whereof, in official recognition whereof, I hereby affix my signature this 17th day of April 2000." George W. Bush, "Jesus Day" 2000 Proclamation day of prayer.
2 By virtue of the "Patriot Act," adopted in 2001, the Attorney General authorizes the FBI to use wiretaps and other forms of electronic surveillance on citizens, even when they are not suspected of a crime.
The best current example of government intrusion in personal privacy is the program of electronic surveillance proposed by the Department of Defense, at the Pentagon, to collect billions and billions of pieces of personal information on American citizens (phone calls, e-mails, credit card accounts, bank accounts, plane reservations, and many other sources of data), with the aim of detecting possible terrorist activities. This system, under the cover of the "Homeland Security Act" and called "Total Information Awareness," will use super computers to find specific information on particular individuals. See John Markoff, "Pentagon Plans a Computer System That would Peek at Personal Data of Americans," The New York Times, Nov. 9, 2002.
In George W. Bush's own words: "America is now a battlefield. There should be no doubt in anybody's mind that we must do everything we can to protect the homeland." See Mimi Hall, "Deal set on homeland department," USA Today, Nov. 13, 2002.
3 Jonathan E. Smaby, "American Ramadan," The New York Times, Nov. 18, 2001, p.WY13.
4 Paul Koring, "Bush pledges to conquer 'evil'," The Globe & Mail, Nov. 12, 2001, p.A4.
5 Bush was not the only one to put the United States on a pedestal of absolute moral purity. Rudolph Giuliani, the mayor of New York, echoed the words of the president, after September 11th: "On the one hand, you have democracy, the rule of law and the respect for human life; on the other hand, tyranny, arbitrary executions, and mass assassinations. We are Good; they are Evil. It's as simple as that." The New York Times, October 1, 2001.
Bush concluded his speech to the Congress, by saying, "May God grant us wisdom and may he watch over the United States of America." The American president, like many Americans, is close to thinking that God is an American, and that the United States was created by God. He came close to making such a solemn proclamation in 2001, when he declared "Our nation was chosen by God and mandated by history to serve (the world) as a model of justice." It seems that no side has a monopoly on narrowmindedness.
6 George W. Bush's chief speechwriter is Michael Gerson, an evangelistic Christian who studied theology at Wheaton College.
7 Radio speech by George W. Bush, on March 30, 2002. Elizabeth Bumiller, "Bush Strikes Religious Note in an Address for Holidays," The New York Times, March 31, 2002, p.21.
8 An exception could be Ariel Sharon, the Prime Minister of Israel. In his end-of-the-year message in 2001, he declared, "From Jerusalem, the eternal, undivided capital of the Jewish people for the last 3004 years and forever, I send you my warmest greetings for a happy, healthy and prosperous New Year . . . Israel is the only place in the world where Jews have the right, the capability and the duty to defend themselves by themselves. For this we must thank God every day . . . At this New Year, I fervently pray we will be blessed with security, peace and joy for all of us."
9 In Utah, there is a de facto state religion, the Mormon Church. Michael Janofsky, "Plaza Dispute in Salt Lake Roils Citizens Over Religion," The New York Times, Nov. 16, 2002.
10 Jean-Pierre Stroobants, "Le primat de Belgique en a assez du 'God Bless America'," Le Monde, Dec. 24, 2002.
11 Bob Woodward and Dan Blaz, "At Camp David, Advise and Dissent; Bush, Aides Grapple with War Plan," The Washington Post, Jan. 21, 2002, p. A01.
12 Bob Woodward, Op.cit.
13 The First Amendment reads: "Congress shall make no law respecting an establishment of religion, or prohibiting the free exercise thereof;"
14 Jooneed Khan, "Les ƒtats-Unis reculent sur l'Irak", La Presse, October 18, 2002, p.A1.
15 John F. Burns, "Iraq Arms Quest uncovers a zest for Drink," The New York Times, Dec. 7, 2002.
16 David Waters, "Bush can't Begin to Judge Religion," Scripps Howard News Service, Dec. 8, 2002.
17 Manichaeism was a religion founded by Mani (c.216-276), a Persian who thought the universe was simultaneously under the control of Good and Evil, but that one day these forces would be separated, each one in its own domain. This religion disappeared in the West in the 6th century, but survived in the Orient until the 14th century.
18 Statement attributed to Osama bin Laden. Associated Press, Salah Nasrawi, "Arab station airs tape with bin Laden reportedly naming all 911 hijackers," Sept. 11, 2002.