Chapters (24)
Children categories
February 17, 2013 - "In Freedom We Trust" with Dr. Ed Buckner
Ed Buckner and his wife Diane are old friends of the Alabama Freethought Association and the Freedom From Religion Foundation. Many of our members know Ed from our annual 4th of July Freethought Advance, in which he has graciously served as emcee on many occasions. Ed is also a former president of American Atheists and Executive Director of the Council for Secular Humanism.
Ed and his son Michael have recently published their well-researched book In Freedom We Trust: An Atheist Guide to Religious Liberty with Prometheus Books. This book contains a wealth of well-supported arguments to refute the often-heard myths such as the United States "is a Christian nation" and "it is not possible to be moral without a god". Those of us who have heard Ed's eloquent speaking style will be happy to know that he and Michael have taken that same entertaining approach to the pages of In Freedom We Trust. Still, the book is packed with fascinating facts about our founding fathers and other Americans who have worked to ensure that our government stays neutral toward religion.
Schedule:
11 am social hour
12 noon potluck lunch
1 pm program
November 18, 2012 - "Say it Loud: Why I am Black, Atheist and Proud" with Dr. annalise fonza
Dr. annalise fonza holds a PhD from the University of Massachusetts at Amherst. During her time as a Methodist minister, she pastored six congregations. An alumna the Clergy Project, Dr. fonza has appeared on Freethought Radio and contributed to Black Skeptics on FreethoughtBlogs.com. Her professional interests lie in city and urban planning, particularly as they have affected black and female population components.
Dr. fonza brings us her insight into the intersection of freethought and race as she addresses common questions. Why do black atheists tend to be invisible, and, why have they created their own atheist organizations? In this talk, Dr. fonza will discuss how various racial, social and even political dynamics have converged to inform the development of openly black and atheist and free-thought communities. During this talk she will also explain why she is personally and politically willing to self-identify as an atheist, despite the tremendous impact that it has upon her racially, socially and economically.
SCHEDULE
11 a.m. social hour
Noon potluck lunch
1 p.m. program
%625 %America/Chicago, %2012
Written by Super User
N. 54, October 2004
I have often remarked in this column that philosophy gets an unfair bad wrap on the ground that it doesn't solve problems. Indeed, the point of philosophy is more to clarify concepts, ideas, and their consequences, then to solve practical issues. However, it would seem that clarifying things isn't much of a goal if in turn it doesn't help us make some progress. So, let us consider one particularly sensitive debate -- the one about the very idea of abortion -- where philosophy, by claryfying our thoughts, can help reasonable people come to a compromise (philosophy can do nothing for unreasonable people, so if you are among those who scream "murder!" at the thought of someone masturbating, get a life, and while you're at it, make a point of watching Monty Python's Meaning of Life).
Much of the debate on abortion hinges upon what seems to be a scientific question: when does a fertilized egg become a human being? Of course, the answer cannot be entirely scientific, since it depends in part on objective facts about the biology of human development, and in part on what we mean by "human being." Which is where philosophy comes into play. Does a foetus become a human being when the heart starts beating? When there is a recognizable central nervous system? When it can react to external stimuli? When it can feel pain? Any of those answers would put the boundary between unacceptable and acceptable abortion practices at different times during pregnancy, but it seems rather arbitrary to pick one of these developmental milestones and use it as a universal yardstick for moral decisions. After all, many other animals have a nervous system, a heartbit, respond to external stimuli, and can feel pain, but most of us (vegetarians excluded -- but most abortion opponents included) don't seem to have too many qualms about killing such animals.
No, the crucial point must focus on something else that characterizes human beings. Plenty of philosophers, for example Julian Baggini (in his excellent collection Making Sense: Philosophy Behind the Headlines) have suggested that the important facts in the debate on abortion (and the parallel one on euthanasia) are not found in the biology of humans, but rather in our (philosophical) concept of personhood. In other words, some of us think a foetus should be protected because it is becoming a person, i.e. an entity that can eventually feel not just pain, but suffering; that can have not just the urge to have sex and reproduce, but may fall in love; a being that could one day write a sonnet, a song, or a philosophical essay.
If the problem is actual or potential personhood, not the developmental biology of our particular species of primates, then we have moved from biology to philosophy, a much more tricky terrain to navigate. Being a person is tightly linked to having the ability to lay down and recover memories (which make up our "identity" as a person), as well as to experience emotions (like love and suffering) and not just feelings (like sexual urge and pain). These characteristics are in turn dependent on being a member of a society, interacting with others, communicating one's thoughts and receiving and understanding information about other people's thoughts and emotions. Yes, all of this is also a matter of biology (after all, these things are made possible only by the presence of certain biological essentials, like a functional body, and especially a complex brain), but taken together they mean that personhood is most of all a question of psychology and sociology.
The problem is that there are plenty of circumstances in which a human being is not, in fact, a person. Foetuses are not persons, and neither are people who survive in a vegetative state induced by a coma. Other cases are more difficult to determine, but one can make a reasonable argument that very young children are only on their way to become persons, while patients affected by advanced stages of some mental diseases like Alzheimer are well on their way out of full personhood. So, while there is very little question that by performing an abortion we are in fact killing a biological being that belongs to the human species, it is an entirely different -- and much more difficult to defend -- proposition to say that we are killing a person.
Abortion opponents may shrug all of this philosophical quibbling as irrelevant on the ground that the procedure -- at whatever stage it is practiced -- kills a potential person. But this is a rather odd argument, with far reaching consequences that should be seriously considered by whoever proposes it. For example, the mass of cells in question will become a person only if many conditions other than biological development are fulfilled, including being raised in a proper physical, psychological and social environment. It is ironic, therefore, that we spend so much energy debating abortion while most of us are much less passionate about more apparently mundane issues such as, say, health care and education for all those non-aborted foetuses.
Even more radically, if a fertilized egg is a potential person, so is every single unfertilized one, and every sperm as well. After all, the egg or sperm only needs a gamete of the opposite type to begin the developmental process that will lead to the generation of another person. I suppose that is why the most rabid religious fundamentalists (including the current Pope) are against masturbation or sex that doesn't have the goal of reproduction. But it is hard to see what these people could do to avoid the natural "waste" of unutilized human eggs. Should we explant them from every woman and fertilize them artificially? If your intuitive answer was "no," and yet you are against all types of abortion, you may want to consider the consistency of your philosophy.
Do I have a better and clearer solution to offer that can help us settle the abortion debate once and for all? No, as I acknowledged at the beginning, that isn't the point of a philosophical discussion. Quite the opposite, I hope that people reading this column will feel a bit less sure of their own positions because they have understood that the issue is much more complex and difficult to settle than a simple slogan, or even an introductory course on human developmental biology, allow. And please do check out that Monty Python movie I mentioned in the beginn ing.
%888 %America/Chicago, %2012
MEMBERSHIP IN THE FREEDOM FROM RELIGION FOUNDATION INCLUDES:
a subscription to Freethought Today (a newspaper published 10 times a year, with combined issues in January/February and June/July)
a subscription to "Private Line," a twice-yearly in-house publication with financial and other reports
a vote during elections at the annual convention. (Household memberships get 2 votes.)
discounted prices for Foundation books and CDs
Most important, your membership supports the Foundation's lawsuits, publications, and other activities to keep state and church separate and to educate the public about the views of nontheists.
FFRF, Inc. is a non-profit 501(c)(3) educational organization. All dues and donations to the Freedom From Religion Foundation are tax-deductible in the U.S. for income-tax purposes.
%250 %America/Chicago, %2012
FFRF Chapters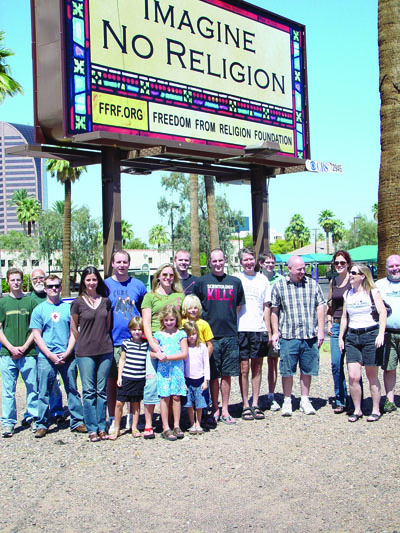 FFRF chapters are created for the purpose of providing local activities for area FFRF members, as well as to further FFRF's purposes of educating about nontheism and protecting the separation between church and state at the local level. Under FFRF bylaws, all members of FFRF chapters must be members of the national Freedom From Religion Foundation. FFRF rebates dues to chapters, so your national membership supports local chapter work. If you are not already a member of the national Foundation, join here.
Alabama
• Alabama Freethought Association
Pat Cleveland
PO Box 571
Talladega AL 35161
Arizona
• Valley of the Sun Chapter (Phoenix area) of FFRF
, President
PO Box 4401
Scottsdale, AZ 85261-4401
Voicemail: 480-648-4422
California
• Greater Sacramento Chapter of FFRF
, President
PO Box 2883
Rocklin CA 95677-8464
Colorado
• Colorado Springs Chapter

PO Box 1051
Colorado Springs CO 80901-1051
• Denver Chapter FFRF
, President
, Vice President
Florida
• Central Florida Freethought Community

PO Box 621123
Oviedo, FL 32762
321-804-3373
Meetup: www.meetup.com/CFLFreethought
Facebook: http://www.facebook.com/CFLFreethought
Georgia
• Freedom From Religion Georgia Chapter

Mobile: 404-610-5316
Illinois
• FFRF Metropolitan Chicago Chapter (FFRFMCC)
https://www.facebook.com/ffrfmcc
, President
P.O. Box 480283
Niles, IL 60714
Kentucky
• FFRF Kentucky

PO Box 6171
Louisville, KY 40241
Michigan
• Freethought Association of Northern Michigan (FANM)
PO Box 72
Petoskey MI 49770
Meetings: Second Sunday of each month at 1:00 p.m.
Meeting Location: Friendship Center, 1322 Anderson Road, Petoskey, Michigan.
Meetup Group
Minnesota
• Lake Superior Freethinkers

2931 Greysolon Road
Duluth MN 55812
• Grand Rapids Atheists and Freethinkers
Ken Eck
19791 Wendigo Road
Grand Rapids, MN 55744
(218) 360-3353
http://www.meetup.com/Grand-Rapids-Freethinkers/
New Mexico
• Freedom From Religion, Albuquerque
Dwight Reid, President

505-688-7068
North Carolina
• Triangle Freethought Society
Harry Shaughnessy, President

P.O. Box 4491
Cary, NC 27519
Voicemail: 919-322-8371
Ohio
• Northern Ohio Freethought Society (Cleveland)

P.O. Box 16671
Rocky River, OH 44116
Meetup: http://www.meetup.com/northern-ohio-freethought-society

For media inquires, please contact:
Mark Tiborsky at or 216-978-5821 or
Sharon Woznicki at .
Oregon
• FFRF Portland Area
, President
PO Box 3583
Portland, OR 97208
Meetup Group
Pennsylvania
• Nittany Freethought
Dave DeGroote, Chuck Berry
PO Box 1313
State College, PA 16804-1313
Phone: 814-732-0666
Meeting Schedule
Washington
• Inland Northwest Freethought Society
(Northern Idaho and Eastern Washington)

3526 S Bates Rd
Spokane WA 99206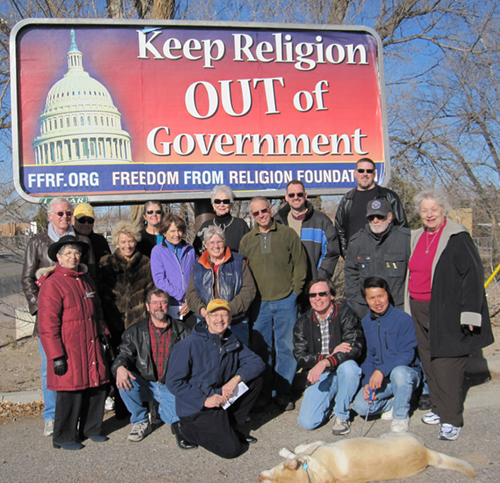 May 20, 2012 - "2012: Doom or Dumb" with Sharon Carruthers
Ms. Carruthers is an officer in the Atlanta Astronomy Club. In her talk, she will detail various doomsday scenarios that have been divined from observation of the stars and planets. In an effort to help us smoke out the flaws in these scenarios, Ms. Carruthers will introduce us to the "Seven Signs of Bogus Science".

Schedule:
11:00 am Social hour
12:00 noon Potluck lunch
1:00 pm Program