Chapters (20)
December 15, 2013 - Richard Haynes
Alabama Freethought's next Lake Hypatia Speaker Series will be Sunday, December 15 at our Lake Hypatia Advance. Click here for a map to Lake Hypatia.

This month, we feature "Brother Richard" Haynes, coming to us from Atlanta GA. He was raised in a nonreligious home, ran away as a teenager and had a "born again" religious experience. He subsequently became an evangelist, received a degree in Biblical Studies and served as an associate minister to a 12,000-member Atlanta mega-church. In 1993, with their church engulfed in scandal, Richard, with his infant daughter and wife Angela, began their long and arduous journey to rationality and non-theism. Richard is now secularly ordained and has dedicated himself to building non-theist communities and encouraging others to "come out" of the atheist closet. He is President of Atheist Nexus International, the world's largest coalition of non-theists and non-theist communities, the Communications Director for Atheist Alliance of America, and maintains the blog "Brother Richard's Life Without Faith" at Patheos.com. He chronicles this journey for us in a "Hobbittesque" presentation entitled: There and Back Again.

Schedule:

11 am - Meet & Greet
12 noon - Covered Dish
1 pm - Program Meeting
%906 %America/Chicago, %2013
November 17, 2013 - Mark Gooch
Alabama Freethought's next Potluck & Program gathering will be Sunday, November 17th at our Lake Hypatia Advance. Click here for a map to Lake Hypatia.

Our speaker will be Mark Gooch, commercial photographer from Birmingham, Al who has been honored by The National Endowment for the Humanities, The National Endowment for the Arts, and The Alabama State Arts Council. He photographs people for advertising agencies, magazines and design firms throughout the U.S. Gooch works hard to achieve the fresh, informal images for which he has been known for 33 years, since 1980. Mark is a member of The Birmingham Friends Meeting of the Religious Society of Friends also know as Quakers. As one of our country's oldest religions, Quakerism differs from other religions in a number of ways. (Not the least of these is the fact that agnostics are welcome in their meeting.) Mr. Gooch will speak about the origins, tenets and practices of the Society of Friends, as the Quakers call themselves, and entertain your questions. Do come and join the conversation!
Schedule:

11 am - Meet & Greet
12 noon - Covered Dish
1 pm - Program Meeting
October 20, 2013 - Christy Johnson, journalist
Christy Johnson, a journalist for over 7 years and in her first role as an activist is the local organizer of the Birmingham, Ala. chapter of Restore the Fourth. She will speak to us about recent revelations concerning the National Security Agency and how much of our lives are being subjected to surveillance. Are these gross violations of privacy relative to the Fourth Amendment? Should we care? What can we do? Learn why Restore the Fourth believes our Fourth Amendment is being violated and how the privacy of "we the people" should be restored.

Join us for this dynamic topic and contribute to the synergy!
NOTE: THIS IS RACE WEEKEND SO ALLOW EXTRA TIME FOR TRAVEL!!
Schedule:

11 am social hour
12 noon potluck lunch
1 pm program
%684 %America/Chicago, %2013
A chapter of the Freedom From Religion Foundation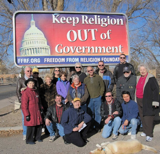 Freedom From Religion, Albuquerque (FFR-ABQ) is working to keep state and church separate and to educate the public about the views of non-theists. We are gradually "coming out of the closet," speaking truth to power as non-believers providing a balance to religious influences. We call ourselves "non-theists" or "free-thinkers," which means "a person who forms opinions about religion on the basis of reason, independently of tradition, authority, or established belief."

FFRF members in NM have elected four officers. Ron Herman is our Director, Cheryl Gatner Assistant Director, Jerrold Gilbert Secretary, and Jim Travis Treasurer. We are accepting donations to our billboard fund and for our quarterly Meet and Greet events with speakers and refreshments.

We already have some great activist projects. We meet once each month, and meeting topics so far have included the following:
Obtaining legal support for local violations of C/S
Billboard funding and placement (see photos)
Monitoring City and County Commission meetings
Protesting Metro Detention Center "God Pod"
Creating various brochures for FFR-ABQ
Ending religious graphics on the cover of the NM Bar Association newsletter
Ending creationism instruction in a public school
Competing with Hobby Lobby Christian Nation ads in the Albuquerque Journal
Constitution Day celebrations and advertisement, Sept. 17
Talk on Non-Believer Nation: The Rise of Secular Americans by the author, David Niose
Darwin Day celebrations and advertising, February 12
Christianity in New Mexico
Gay pride and equal rights tabling at PrideFest 2013
Talk on Born Atheist by the author, Tim Covell
Review of Catholic hospital "missionary" policies for women's healthcare.
Renewed efforts to pass the Equal Rights Amendment
We are part of the growing movement against the national god obsession! We might be fallen-away Catholics or former members of other religions, born atheists or agnostics, self-discovered free-thinkers, or doubting New-Agers. We welcome diversity.
Contact:
Ron Herman
505-292-4375
June 16, 2013 - Shawn Young, Christian Agnostic
We often hear testimony of individuals who have left Evangelical Christianity or Roman Catholicism to become atheists. But rarely do we get to hear the story of those who have retained a share of their faith, yet moved it to a more "progressive" view. Dr. Young, who describes himself as a Christian agnostic, brings us one such story. His journey involves an evolving view of scripture and a general distrust of human language as an effective communication tool, especially when the language is centuries old, and/or is considered only in a logocentric approach (ignoring phonocentric considerations).
Dr. Shawn Young is Director of Music Management Studies at Clayton State University, Morrow, Georgia.
Schedule:
11 am social hour
12 noon potluck lunch
1 pm program
May 19, 2013 - Lecia Brooks, Outreach Director, Southern Poverty Law Center
The praise (and applause) following Ms. Brooks's talk at the 2011 AFA Annual 4th of July Freethought Advance seemed unending. We are very pleased that she is willing to come back to Lake Hypatia and speak at our May 2013 meeting.
Schedule:
11 am social hour
12 noon potluck lunch
1 pm program
April 21, 2013 - "Secular Student Alliance at University of Alabama at Birmingham " with Jon Paolone
Jon Paolone is the advisor for the Secular Student Alliance at UAB.
The organization's website describes it as follows:
"The Secular Student Alliance at UAB is a sanctuary for people who, while they may not have religion or currently believe in any religion, consider themselves lucky enough to be living, breathing human beings with consciences and a personal state of mind."
Mr. Paolone hopes to have some students from the Alliance available to speak and answer questions.
Schedule:
11 am social hour
12 noon potluck lunch
1 pm program
%846 %America/Chicago, %2013
A chapter of the Freedom From Religion Foundation
Our goals: To educate the public on non-theism and protect the First Amendment - Separation of Religion from Government.
The Greater Sacramento Chapter of FFRF is a local chapter of the Freedom From Religion Foundation. We are a non-religious community of local people committed to living our lives free from religion, superstition, dogma and mysticism. We are freethinkers - people who form opinions about religion and spirituality independent of tradition, authority or established belief, in favor of rational inquiry.
Our members are composed of Agnostics, Atheists, Humanists, Skeptics, Deists, and secular-minded people still searching for answers who come from all walks of life. The common thread we all share is that we uphold the US and California Constitutional principles of separation between government & religion.
Living in the current "Christian Frenzy" era, that has been gaining popularity by leaps and bounds since the mid-1950s, accelerated by 9/11, we must be ever more vigilant about especially Christian Fundamentalism working hard to dominate the political arena at all levels. Thus we educate the public with letters to the editors, news releases, legally savvy communication with our local government agencies, and one-on-one encounters, as appropriate, by our members, legally taking appropriate action to preserve our rights when necessary.
Sacramento is wonderfully supplied with many freethinking organizations which all provide many social opportunities for the local freethinkers, such as potlucks, game nights, book clubs, skeptic gatherings, movies, historical discussions, notable speakers, activist opportunities, and other events. So, this Chapter of FFRF does not feel the need to organize more of these events. Members are, instead, asked to join other local groups doing those things. Many of our members belong to multiple local groups. For a comprehensive local events calendar, please see http://sacramentocor.org.
Instead, and the reason we formed, is to support eyes and ears on the ground, at the small, local level, to simply monitor separation issues. We began as a response to one atheist in a small outlying town standing up by herself against seeing religious infiltration of their official town holiday celebration. Before this Chapter was even officially announced, another infraction was caught and stopped by another local city wanting to support an evangelical fund-raiser. It's all around us. Our members are called Monitors, all of them, whether they monitor weekly city council agenda and minutes and school board agenda and minutes, or if they simply want to support other local friends, neighbors and members who are more actively pursuing this cause.
If you are a freethinker who is supportive of the separation of church and state, please feel free to email us with any questions you have. To join our local Chapter, first join the national FFRF organization at http://ffrf.org, then send us an email letting us know you've done that. The Greater Sacramento Chapter does not charge any fees - we just need your email address. We will call you a Monitor. You will receive regular supportive updates telling you everything happening at our local level, plus tips on how to watch for problems. All reported potential violations are of course always pursued anonymously. Or, you can help this wonderful cause from the background. Thanks for your important support. For more information, send an email to This email address is being protected from spambots. You need JavaScript enabled to view it. .
March 17, 2013 - "It's Only a Theory" with Bob Truett
The month of March brings another familiar face to the Alabama Freethought Association. Bob Truett has spoken many times at AFA and other freethought organizations in the southeast. Bob is a regular attendee at AFA monthly meetings. Bob is retired Director of the Birmingham Zoo.
Bob encourages parents to bring children six years and older. He promises that the talk will be unorthodox, surprising, and will involve considerable audience participation. Expect to learn something!
Schedule:
11 am social hour
12 noon potluck lunch
1 pm program
More...
February 17, 2013 - "In Freedom We Trust" with Dr. Ed Buckner
November 18, 2012 - "Say it Loud: Why I am Black, Atheist and Proud" with Dr. annalise fonza