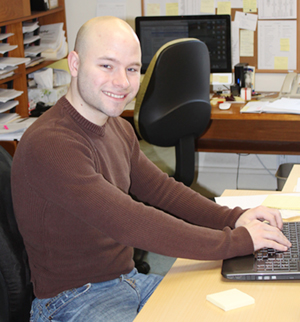 Name: Ken Earl.
Where and when I was born: On Halloween morning in 1986 in Dixon, Ill. (interesting fact: the boyhood home of Ronald Reagan) but grew up about 40 miles away in Prophetstown (more enjoyable fact: the hometown of Wisconsin football coach Bret Bielema).
Family: My admirable father, Doug Earl, still lives in Prophetstown and is a very happily retired high school math teacher. My unbelievable mother, Maggie, unfortunately passed away in 2009. My twin brother, Alex, will be graduating in May from the University of Iowa College of Law. My sister, Jen, and her fiancé, Kenny, also live in Iowa City.
We are all very close and try to get together at least once a month for some live music and games. Here in Madison, I live with my lovely girlfriend of eight years, Katrina, along with our Boston terrier, Bentley, and our two cats, Margot and Lucy.
Education: Despite an inspiring mathematics education from my dad at Prophetstown High School, I majored in English (with a concentration in publishing studies) at Illinois State University. Currently, I am in my second year at the University of Wisconsin Law School.
My religious upbringing was: I was raised (in the loosest sense of the word) Lutheran by my mom and went through the motions up until my confirmation around eighth grade. The only thing that really sticks out in my mind from my religious upbringing was being chastised in Sunday school for asking too many questions. After that, I never really had anything to do with religion again, with absolutely no complaint from my parents.
How I came to work as an FFRF legal intern: I had been an admirer of FFRF's work for quite some time, and had been a member for a while as well, when I saw a job posting for a part-time law clerk at the start of the 2011 fall semester. My schedule was already pretty packed, but I thought it would be a wonderful opportunity to get some legal experience doing work I actually believed in, so I couldn't resist applying.
What I do here: Incense and rabble-rouse. But honestly, I work with our excellent staff attorneys to research and investigate complaints that we receive from both members and nonmembers, and then I will draft a letter of complaint to offenders informing them of their usually glaringly obvious constitutional violations and ask that they rectify the matter.
What I like best about it: The people at FFRF are some of the most kindhearted and enjoyable human beings I have ever met. The office is very relaxed, and being able to work with such passionate and intelligent people as Dan and Annie Laurie makes every day interesting.
Something funny that's happened: While not outright humorous, I can't help but laugh whenever we get a response from a person who can't seem to understand how something like including prayer before a high school football game or displaying a nativity scene on government property could possibly be wrong.
My legal interests are: I really don't have a particular legal niche worked out for myself yet. I'd love to be able to work with civil rights and civil liberty law, but I'd be equally happy doing transactional (particularly real estate) or litigation work as well.
My legal heroes are: Anyone who works long hours for little pay to help out the less fortunate.
These three words sum me up: Spontaneous, intelligent, bald.
Things I like: Craft beer, baseball (go White Sox!), movies, bluegrass, procrastination, animals, escapist literature, friendly people, the Grateful Dead.
Things I smite: Close-minded people, snakes, irrational individuals, Auto-Tuned music (think of Cher's "Believe"), restrictions on labor organization.