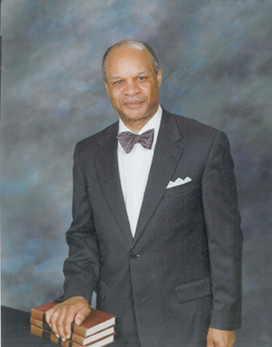 Name: Joseph L. Harris.
Where I live: Ann Arbor, Mich.
Where and when I was born: New Haven, Conn., Jan. 24, 1944.
Family: Wife, Justine; son, Joseph Jr.; daughter, Jaclyn.
Education: BBA, University of Detroit; MBA, University of Michigan.
Occupation: Certified public accountant and emergency financial manager for the city of Benton Harbor, Mich.
Military service: U.S. Army, 1961-64.
How I got where I am today: Loving my occupation, continuing to learn, doing the right thing, loving and caring and helping people, being honest, candid and reliable.
Where I'm headed: Repairing financially broken cities. I hope to keep working for at least 10 more years.
Person in history I admire: Frederick Douglass, former slave and one of the foremost leaders of the abolitionist movement. Douglass served as an adviser to President Abraham Lincoln during the Civil War and fought for the adoption of constitutional amendments that guaranteed voting rights and other civil liberties for blacks.
A quotation I like: "It ain't what a man don't know that makes him a fool, but what he does know that ain't so." (Josh Billings)
These are a few of my favorite things: Life, freethinkers, freedom, sunshine, clouds, rain, snow, heat, cold, humor, philosophy, challenges, relaxation, animals, plants and flowers, food, drink, family, friends, books, CDs, quiet, music, excitement, serenity, wisdom, children, the familiar, the fresh, Kojak (my dog) and Kayla (my cat).
These are not: Dishonesty, close-mindedness, inconsideration, unreliability, unfriendliness, greed.
How long I've been a freethinker: The metamorphosis took decades. Perhaps beginning 20 years ago, starting with writings by Mark Twain and later by Thomas Paine, who supported my skepticism, which began about 30 years earlier.
Why I'm a freethinker: I searched for years to find validity in religious teachings, but too many concepts made no sense — not the church's mandates, not the bible, not any explanations for inconsistencies.
Once I began to read Barker, Dawkins, Harris, Hitchens, Ingersoll, Paine, Sagan, Twain, etc., I finally found the answers I had been searching for, to wit: There is no answer. There never was an answer. There'll never be an answer. That's the answer. (Gertrude Stein)
Best way I promote freethought: Expressing my freethought views when opposing views are conveyed to me.