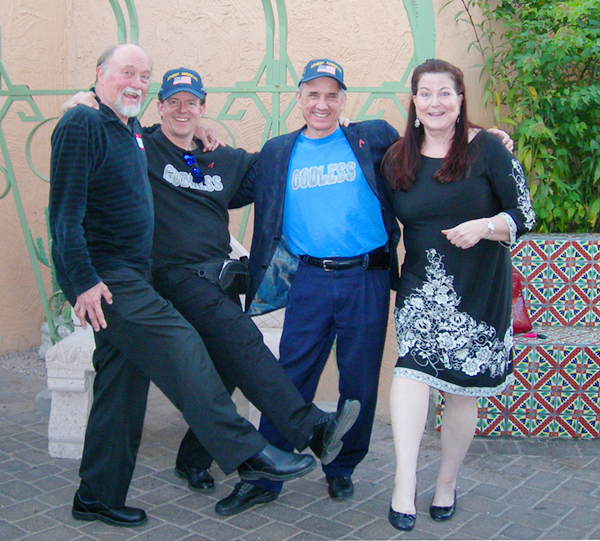 From left are Vice President John Compere, Pulitzer Prize-winning cartoonist Steve Benson, Dan Barker and chapter President Anne Mardick.
It was just about standing room only at the Civic Center Library, Scottsdale, Ariz., when 220 Foundation members and friends gathered Dec. 5 for the kickoff event of the newly formed Sun Valley FFRF chapter.
Organized by volunteer and new Lifetime Member Anne Mardick, the event featured FFRF Co-President Dan Barker and Steve Benson, the Pulitzer Prize-winning editorial cartoonist for the Arizona Republic, who reprised their Tunes 'n' Toons revue on Steve's home turf. The show is a timely and satiric look at religion in the news, featuring Steve's "toons" and Dan's "tunes." The pair first teamed up in 2001 and have done many shows around the country since. The fast-moving revue has been compared to "PBS' Mark Russell — only hipper and illustrated."Each of the talented duo were missionaries in their former lives. Benson, the grandson of the late Mormon Church President Ezra Taft Benson, served as a Mormon missionary. He broke with the church in a highly publicized move in 1994. As Benson puts it, "I freed my mind when I left god behind."
Barker spent 17 years as a teenager into his 30s as a missionary and associate pastor, primarily with a musical ministry, until, as he puts it, "I just lost faith in faith." He's written about his migration from fundamentalist minister to atheist in two books, Losing Faith in Faith: From Preacher to Atheist and Godless.
Thanks to Anne Mardick, who arranged for the venue and personally paid the fee for the library auditorium and for the (all-important to Dan) piano tuning. Thanks also to FFRF member John Compere, another former minister turned freethinker, for help with publicity. Phoenix-area FFRF members wanting to join the chapter may e-mail or go to meetup.com/ffrf-vsun to sign up.