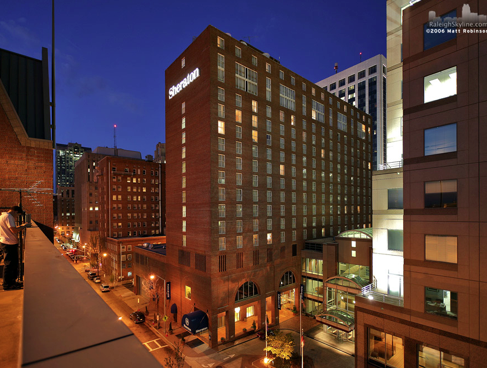 Freedom From Religion
in the Bible Belt ­— May 2-3, 2014
Raleigh Regional Convention
Sheraton Raleigh, 421 South Salisbury St., Raleigh N.C.
Friday, May 2, 2014
(This schedule is tentative and may be subject to change.)
5 PM.: Registration opens, continues through conference
7 PM: Opening, Greetings, a little music
FFRF Co-Presidents Dan Barker & Annie Laurie Gaylor
Triangle Freethought Society President Harry Shaughnessy
TFS Board Member Sue Kocher
7:30PM: "Sophia Goes to Good News Club," film by Scott Burdick
Student Activist Award – Sophia Winkler
Remarks by Scott Burdick
8:30PM: Complimentary desserts & hot beverages, cash bar, Meet 'n Greet with speakers, activists
9PM: The Village Idiots Comedy Troupe
Saturday May 3, 2014
8AM: Non-Prayer Breakfast (optional)
9AM: Sales tables/registration reopens
9:30AM: FFRF/Chapter Welcome, Harry Shaughnessy and Sue Kocher
10AM: Todd Stiefel, Stiefel Freethought Foundation, "The Importance of Being Out"
10:30AM: Student Activists Awards
to Ben and Kalei Wilson
Remarks by Max Neilson, student plaintiff
11AM: Mandisa Thomas, Black Nonbelievers "Black Nonbelievers: Past, Present & Future"
11:30AM: Sarah Morehead, Executive Director, Recovery from Religion, "The Consequence of Faith"
Noon to 2 (Lunch/sightseeing)
2PM: The Clergy Project Panel: Apostles to Apostates, Emcee, Dan Barker, Panelists Candace R.M. Gorham, Randy Bender, Matt Killingsworth
3PM: Michael Nugent, founder, Atheist Ireland "Blasphemy is a Victimless Crime"
4PM: Bart Ehrman, "Writing about Religion: Some Agnostic Reflections", Critical bible scholar, author, Book signing follows in lobby
6:30PM: Banquet Dinner (optional) (extra chairs will be brought in after dinner for non-diners)
Drawing for "clean" money
Stuart Watson, Investigative reporter, WCNC-TV Charlotte "Democracy vs. Religion"
Socializing with chapter follows.