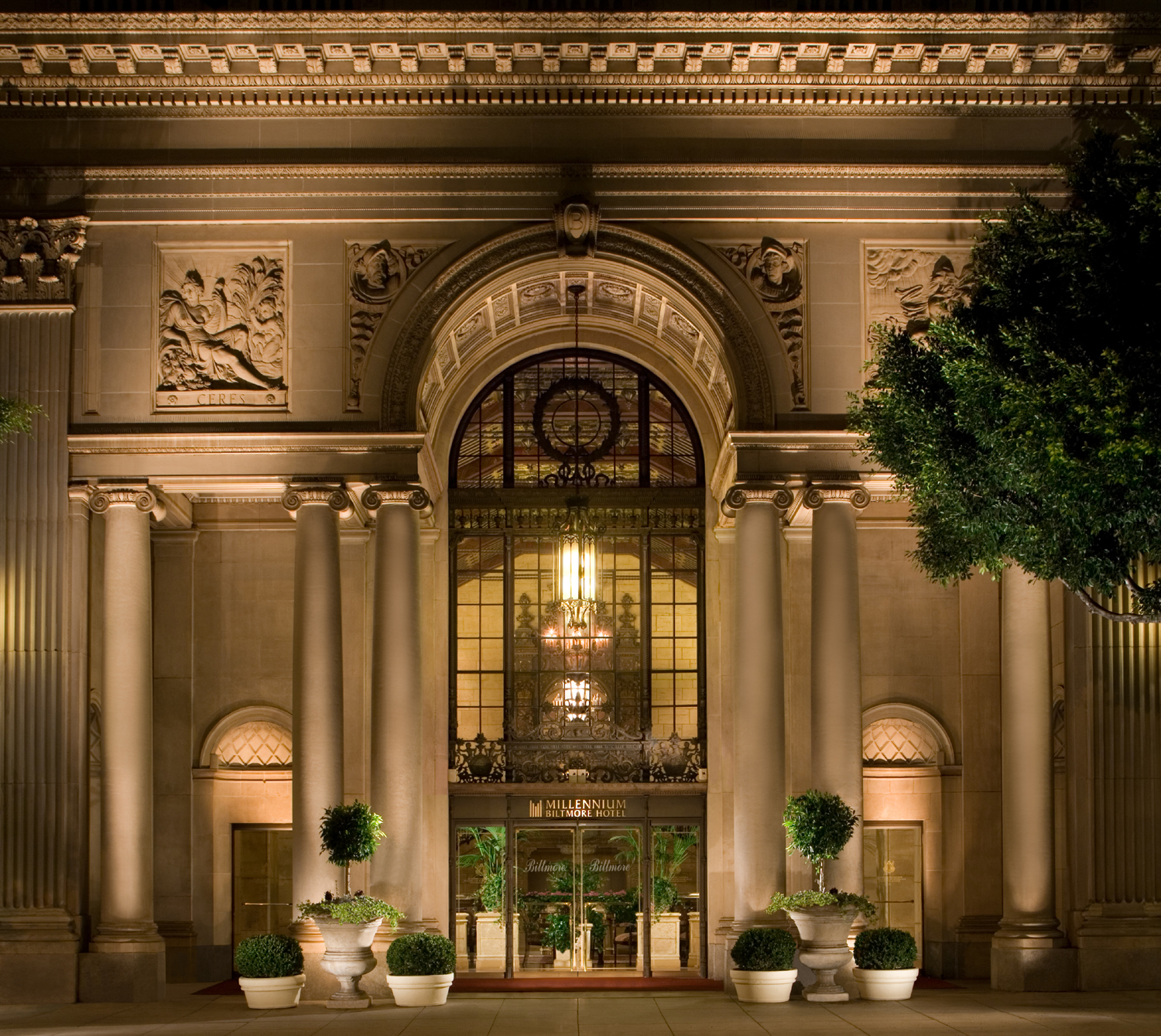 Freedom From Religion
37th Annual National Convention ­
Weekend of Oct. 24-25, 2014
Millennium Biltmore Hotel
506 South Grand Avenue, Los Angeles CA, 90071-2607
---
Two optional Saturday meals are offered: The Non-Prayer Breakfast and the Saturday Banquet Dinner.
The full breakfast ($30 including 23% service charge and 9% sales tax) is freshly squeezed orange juice, muffin and danish basket, fresh-cracked country scrambled eggs, thick-cut applewood bacon, herb-roasted red potatoes, freshly brewed regular and decaffeinated coffee and Harney & Son teas. Vegetarian is all of above, but tomato slice substituted for bacon.
Dinner ($55 including 23% service charge and 9% sales tax) is a choice of chicken or halibut with potato, vegetable and dessert (or chef's choice vegetarian). Vegan and gluten-free available.
---
Bugis Street Brasserie
Renowned for its authentic Singaporean, Malaysian and Chinese flavors, Bugis Street Brasserie makes its debut in Downtown Los Angeles. Private dining rooms are available for parties of six to 30 guests.
Open Monday to Friday, 11:30am to 9:30pm.
For restaurant reservations and large-party inquiries up to 100 guests, please call 213.624.1100. To view the menu, click here.

Smeraldi's Restaurant
Restaurants in downtown L.A. don't get better than Smeraldi's, named after the Italian artist who masterminded the Spanish- & Italian-Renaissance frescoes throughout the grand hotel.
Offers casual dining in a bright, relaxing ambiance, and provides a range of homemade Italian and Continental dishes. Smeraldi's highlights include exquisite breakfast buffets, healthy lifestyle options and a chef-attended omelet station in the morning. Also featured are scrumptious lunch and dinner options including seafood, pasta and delectable desserts.
Enjoy Smeraldi's every day of the week:
Breakfast
Daily 6.30 to 10.30am
Sunday Breakfast Buffet: 6.30am to noon
View the Breakfast Menu

Lunch
Daily 11am to 2pm
View the Lunch Menu

Dinner
Daily 5 to 10pm
View the Dinner Menu

Rendezvous Court
Dining in downtown Los Angeles involves eating delicious, inventive dishes, in often unique and beautiful venues. Rendezvous Court is no exception, having served as the original lobby of the Biltmore when it opened back in 1923.
Rendezvous Court is adorned with Moorish carved wood ceilings, gold-leaf accents and Italian travertine stone walls. From its rose marble fountain to the enormous bronze Baroque stairwell, you can't help but delight in its elegant two-story lounge. The space has even been featured in film and television, including features such as Daredevil, Beverly Hills Cop, The Nutty Professor, 24 and Heroes.
Afternoon Tea
Traditional afternoon tea is served Saturday and Sunday, 2 to 5pm. Guests can choose from the $35 Victorian Tea, which includes a pot of tea from our selection of finely-blended custom teas, an assortment of elegant tea sandwiches, our freshly baked Pistachio & Currant Scones and a selection of French Macaroons, Caramel Tart & Chocolate Ganache, Madeleines and Cream Puffs. For an additional cost, you may indulge by adding a glass of Sherry, house wine or sparkling wine, Mimosa, or a Laurent Perrier split. Tax and gratuity are additional.
Reservations are suggested for the Afternoon Tea Menu, at +1 213.612.1562

Rendezvous Court Cafe offers fresh espresso, cappuccino and coffee drinks, freshly-baked pastries, fresh fruit and yogurt, a variety of freshly prepared salads and sandwiches, and bottled water and specialty juices. Open daily from 6 am to 6pm.
Gallery Bar and Cognac Room
Few bars in Los Angeles enjoy the fame of the Biltmore's Gallery Bar.
It has long been considered one of the best hotel bars in downtown Los Angeles, because its long list of signature martinis, fine wines and exclusive liqueurs come under the watchful eyes of gracefully carved angels, found above the polished granite bar. Another proud feature is the famous "Manhattan Menu," a list of six unique versions of this popular and nostalgic drink.
Sip your delicious choice of cocktail along one of the secluded leather banquettes, or retire to the adjacent Cognac Room with its soft couches and wooden cabinets, filled with Biltmore memorabilia. The menu includes a variety of wonderful dishes, such as the 1920s-style Shrimp Cocktail served in original hotel silver, or the hotel's delicious flatbreads with homemade toppings. Whether it's burgers, salads or sliders you fancy, food is served from 4:00pm - 11:00pm daily.
Operating Hours
4pm - 2am Daily
View the Gallery Bar Menu (front and back).