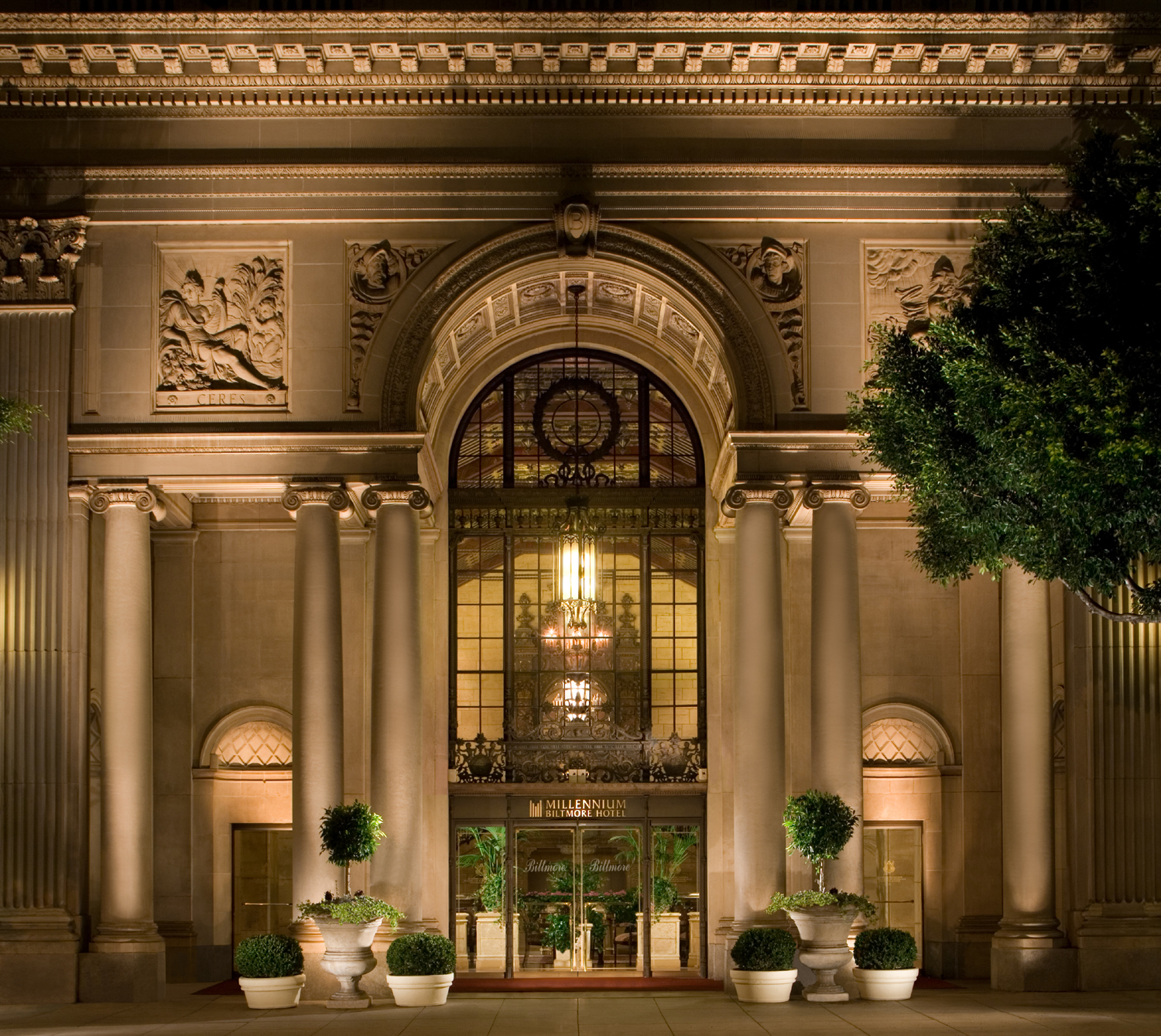 Freedom From Religion
37th Annual National Convention ­
Weekend of Oct. 24-25, 2014
Millennium Biltmore Hotel
506 South Grand Avenue, Los Angeles CA, 90071-2607
---
Everything Attendees Need to Know
View the official convention brochure here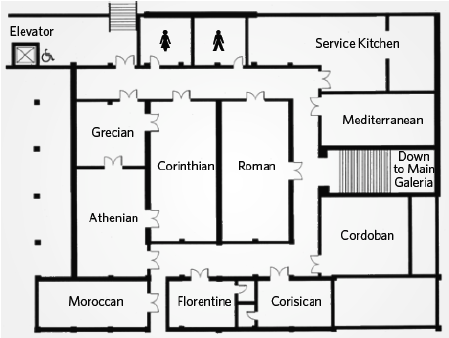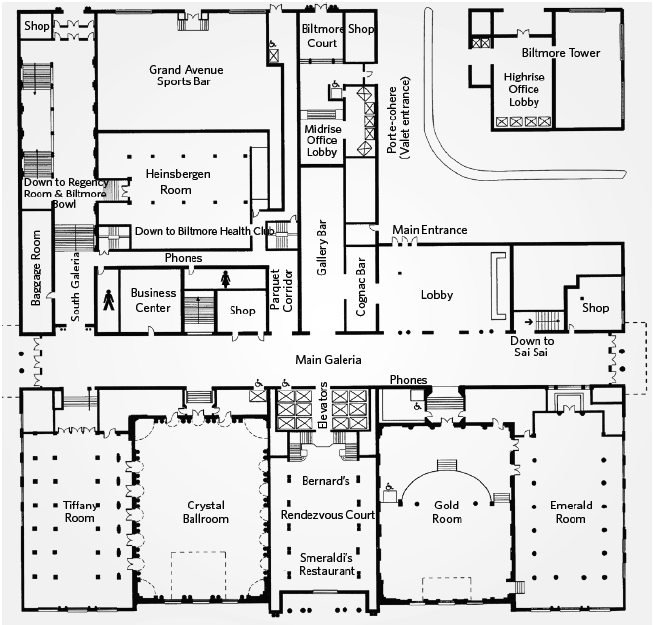 Hotel
Rooms for Friday October 24 & October 25 are being held at the Millennium Biltmore Hotel, 506 S. Grand Ave. Los Angelest Ca, 90071 at rates of $169 single or double, $199 triple and $229 through Sept. 23, 2014 (or as availability lasts). A limited number are being held for Thursday Oct. 23 for "early birds." Phone 1-800-245-8673 and identify yourself as part of the Freedom From Religion Foundation - Group Block Code is FFRFI 1410. Click HERE to reserve a room at the Biltmore's registration page.
To get directions to the hotel please click here.
Shuttle
The Millennium Biltmore Hotel is 18 miles from LAX. Also known as the Downtown Biltmore.
You can book your shuttle online today here:
Super Shuttle - Shared ride or a private car.
http://www.supershuttle.com/default.aspx?GC=7D7AV
Or call 800-258-3826.
Regular price is about $17 per person, but with discount code 7D7AV, convention registrants get 10% off!
Taxi
Taxis can be found curbside on the Lower/Arrival Level islands in front of each terminal under the yellow sign indicating Taxis. Passengers will be presented with a ticket stating typical fares to major destinations. Only authorized taxis with an official seal issued by City of Los Angeles Department of Transportation on each vehicle are permitted in the airport. It is illegal for any transportation services to solicit fares, and travelers using such services do so at their own risk.
Taxis normally cost between $50-$60 with a $10 tip.
United Independent Taxi
(323) 653-5050 or
(310) 821-1000 or
(800) 822-8294
Areas served:
B, C, D and LAX
United Taxi of San Fernando Valley
(818) 222-0000 or
(818) 780-1234 or
(800) 290-5600
Areas served:
A and LAX
Yellow Cab
website
(310 or 213) 808-1000 or
(800) 200-1085 or
(877) 733-3305
Areas served:
B, C, D and LAX
Additional taxi services can be found here.
Rental Cars
Approximately 40 rental car companies operate out of LAX, with vehicle rental sites located off the airport. Many of these rental car companies provide phone links inside or near the baggage claim areas on the Lower/Arrival Level of the terminals so travelers can request a free shuttle pick up to reach the rental car sites.
The following rental car companies are permitted to pick-up and drop-off their customers at the airline terminals using courtesy shuttles:
Advantage www.advantage.com
Alamo www.alamo.com
Avis www.avis.com
Budget www.budget.com
Dollar www.dollar.com
Enterprise www.enterprise.com
Hertz www.hertz.com
Fox www.foxrentacar.com
Payless www.paylesscarrental.com
National www.nationalcar.com
Thrifty www.thrifty.com
These companies are allowed to meet arriving customers under the purple sign "Rental Car Shuttles" on the Lower/Arrivals Level islands outside baggage claim.
Customers of other rental car companies can arrange for pick-up by contacting their company using free phones attached to the interactive Visitors Information Centers (VICs), located in baggage claim areas of each terminal the VICs lists these companies' contacts.
These customers will use the free LAX Shuttle Airline Connection Bus "Lot C" to reach the Off-Airport Rental Car Terminal to meet their rental car courtesy shuttle. Customers can board the free shuttle buses on the Lower/Arrivals Level islands under the blue sign.
Parking
Hotel valet parking is $40 per day (overnight parking in the hotel – with in and out privileges). For guests not staying in the hotel and attending the FFRF convention, the discounted day rate in the hotel is $22.00 per car for the day with no in and out privileges.
There is also parking across the street from the hotel on Olive Street: Self Parking in Pershing Square. Cost is $10 per car for the day with no in and out privileges.
Hotel Amenities & Business Services
Millennium Biltmore's business facilities include a self-service business center which is open 24 hours a day, featuring computer stations with internet access, as well as printers, color photocopy and fax machines. All guestrooms offer high-speed internet and wireless access for a nominal fee, and wireless internet is also available in the lobby, Rendezvous Court and Club Lounge.
Guest Services
When it comes to luxury hotels, Los Angeles offers a wide range of options.
That's why the historic Millennium Biltmore Hotel offers more than luxurious guestrooms and first-class cuisine - a wide range of thoughtful amenities has been provided too. You should enjoy every minute of your stay, and so are proud to offer a range of services to all guests. If there's something you need, please don't hesitate to ask.
Concierge
High-Speed Internet Access/Wi-Fi (fee)
In-Room Dining Available 6 to 10am daily (effective 31 March 2014)
Laundry/Dry Cleaning Services (fee)
Valet Parking ($42 overnight, including 24-hour in and out privileges)
Check-In 3pm
Check-Out 12pm
Safe Deposit Boxes
In-Room Movies (fee)
Currency Exchange
24-hour Security
Non-Smoking Floors
ADA-Compliant Accommodations
Express Check-Out
Health Club & Fitness Center with Indoor Pool
Arka Designs Fine Jewelry
Bloomies Florist
Visage (Aveda Full Service Salon)
W.H. Smith Gift Shop/Newsstand
24-Hour Business Center
ATM Machine in Lobby
Club Level Rooms with Exclusive Access to Club Lounge
Children's Services
Babysitting (By Arrangement)
High Chairs
Children's Menus
Rollaways
Disabled Access
Fitness Center
When looking for a hotel near Staples Center, choose the Millennium Biltmore Hotel. This downtown Los Angeles hotel offers a health club and fitness center for guests who stay active while traveling.
Facilities include a steam room, bubbling Jacuzzi™ (under renovation until further notice) and dry sauna, as well as cardiovascular and weight equipment. The indoor Roman-style pool is replete with teakwood deck chairs and cold showers, reminiscent of cruise ships from the 1920s with its original tile and mosaic work. Men's and women's locker rooms with showers are also located inside.
The Health Club at this downtown L.A. hotel is complimentary for all guests and accessible by room key only. Health Club open 24 hours; pool open from 6:00am - 10:00pm.
FFRF Registration
Registration is $65 for individual FFRF member, $70 for nonmember/spouse accompanying member, $110 for nonmember (or Join FFRF for $40 and save $5). Student registration is only $10. Click here to register.
Meals
Download a PDF of the Restaurant Guide Here
Two optional Saturday meals are offered: The Non-Prayer Breakfast and the Saturday Banquet Dinner.
The full breakfast ($30 including 23% service charge and 9% sales tax) is freshly squeezed orange juice, muffin and danish basket, fresh-cracked country scrambled eggs, thick-cut applewood bacon, herb-roasted red potatoes, freshly brewed regular and decaffeinated coffee and Harney & Son teas. Vegetarian is all of above, but tomato slice substituted for bacon.
Dinner ($55 including 23% service charge and 9% sales tax) is a choice of chicken or halibut with potato, vegetable and dessert (or chef's choice vegetarian). Vegan and gluten-free available.
Bugis Street Brasserie
Renowned for its authentic Singaporean, Malaysian and Chinese flavors, Bugis Street Brasserie makes its debut in Downtown Los Angeles. Private dining rooms are available for parties of six to 30 guests.
Open Monday to Friday, 11:30am to 9:30pm.
For restaurant reservations and large-party inquiries up to 100 guests, please call 213.624.1100. To view the menu, click here.
Smeraldi's Restaurant
Restaurants in downtown L.A. don't get better than Smeraldi's, named after the Italian artist who masterminded the Spanish- & Italian-Renaissance frescoes throughout the grand hotel.
Offers casual dining in a bright, relaxing ambiance, and provides a range of homemade Italian and Continental dishes. Smeraldi's highlights include exquisite breakfast buffets, healthy lifestyle options and a chef-attended omelet station in the morning. Also featured are scrumptious lunch and dinner options including seafood, pasta and delectable desserts.
Enjoy Smeraldi's every day of the week:
Breakfast
Daily 6.30 to 10.30am
Sunday Breakfast Buffet: 6.30am to noon
View the Breakfast Menu

Lunch
Daily 11am to 2pm
View the Lunch Menu

Dinner
Daily 5 to 10pm
View the Dinner Menu
Rendezvous Court
Dining in downtown Los Angeles involves eating delicious, inventive dishes, in often unique and beautiful venues. Rendezvous Court is no exception, having served as the original lobby of the Biltmore when it opened back in 1923.
Rendezvous Court is adorned with Moorish carved wood ceilings, gold-leaf accents and Italian travertine stone walls. From its rose marble fountain to the enormous bronze Baroque stairwell, you can't help but delight in its elegant two-story lounge. The space has even been featured in film and television, including features such as Daredevil, Beverly Hills Cop, The Nutty Professor, 24 and Heroes.
Afternoon Tea
Traditional afternoon tea is served Saturday and Sunday, 2 to 5pm. Guests can choose from the $35 Victorian Tea, which includes a pot of tea from our selection of finely-blended custom teas, an assortment of elegant tea sandwiches, our freshly baked Pistachio & Currant Scones and a selection of French Macaroons, Caramel Tart & Chocolate Ganache, Madeleines and Cream Puffs. For an additional cost, you may indulge by adding a glass of Sherry, house wine or sparkling wine, Mimosa, or a Laurent Perrier split. Tax and gratuity are additional.
Reservations are suggested for the Afternoon Tea Menu, at +1 213.612.1562

Rendezvous Court Cafe offers fresh espresso, cappuccino and coffee drinks, freshly-baked pastries, fresh fruit and yogurt, a variety of freshly prepared salads and sandwiches, and bottled water and specialty juices. Open daily from 6 am to 6pm.
Gallery Bar and Cognac Room
Few bars in Los Angeles enjoy the fame of the Biltmore's Gallery Bar.
It has long been considered one of the best hotel bars in downtown Los Angeles, because its long list of signature martinis, fine wines and exclusive liqueurs come under the watchful eyes of gracefully carved angels, found above the polished granite bar. Another proud feature is the famous "Manhattan Menu," a list of six unique versions of this popular and nostalgic drink.
Sip your delicious choice of cocktail along one of the secluded leather banquettes, or retire to the adjacent Cognac Room with its soft couches and wooden cabinets, filled with Biltmore memorabilia. The menu includes a variety of wonderful dishes, such as the 1920s-style Shrimp Cocktail served in original hotel silver, or the hotel's delicious flatbreads with homemade toppings. Whether it's burgers, salads or sliders you fancy, food is served from 4:00pm - 11:00pm daily.
Operating Hours
4pm - 2am Daily
View the Gallery Bar Menu (front and back).
Sightseeing Opportunitites
Fly in early or stay on for do-it-yourself sightseeing. Below are links for several sightseeing opportunities.
Los Angeles Hop-On-Hop-Off Double-Decker Bus Tour
Hollywood Behind-the Scenes Walking Tour
Other Entertainment Options