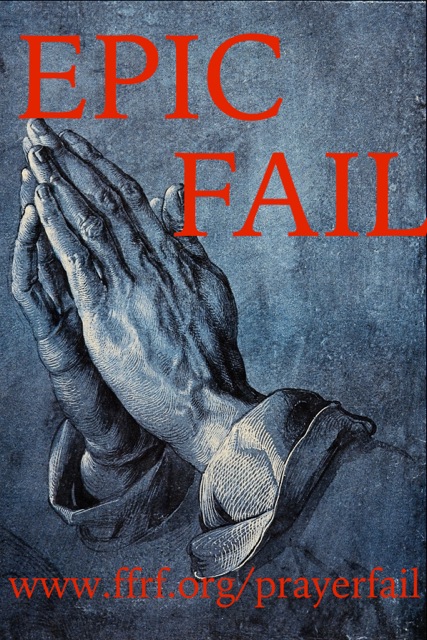 It's time to show our government that official prayer is unconstitutional, pointless, divisive and offensive. The U.S. Supreme Court unwisely "blessed" sectarian blessings by city and county governments in its May 5, 2014, Town of Greece v. Galloway decision.
If the Supreme Court won't uphold our godless and entirely secular Constitution — adopted at a prayerless constitutional convention — it's up to us. It's up to you!
Although the Greece decision is a blow to secularism and the rights of the nonreligious, Justice Anthony Kennedy, who wrote the decision did include reasoning that acknowledges the right of an atheist to give the invocation:
"The town at no point excluded or denied an opportunity to a would-be prayer giver. Its leaders maintained that a minister or layperson of any persuasion, including an atheist, could give the invocation." Town of Greece, N.Y. v. Galloway, 12-696, 2014 WL 1757828 (U.S. May 5, 2014).
To foster the groundswell of protest against government prayer, FFRF announces the creation of its newest activism award: The Nothing Fails Like Prayer Award. The award will be given for the best secular "invocation" at a government meeting. The annual winner or winners will receive a commemorative plaque, $500 and will be invited to deliver the invocation at FFRF's annual convention. Be a Paine in the government's Mass — a Thomas Paine.

All eligible entries will receive a commemorative certificate. FFRF will post eligible video entries of the secular invocation at its website and/or reprint it in FFRF's newspaper, Freethought Today.

We'd like to see secular citizens flood government meetings with secular invocations that illustrate why government prayers are unnecessary, ineffective, embarrassing, exclusionary, divisive or just plain silly. The more citizens that protest prayers, the more likely government prayers will stop.
Annual Prize
The individual or individuals judged to give the "best" secular invocation will be invited to open FFRF's annual convention with the "invocation," receiving an all-expenses-paid trip to FFRF's annual convention (this year at the Los Angeles Biltmore Oct. 24-25), a plaque and an honorarium of $500.
FFRF plans to make the contest an annual event until the Greece decision is overturned.
Tips for winning:
• Get the government to stop prayer after your prayer!
• Show the government why prayers are unconstitutional as part of a government meeting or ridiculous.
• Don't be shy about your lack of belief. Be an out and proud freethinker!
• Often, governments require "ordained" prayer-givers . Here are some options for atheists:
• The United Church of Bacon (Praise Bacon!) offers free ordination (click: Join, Become Ordained)
• For $20, the Church of the Flying Spaghetti Monster will ordain you and give you a certificate
• The First Church of Atheism gives ordinations for free, but you can order cards and certificates for a fee.
• The higher the quality of video recording the better your chances of winning. Use a tripod! (Don't rely on a cell phone if possible.)
• Your invocation can be sincere yet secular, like Arizona Rep. Juan Mendez's invocation, for which he won FFRF's Emperor Has No Clothes Award, or light-hearted or even facetious (think Flying Spaghetti Monster).
To Enter:
Give an invocation during the official invocation period at any government meeting (not during the public comment period)
Prepare a copy of the video recording of your invocation (link, file, or DVD)
Prepare a written transcript of your invocation (print, PDF, or MS Word)
Prepare your personal information:

Your name

Your phone number (for FFRF use only)
Your email address (for FFRF use only)
Your mailing address (for FFRF use only)
The name of the government body where you gave your invocation
The date you gave your invocation
A short personal bio

Send the video recording, written transcript, and personal information to or Nothing Fails Like Prayer Contest, c/o FFRF, PO Box 750, Madison WI 53701
Terms and Conditions
1. Contestants hereby agree to submit their entries under the following terms and conditions: (i) that FFRF may use any ideas, concepts, or material, in whole or in part, contained in an entry; (ii) that all materials submitted become the property of FFRF and can be used by FFRF for any purpose whatsoever, including commercial use, without compensation; (iii) that the contestant has obtained all rights, permissions, and licenses necessary to use the entry for any purpose; (iv) that no entry or any part thereof infringes any trademark or copyright or otherwise violates anyone's right of privacy or publicity; and (v) that the contestant indemnifies and holds harmless FFRF from any claims, suits, losses, damages, and expenses (including reasonable attorneys' fees) that arise from any breach of the terms and conditions.
2. FFRF reserves the right in its sole discretion to terminate, modify, or suspend the contest at any time. All interpretations of the rules and decisions by FFRF are final. FFRF reserves the right in its sole discretion to disqualify any individual it believes to be tampering with the entry process, voting process, or operation of the website; to be acting in violation of the official rules; or to be acting in a disruptive or negative manner.
3. No purchase is necessary to enter. Becoming a member of FFRF, while a great way to show your support for state/church separation, does not confer any advantage in this contest.
4. Arrangements for the fulfillment of all prizes will be made by FFRF, which reserves the right to substitute any prize for any reason that FFRF deems necessary. All prizes are non-transferable. Upon receipt of any part of the prize, prize recipients are required to comply with any and all applicable federal, state, and local laws, rules, and regulations. All expenses, including taxes, on receipt and use of prizes are the sole responsibility of the winner.
5. Entries must be received no later than Sept. 30 to be considered by FFRF for the 2014 convention. Entries will be accepted year-round and deadlines will be updated annually.
6. Content: An eligible entry must contain the contestant's original ideas and language, with any quotations properly credited. Invocations must be appropriate for posting on FFRF's website. FFRF retains sole discretion as to what constitutes inappropriate content and an eligible entry.
7. Entries: There is no limit on the number of entries that can be submitted per person, provided that each entry is from a unique government meeting and that the content of the invocation is unique. Contestants who jointly submit an entry shall be treated as a single contestant by FFRF, with any prizes being shared.
Media Coverage of our Nothing Fails Like Prayer Contest
Secular Groups Sign Up to Give 'Blessings' At Meetings
Orlando Sentinel