Other (38)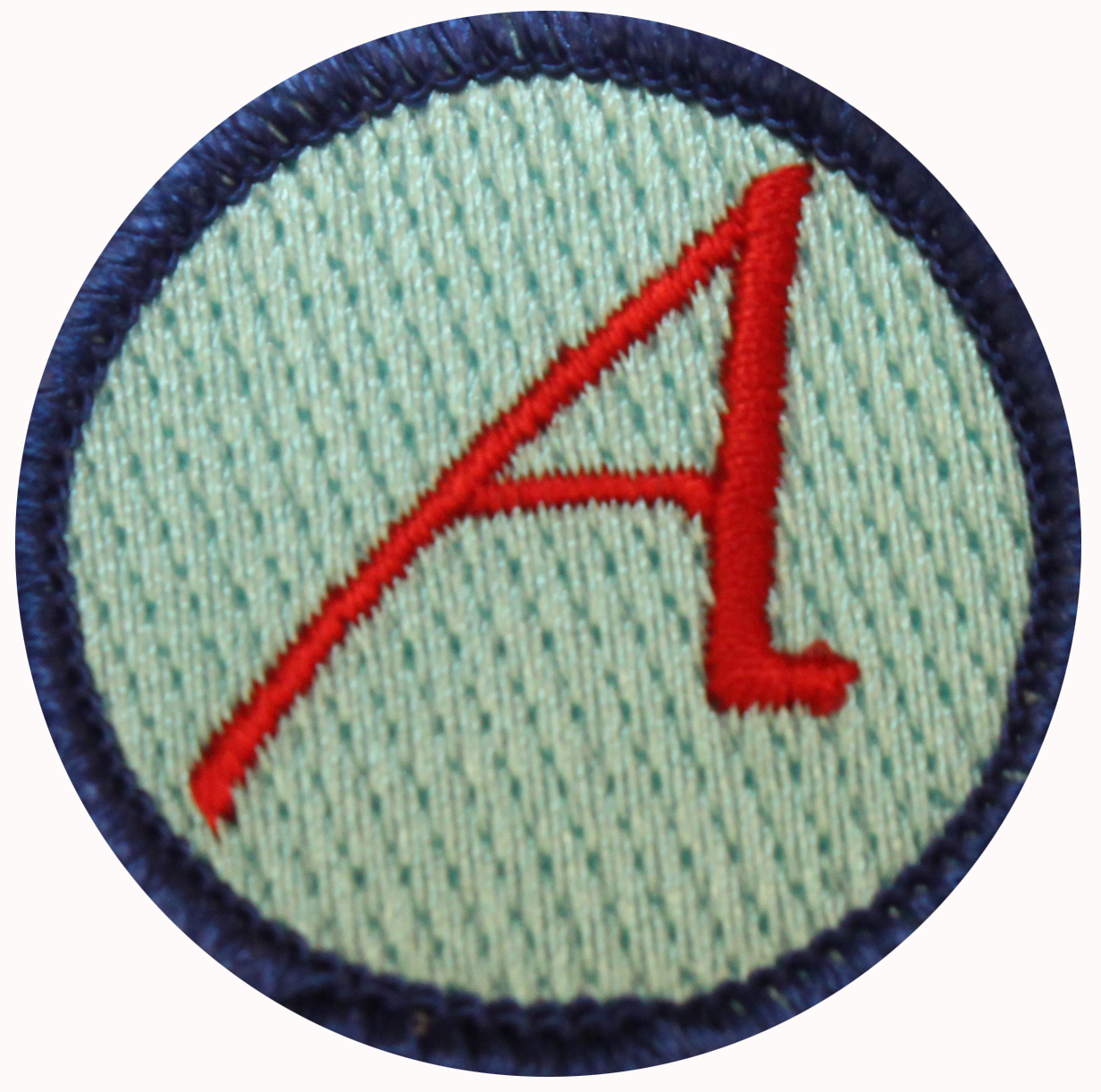 Scouts' dishonor?
Earn a freethought badge and challenge BSA discrimination against nontheists
The Freedom From Religion Foundation has produced a badge to reward freethinking youths and to challenge the Boy Scouts of America's discriminatory policy against the nonreligious. The badge, based on the Dawkins' "A," is being issued in collaboration with the Richard Dawkins Foundation for Reason and Science.
The Boy Scouts of America formally discriminates against nonreligious boys and their families, officially excluding atheists, agnostics and nonbelievers. Currently, BSA maintains "that no member can grow into the best kind of citizen without recognizing his obligation to God."
FFRF maintains that no one can grow into the best kind of citizen who discriminates against the nonreligious, and that it's what you do — not what you believe — that makes you a good person.
Social disapproval prompted BSA to largely drop a similar ban on membership against gay Scouts. But BSA persists in stigmatizing those who use reason and critical thought to evaluate religious claims.
FFRF, at the urging of its member Richard Kirschman, has produced a badge similar to BSA's merit badges, which are typically sewn on uniforms or sashes.
Scouts who wish to earn this badge are asked to help disprove BSA's misguided claim that nonbelievers cannot be good citizens. The requirements, paralleling typical merit badge requirements, ask Scouts to learn about secularism and the rich history of dissent from religion.
Because this unauthorized "badge" is intended to protest BSA policy, it's expected that Scouts won't be able to work with a typical merit badge counselor to demonstrate completion of requirements. So FFRF will ask a parent, guardian, sibling over the age of 18, teacher or other adult in their lives to attest that Scouts have fulfilled them. At Dawkins' suggestion, the Scout is also required to send FFRF a short essay that addresses BSA's claim that nonbelievers can't be good citizens. Unlike BSA badge providers, FFRF will not charge Scouts money for the badge.
FFRF intends the badge to reward Boy Scouts who have persevered in an organization that basically has instituted a 'Don't ask, don't tell' policy about atheist and agnostic participants, but has regularly expelled open nonbelievers. While BSA officials dictate the discriminatory policy, Scouting troops vary widely in their enforcement of the ban, so it's believed many Scouts are nonreligious.
But if any young boy — or girl — fulfills the requirements, FFRF will be delighted to reward them with this badge. Many nonreligious students who might otherwise wish to join BSA never join, knowing of its bigoted policy. This is their chance to be rewarded for critical thinking and to earn a keepsake at the same time.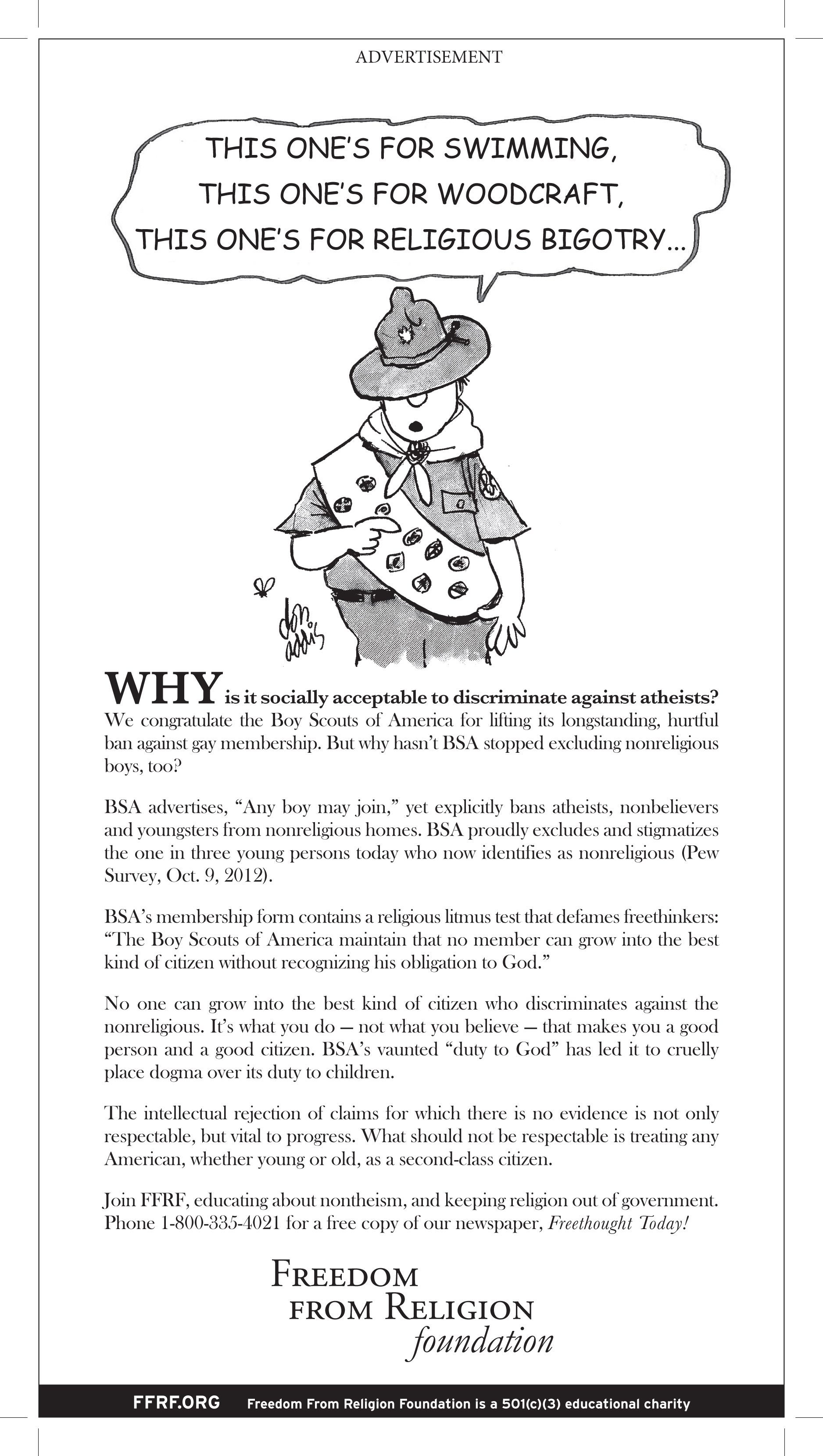 FFRF hopes someday very soon that BSA itself will change its policy and adopt its own official merit badge rewarding critical thinking. It urges those who care about equality for nonbelieving children to contact BSA to protest this invidious discrimination.
To apply for a badge:
Read and fulfill the requirements
Have a parent, guardian or other adult fill out and return the form attesting that you have fulfilled the requirements
Remember to write the short, required essay referenced at the end of the Requirements.
Email the essay and signed form to:

This email address is being protected from spambots. You need JavaScript enabled to view it.

or mail to:
FFRF
Attn: Freethought Badge
PO Box 750
Madison WI 53701
Please help publicize this opportunity to young freethinkers in your life and community.
FFRF thanks Richard Kirschman for subsidizing the cost of the badges.
HB 837 uses new language to achieve the same result as last year's SB 129, a so-called "Religious Freedom Restoration Act" bill that was appropriately killed after Indiana experienced national opposition, business outcry, and threats of boycotts for passing its state RFRA bill. The newly proposed HB 837 would apply the national RFRA to Georgia and would strip state officials of sovereign immunity protections if they interfere with a person's sincerely held religious beliefs, even if that interference comes from a law that applies to everyone. The bill suffers from all the same flaws as Indiana's bill, including allowing businesses and individuals to use religion to openly discriminate.
HB 816, the so-called "Georgia Student Religious Liberties Act of 2016," begins by restating what is already required by the Constitution, that students be allowed to express their personal religious beliefs free from discrimination and pray "to the same extent that students may engage in nonreligious activities or expression." No one objects to this. The bill then takes a sharp turn toward fostering religious privilege by forcing public schools to allow students to promote their personal religious beliefs at school-sponsored events. The legislators are well aware, of course, that a school forum will be dominated by students from the Christian majority while students who hold minority religious beliefs or practice no religion at all will be effectively silenced. The bill contemplates requiring student speakers at all football games and other athletic events, during morning announcements, at assemblies and pep rallies, and at graduation.
HB 757 purports to solve a problem that doesn't exist: it decrees that no minister of the gospel shall be required to solemnize any marriage in violation of his or her right to free exercise of religion. That, of course, has always been the case. Church leaders can discriminate against whomever they wish when choosing to perform marriage ceremonies. Only the state must treat all legal marriages equally.
The bill goes on, however, to grant special status to those who worship on Saturday and Sunday, as traditional religious "rest days," by making it illegal for a county or municipality to require a business to operate on either of those days. This is another clear example of legislating Judeo-Christian privilege. Never mind that Friday is the "day of rest" for many Muslims and for those of the Bahá'í Faith, while other minority religions observe rest days based on lunar cycles (Buddhists, Cherokees) or seasonal changes (Wiccans).
Finally, HB 757 legalizes discrimination by religious organizations. It allows them to refuse to let a person rent or otherwise use property "for purposes which are objectionable to such religious organization." Among other problems, this law would legalize housing discrimination by religious organizations against gay families, religious minorities, and the nonreligious.
More...