Lt. Gov. Barbara Lawton Welcomes Convention Goers to Wis.
Rep. Pete Stark Accepts the Emperor Has No Clothes Award
Featured Video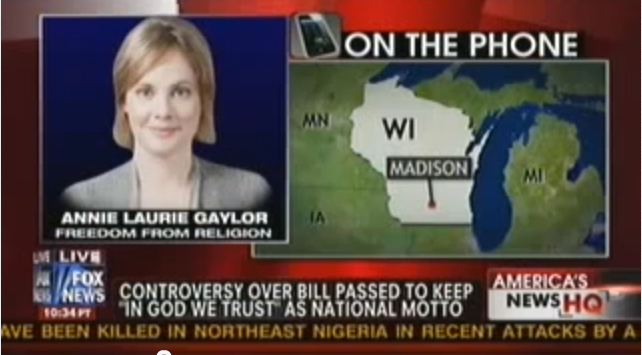 Annie Laurie Gaylor, FFRF Co-President debates CA Rep. Dan Lungren on Fox News.
By Shannon Bream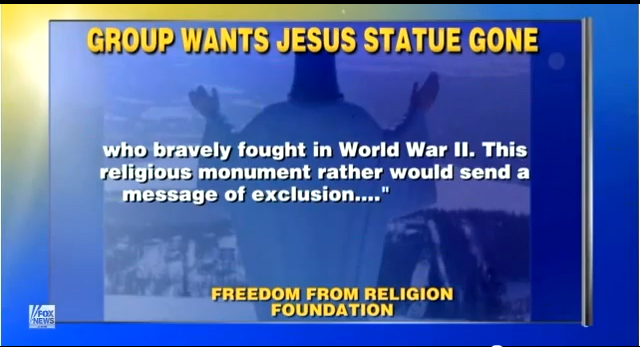 Fox and Friends
Annie Laurie Gaylor, FFRF Co-President and Montana Representative Rehberg discuss Jesus atop Montana ski hill.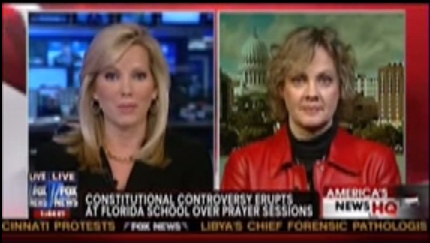 Freedom From Religion Foundation Co-President Annie Laurie Gaylor appeared on Fox News on Sunday, Oct. 23. to discuss a principal at an elementary school who sent a newsletter home encouraging prayer meetings before the start of the day.
By Shannon Bream
State/Church Bulletin
Axis of Ignoramuses A majority of United Nations delegates in May defeated an "abstinence-only" sex education plan which the Bush administration sought to make international. U.S. allies opposing condom use to fight AIDS and teen pregnancy, and any reference to abortion, included Iran, Iraq, Sudan, Libya, Syria and the Vatican. Women's advocates argued sex education is a matter of life or death in the developing world, where millions of girls, some as young as 10, will marry before they turn 18, and pregnancy is the leading cause of death for women ages 15 to 19. Faith-Based Texas Suit Back in Court The 5th U.S. Circuit Court of Appeals has remanded to federal court a lawsuit challenging a 1999 "faith-based" contract to determine if $8,000 given to a bible-based program must be repaid to taxpayers. The Texas Department of Human Services awarded $8,000 to Jobs Partnership of Washington County, run by a group of churches in Brenham, Tex. The lawsuit was originally dismissed as moot by U.S. District Judge Sam Sparks in Austin after the contract ran out. Civil rights groups challenged the faith-based program for using tax dollars to buy bibles and proselytize. Your Tax $$$ at Work Congress set aside $30 million in the Compassion Capital Fund to encourage "faith-based" and grassroots groups to apply for government grants. One 3-day regional meeting on how churches can grab some tax dollars was sponsored by the government in New Orleans in mid-May, attended by about 500 nonprofits from 11 states and officials from five federal agencies. Workshops included "The role of faith-based organizations to help incarcerated parents," and "Abstinence and healthy youth decisions." In attendance was Bobby Polito, director of the Faith-Based Office at the Department of Health and Human Services. Polito was formerly director of Faith Works, a Christian group in Milwaukee whose direct public funding was found unconstitutional in a lawsuit won in federal court in January by the Freedom From Religion Foundation. Parsonage Exemption Litigated President Bush signed a bill into law on May 20 protecting the unique "parsonage exemption," a subsidy of $500 million annually allowing ministers, priests and rabbis to keep their tax break for the cost of housing. The bill passed quickly in the House and Senate, following a flurry of church lobbying, anticipating a ruling over the constitutionality of the exemption by the 9th U.S. Circuit Court of Appeals in San Francisco. The court is hearing a challenge of the 1921 parsonage exemption, which permits clergy to deduct from taxable income the portion of church earnings that are attributed to housing costs. The IRS tax code was gradually broadened to permit clergy to exempt the annual rental value of their homes from taxable income, even if they personally own the homes. The IRS suit was provoked by a claim by Baptist "Pastor Rick" Warren, who has 18,000 members at his Saddleback Valley Community Church near Los Angeles. Warren, who bought a $360,000 house in 1992, claimed his entire church salary for his tax-exempt housing allowance one year, and 80% of his salary for two other years. He also claimed mortgage interest deductions. The U.S. Tax Court in Washington, D.C., ruled two years ago that Warren could take the entire allowance. Erwin Chemerinsky, Prof. of Law, University of Southern California-Los Angeles, was appointed by the appeals court to research the exemption. Chemerinsky filed a motion in May on behalf of himself as a taxpayer challenging the constitutionality of the exemption. Hearing Held over Church Politics The first Congressional hearing over a bill to allow churches to engage in politicking was held on May 14. "It opens a Pandora's box of new opportunities for mischief," warned Baptist minister C. Welton Gaddy, director of the Interfaith Alliance. The bill, by Rep. Walter Jones, R-NC, would exempt churches from a 1954 IRS provision inserted into law by Sen. Lyndon B. Johnson, forbidding tax-exempt groups from endorsing candidates or engaging in political activities. There are 114 co-sponsors in the GOP-controlled House, including Majority Leader Dick Armey and Majority Whip Tom DeLay, both R-TX. IGWT Mandated in Virginia "In God We Trust" must be posted in public schools in Virginia beginning next fall, under legislation signed in mid-May by Gov. Mark R. Warner. The legislation does not provide funds for purchase of the posters, but a private group, the Family Policy Network, said it will send a poster to each of the 2,000 state public schools. "Looking for God for help is a part of our national tradition, and I'm proud that we live in a state that recognizes that," said sponsor Sen. Nick Rerras, R-Norfolk. Religious Bushisms March 30 radio address: "We feel our reliance on the creator who made us. We place our sorrows and cares before him, seeking God's mercy." April 11 speech: "Government can write checks, but it can't put hope in people's hearts . . . That is done by people who have heard a call and who act on faith and are willing to share in that faith." Mid-April: "We ought not to worry about faith in our society. We ought to welcome it into our programs. . . . We ought to recognize the healing power of faith in our society." April 29 speech: "I am just a humble sinner. . . . The government should not fear faith and faith-based programs." May 16, First National Hispanic Prayer Breakfast: "We welcome all religions in America . . . We know that men and women can be good without faith. We also know that faith is an incredibly important source of goodness in our country. Throughout our history, Americans of faith have always turned to prayer . . . Since America's founding, prayer has reassured us that the hand of God is guiding the affairs of this nation. "When it comes to the use of federal money, the days of discriminating against religious institutions simply because they are religious must come to an end." A lawsuit to bar President Bush from mixing religion and politics was thrown out of federal court in Sacramento in late May. Emergency room physician Michael A. Newdow went to court after Rev. Franklin Graham, invited to deliver a prayer at Bush's 2000 inauguration, made overt Christian references. (Sources: New York Times, April 20, 2002; Reuters, April 20, 2002; The White House; Sacramento Bee, May 25, 2002) Scientologists Settle Suit A former Church of Scientology member settled a 22-year lawsuit in May when the church finally paid him $8.6 million for mental abuse. Lawrence Wollersheim, who joined Scientology in 1969 and became a recruiter, was punished by church officials by being placed in the hold of a ship for 18 hours a day, where he became suicidal. Wollersheim, who has a bipolar disorder, was forbidden to seek medical help, but spent $150,000 on Hubbard's "mental health" regimens. He filed suit in 1980. Judgments against the church once hit $30 million, but the church refused to pay. A $2.5 million judgment, upheld in 1994 by the U.S. Supreme Court, had collected interest at the statutory 10 percent rate. * * * A wrongful death lawsuit against the Church of Scientology probably won't be dismissed despite an allegation of legal misconduct, according to a judge's ruling in May. The estate of Lisa McPherson brought suit when McPherson died in 1995 while under the care of Scientologists. * * * A French court fined the Paris branch of the Church of Scientology 8,000 euros (about $7,300) for violating a data protection law in its recruiting tactics, but acquitted the church of attempted fraud and false advertising. The president of the branch was also fined. Bible Sales Tax Upheld The Louisiana Department of Revenue told vendors in May to start collecting sales tax on religious literature and bibles, after the ACLU won a federal legal challenge in March. Struck down were a 1996 law exempting churches from paying state and local taxes on items bought for religious instruction, and a 1998 law barring sales tax on fees church members pay to attend religious retreats and camps. Vatican Implicated in Swindle? An Italian monsignor with Vatican connections is accused of trying to launder stolen insurance company money through a bogus charity set up by convicted swindler Martin Frankel. Frankel, a financier, pleaded guilty in Connecticut court in May to 24 charges of fraud, racketeering, conspiracy and other offenses totaling $208 million. Monsignor Emilio Colagiovanni, who is now living in Ohio while awaiting trial, is charged with fraud and conspiracy in connection with the St. Francis of Assissi Foundation. Insurance regulators in several states seeking more than $600 million in damages from Frankel, have also sued the Vatican, alleging the church was involved in Frankel's schemes. Those states to date include: Mississippi, Tennessee, Missouri, Oklahoma and Arkansas. Supreme Court Has No Comment The U.S. Supreme Court without comment refused to review a Mississippi lawsuit involving a priest, a former governor and his wife, who claims she lost faith in her church and religion because the Anglican priest secretly audiotaped her. Former Mississippi first lady Julie Mabus sued the priest for clergy malpractice, breach of duty, fraud and negligence. Her then-husband Ray Mabus tape-recorded a counseling session the couple had with the priest in 1988. Rev. Jerry McBride was aware of the taping, but the first lady was not. Discussion of her adultery during the taped meeting resulted in divorce and loss of legal custody of their two daughters. Her attorney claims the priest's conduct violated state negligence laws. The case returns to state court. Your Friendly Neighborhood Chaplain Maricopa County volunteer jail chaplain Robert Bradford, 65, a Mormon, was arrested on May 15 for reportedly plotting to kill Arizona Gov. Jane Hull and Maricopa County Sheriff Joe Arpaio. Bradford had two prior convictions for indecent exposure, including exposing himself to a male Mesa police officer in 1989. Madison Street Jail officials knew about one of his prior convictions yet still permitted him to work as chaplain. Bradford befriended Donald Cochran, 78, a Navy veteran believed to be the mastermind behind the murder plot. Cochran's history of threatening public officials includes sending a letter to the state attorney general in 1994, threatening to kill him and his wife unless $500,000 was deposited in his bank account. He also demanded 20 Baby Ruth candy bars, five giant bags of (plain) M&Ms and crossword puzzle books, according to the Arizona Republic. His record includes child molestation and aggravated assault. Also in on the plot was jailhouse inmate Danny Warner, 46, with a long history of incarcerations. Warner reportedly bailed himself out of jail with Cochran's money in order to look for a hired killer, with Bradford acting as middleman.