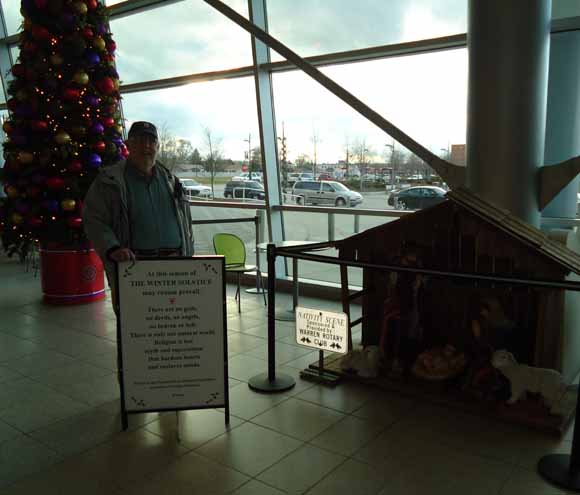 Douglas Marshall was refused permission to display this sign in City Hall
The mayor of Warren, Mich., is engaging in unlawful viewpoint discrimination, by announcing a public forum that promotes religion and excludes nonreligious viewpoints in the city hall lobby, charges the Freedom From Religion Foundation.
After receiving several letters of complaint from FFRF on behalf of a local member over the illegal nativity scene in the lobby every December, Mayor John Fouts replied:

"All religions are welcome to celebrate their religions seasons with a display in city hall."
In reference to FFRF's claims that the city was illegally endorsing religion by placing a nativity scene at city hall, the Mayor wrote: "If we were doing this, other religions would not be allowed to display their religious holy seasons in our atrium. However, they have been allowed and will be allowed."
Accordingly, Warren resident, complainant and FFRF member Douglas Marshall contacted the city and the mayor in writing and in person several times seeking permission to place a Winter Solstice sign (see photos below). FFRF queries also went unanswered.
Yesterday, Marshall went to City Hall with the pretty white Solstice display produced by FFRF in hand. The mayor's office told him he did not have permission to display the sign in the atrium, which contains a large crèche.
FFRF's Winter Solstice sign reads on one side:
"At this season of the Winter Solstice, let reason prevail. There are no gods, no devils, no angels, no heaven or hell. There is only our natural world. Religion is but myth and superstition that hardens hearts and enslaves minds."
The other side reads: "STATE/CHURCH: Keep Them Separate."
"The city of Warren may not create a public forum just for religion, and exclude us," said Annie Laurie Gaylor FFRF co-president. "If we do not receive permission from the mayor for Doug to place our sign, we will be left with no recourse but to take legal action. All the mayor has done is stall for time."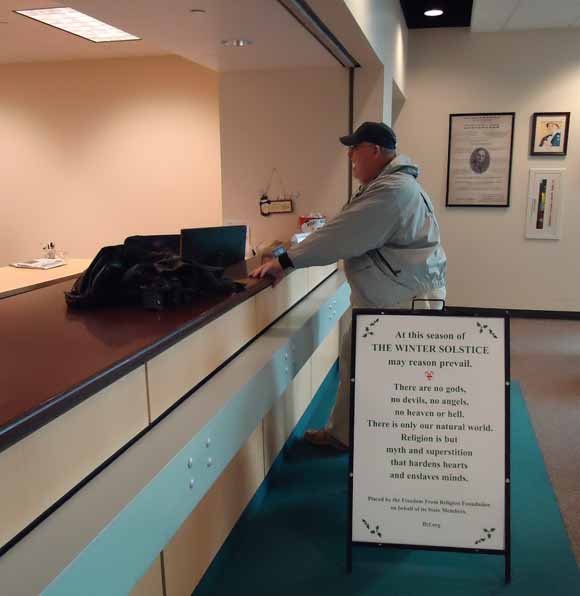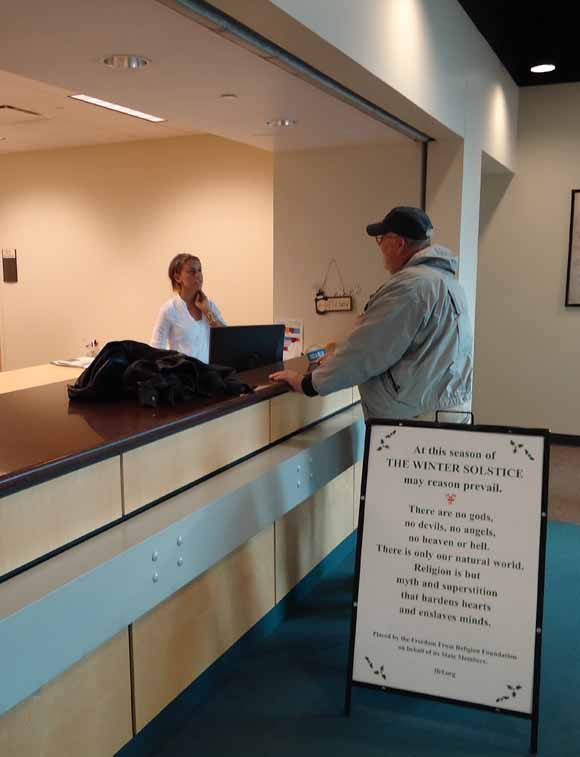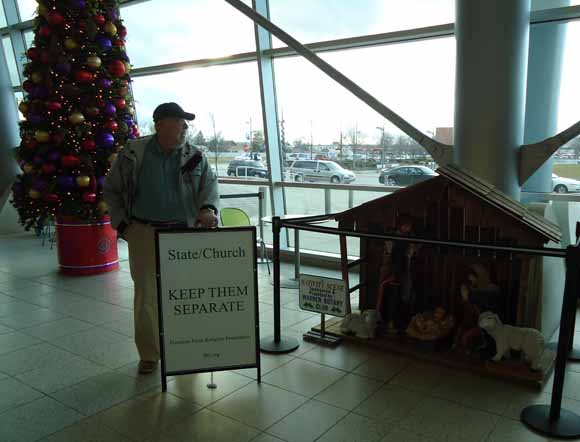 FFRF is a national state/church watchdog based in Madison, Wis., with more than 17,000 nonreligious members nationwide, more than 500 of them living in Michigan. FFRF has brought more than 50 lawsuits, and takes action around the country to keep religion out of government.