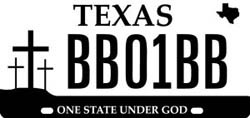 The Board of the Texas Department of Motor Vehicles is meeting this morning (starting at 9 am) and is considering approval of a specialty license plate promoting Christianity. This plate, dubbed "Calvary Hill," also includes the words "One State Under God." Incredibly, sales revenues would benefit Glory Gang ministry, an obscure Christian youth outreach group. This is also being opposed by the National Council of Jewish Women (NCJW) and the Texas Freedom Network. For more details click here.
The Board of the Texas Department of Motor Vehicles is voting on this today! Please send them an email right now at their contact form.
Add A brief comment
Copy this comment or better yet, use your own words:
"Do not approve the Calvary Hill license plate. This is an unconstitutional affront to all non-Christians and nonbelievers, who are 15% of the population. I am not religious and am greatly offended by this proposal."

If you get this email too late to act before the meeting, please watch media for updates and chime in accordingly.
Thank you!
Please do not forward this Action Alert to anyone at the Texas DMV. For maximum effectiveness, write as an individual and not as someone responding to an Action Alert. We are pleased to receive "blind" ("BCC") copies of your messages and correspondence by email at .