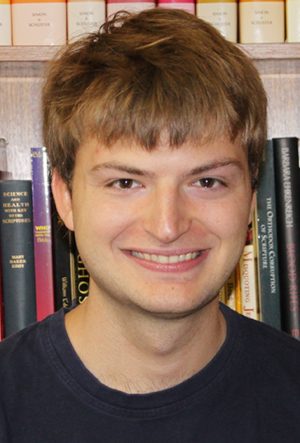 Name: Svein Hoexter.
Where and when I was born: Chicago, July 11, 1990.
Family: My mother, Kristine Falck-Pedersen; my father, Daniel Hoexter; and my brother, Geir Falck-Pedersen, 14.
Education: Lincoln Park High School, Chicago, 2008; University of Wisconsin, economics and communications, 2012.
My religious upbringing was: Nonexistent. I was raised by two freethinking parents.
How I came to work as an FFRF legal intern: I wanted experience working with legal issues in a field I am passionate about. FFRF was a perfect fit!
What I do here: Research complaints, draft letters and enjoy the freethinking company.
What I like best about it: Contributing to an effort that makes a real difference promoting freethought and keeping church out of state.
Something funny that's happened: Generally confusing Stephanie on a regular basis.
My legal interests are: IP law and dispute resolution.
My legal heroes are: The Tom Cruise character Danny Kaffee in "A Few Good Men" and Abraham Lincoln.
These three words sum me up: Wait one sec.
Things I like: Yogurt, the Chicago Bulls, mock trial, biking.
Things I smite: Spicy food, LeBron James, watery coffee and beer, trash.
My loftiest goal is: Winning a case before the Supreme Court.